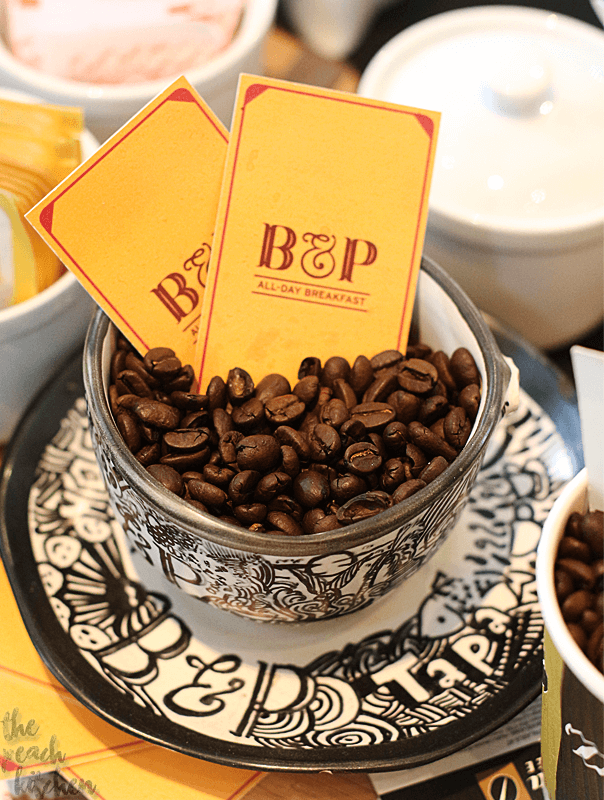 Breakfast is my favorite meal of the day. There's something about breakfast that is so special that it's comforting. It somehow prepares you for the day ahead and of course it wakes you up. Of course, breakfast is only served in the morning, right?
Wrong. There's a cozy nook in Ortigas called B&P All Day Breakfast where you can have breakfast all day long. It's a restaurant under the Cravings Group named after Bea and Pia Trinidad, the grand daughters of the owner .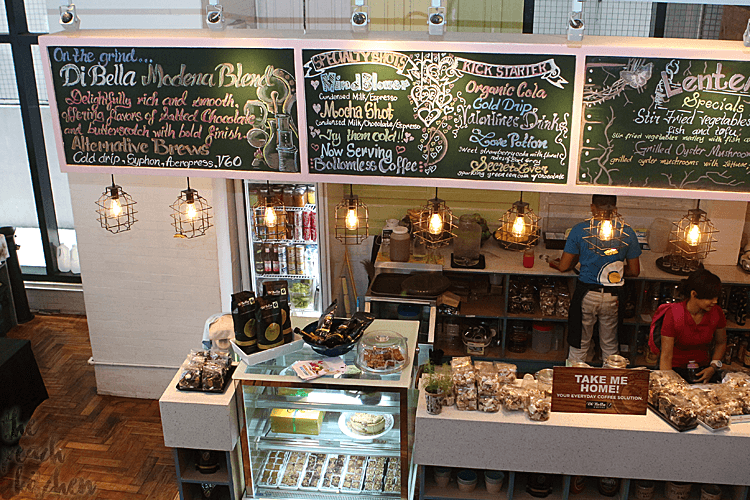 I've been meaning to try this restaurant a couple of times but the life of a mommy is always busy, full, and a bit topsy turvy. But one Saturday afternoon found me and my Kumares lunching at this homey, cozy place.
The restaurant opens up into a welcoming , living-room like area with booth-like couches and bed headboards on the first floor along with a partially open kitchen. The wall paper a relaxing blue dotted with nothing else but sunny side up eggs. It's my favorite way to cook an egg and it was just the kind of sign I'm looking for that tells me I'm in for a real treat.
Just like everyone else, we, the #KumareBloggers enjoy good conversation over good food. But what we had at B&P All Day Breakfast was not only good, it was epic…
Most of the dishes in the menu seemed familiar but there was some kind of twist in to it making it a new adventure for the palate. It may get you wondering, Do they serve Pinoy breakfast with a twist or is it breakfasts with a twist of Pinoy?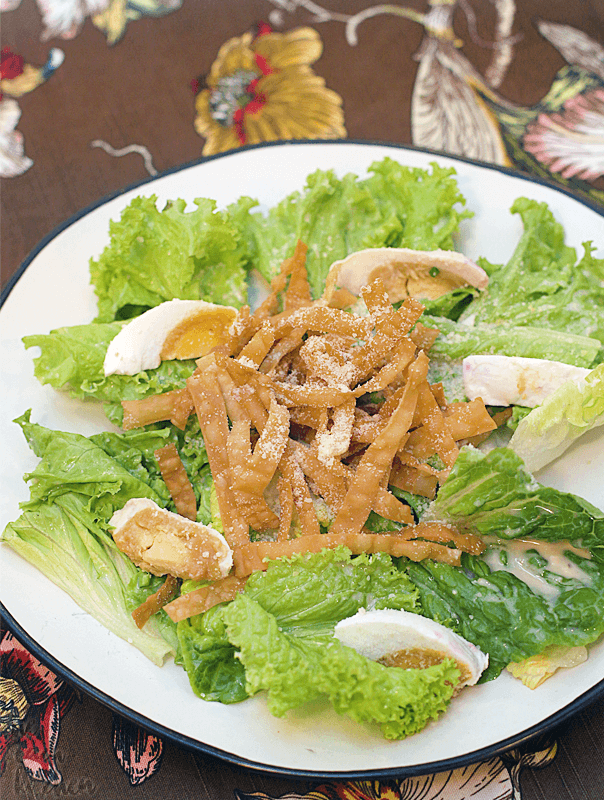 We had the Asian Caesar Salad (₱195) for starters, composed of organic romaine lettuce tossed in Tinapa dressing and topped with salted egg and fried wonton wrappers.
The Red Molo Soup (₱175) quickly became everyone's favorite because it's hearty and flavorful. The serving is quite big too and can be shared by four people. It is served in a bowl much like where a bibimbap is served and it keeps it warm despite the cool temperature inside the restaurant.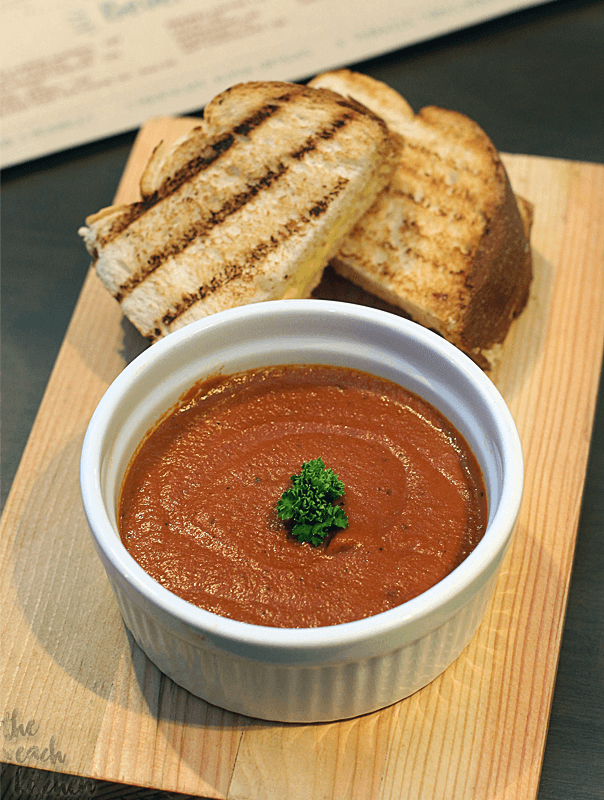 This Tomato Soup with Grilled Cheese Sandwich (₱225) is nothing but comforting. The tomato soup is thick and rich perfect for dunking that warm grilled cheese sandwich.
Mang Benedict's (₱285) is a Pinoy take on the classic Eggs Ben. It has malunggay pandesal, chicken longganisa, and poached egg, with a generous topping of hollandaise sauce.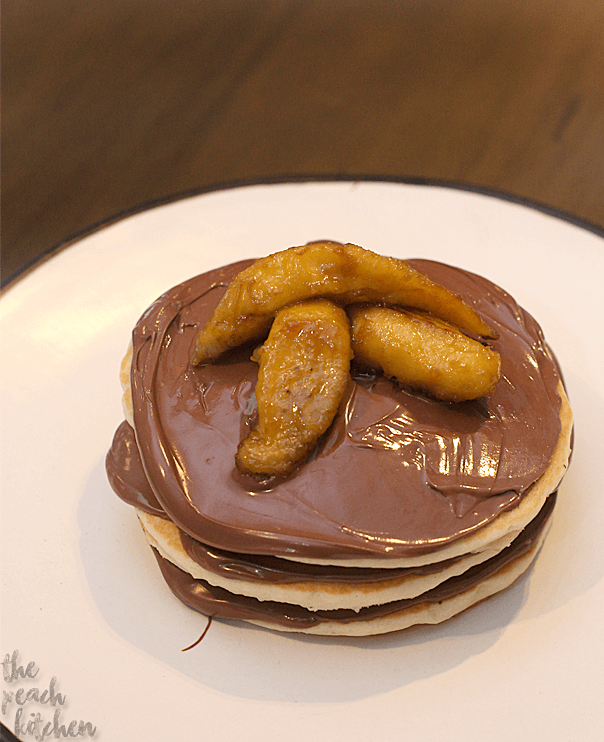 This Triple Decker (₱250) is nothing short of amazing. It's three fluffy pancakes layered with your choice of spread (this one has generous spread of nutella!) and topped with caramelized banana.
Creole Eggs with All-Beef Patty (₱280) this is an all-beef patty in red wine demi-glace topped wwith spincah adn poached egg and served with hashbrowns on the side.
The Beer Battered Buttermilk Chicken (₱450) is one of my favorites! It's a different take on chicken and waffles or chicken and biscuits and is good enough for sharing. It's half chicken in buttermilk beer batter that is deep fried until crispy. It is served with French Toast and homemade gravy. So so good!
This pasta was new and was not yet on the menu when we were there. I think it's their version of Puttanesca, only it uses our tuyo, instead of anchovies. I love tuyo on pasta and this is really good!
Don Malutong (₱285) is crispy pork belly — very much like bacon but thicker! making it a lot more sinful. It is topped on tasty adobo rice and served with your choice of egg and pickle relish. I think it's also good enough for sharing but I could finish this any day…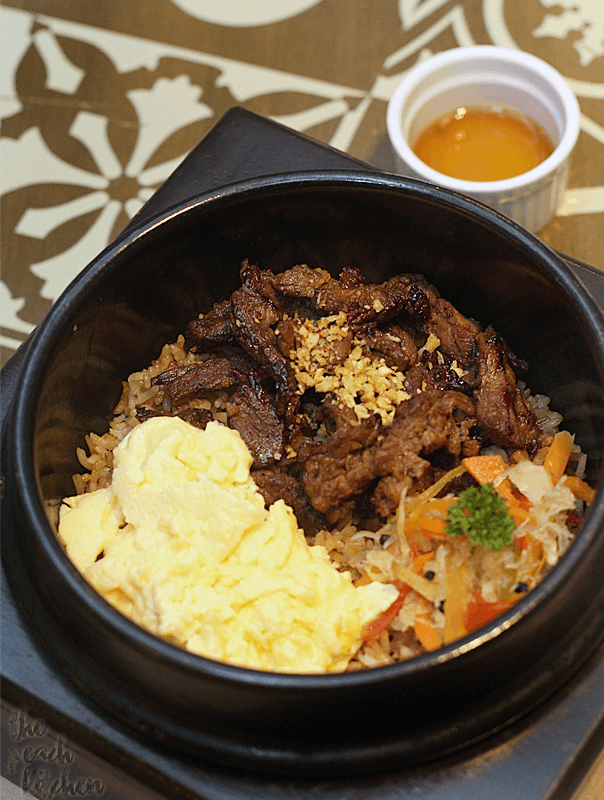 Primera Tapa (₱295) reminds me so much of Ykaie because of how much she loves tapa! B&P All Day Breakfast's version uses prime angus beef tapa and just like Don Malutong, it is also served over adobo rice wwith your choice of egg and pickled relish.
Dessert was a slice of nirvana with the Nutty Nirvana, Salted caramel, and Banoffee Pie.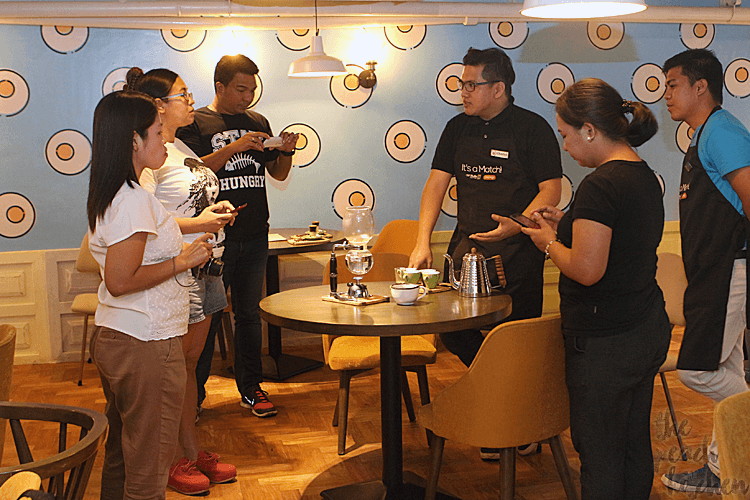 Towards the end of our meal, there was also a demonstration on how they make their syphon coffee….
Their coffee is just perfect to pair with the cakes!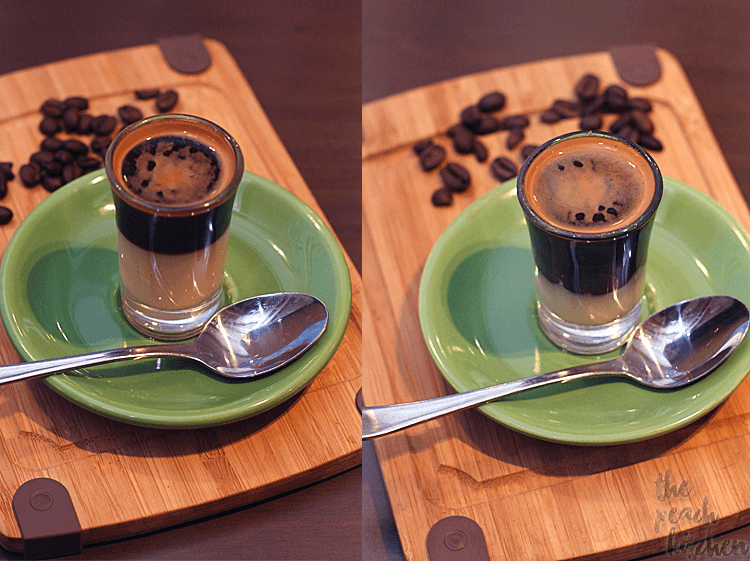 We were also able to try their coffee shots. On the left is a shot of espresso with condensed milk and on the right is sort of like a mocha with chocolate syrup layered in between.
Such an afternoon well spent! B&P All Day Breakfast is an ideal place for family get togethers, barkada or couple hang out, chismis with the kumares, or even working on your laptop by yourself.
It's a cozy, relaxing place that is just like home — only it has the friendliest staff, delicious food, and good wifi.
P.S.
They sell the best S'mores too!!! And it's also available in white chocolate!
B&P All Day Breakfast is located at Cyberspace Alphaland Bldg. Ortigas