If you are anything like us you spent this festive season indulging in all of the cake, carbs, and fried foods that you could get your hands on. Are your clothes a little tight? Do you feel uncomfortable in your clothes? Then it may be time for you to go on a detox. When you go on a detox your body will get rid of all of the toxins that have been stored in your liver over the holidays. However, you should always keep in mind that you will not be getting all of the nutrients your body needs from smoothies alone. To ensure you stay healthy during your detox, make sure to take a good detox support supplement. To help make the choice a little easier for yourself head over to Reviewcritic.org for the best supplement reviews.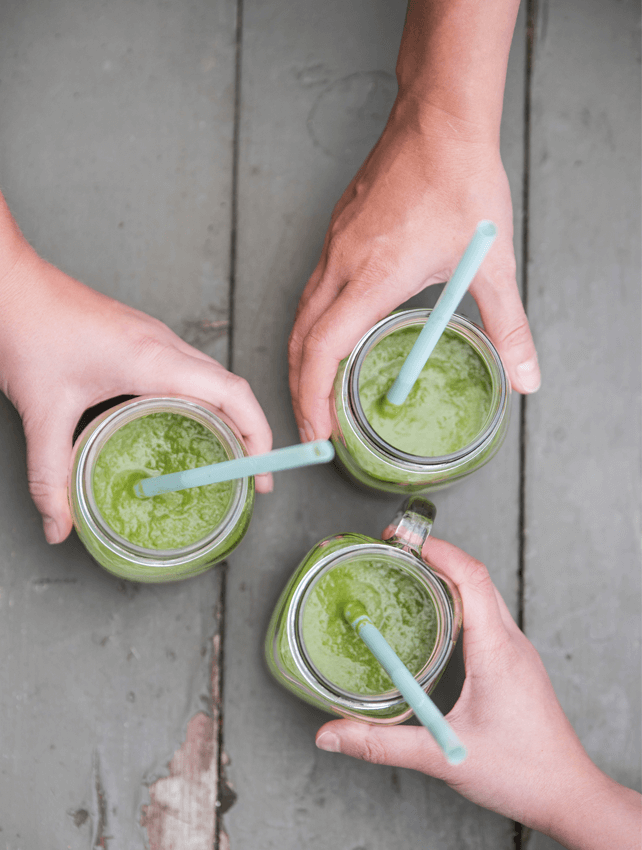 How To Make A Detox Smoothie
There is nothing more simple than whipping up a detox smoothie for yourself. Simply add all of your ingredients to a high-speed blender, blitz the ingredients up together, and then enjoy. If you want your smoothie to be cold you could freeze your ingredients or add half a cup of ice to the smoothie before you blend it. It is also incredibly important to make sure that you are always using the highest quality ingredients that are available to you that you can afford.
Almond and Kale Smoothie
1⁄2 cup unsweetened almond milk 1 tablespoon almond butter 1 banana 2 cups kale
This detox smoothie is excellent for those of you who need to get a little extra protein into your diet. Additionally, almonds are full of good fats that will help to keep you full and satisfied for longer. These nuts are also high in Vitamin E, manganese, and magnesium.
Glowing Green Smoothie
1 kiwi 1 banana
1⁄4 cup pineapple
2 celery stalks
2 cups raw spinach
1 cup water
Not only is this smoothie recipe packed with vitamin C but it also has large amounts of fiber. Vitamin C and fiber are crucial for a detox because they help your body to expel the toxins that
you have stored there. Additionally, the inclusion of celery in this recipe helps to purify your blood while helping your body to eliminate toxins. Another surprising benefit associated with the consumption of celery is that it supports your nervous system.
Pineapple and Banana Smoothie
1 cup pineapple
1 banana
1 apple
2 cups spinach
1 cup water
This is another great smoothie recipe that will help your body to get rid of all of the excess toxins that you do not want in your body. Fresh pineapple contains bromelain, which is a powerful digestive enzyme. This enzyme helps your body to digest protein, breaks down the fats you have eaten, and reduces the amount of inflammation present in your body.
Kale and Apple Green Detox Smoothie
2⁄3 cup of almond milk (unsweetened)
3⁄4 cup ice
1 1⁄2 cups kale
1 stalk celery
1⁄2 red or green apple (cored and chopped)
1 tbsp ground flax seed
1 teaspoon honey (optional)
The inclusion of kale in this detox smoothie will help to boost your body's toxin metabolizing abilities. Recently kale has gotten a lot of attention recently because it contains a variety of key vitamins and minerals that help your body to function at an optimum level. However, kale often has quite a strong taste, which is why we have included so many fruits in this smoothie recipe. If you are being careful with your sugar consumption, this recipe may not be right for you.
Avocado Smoothie
1 1/2 cups apple juice
2 cups spinach or kale (stemmed and chopped)
1 apple (cored, and chopped)
1/2 avocado
Avocados are often viewed as one of the best superfoods. This fruit is packed with beneficial nutrients such as folate, potassium, Vitamins B, C, K and more. Eating an avocado on a daily basis will help to reduce inflammation, strengthens your bones, and could even help you lose
weight. When consumed with spinach or kale you are not only boosting your nutrient intake but also helping your body to expel toxins at an accelerated rate.