The fabulous Ella Fitzgerald once crooned, "It's summertime and the livin' is easy," and nothing makes summer easier or breezier than refreshing beverages on a sizzling sunny day. Summer is the perfect time of year for basking in the sun, playing in the pool, and enjoying seasonal sips that keep the good times rolling. Read on for smashing sippers and beverage ideas that will tickle your tongue and keep you cool even on the hottest days of summer.
Slushies, Snow Cones, and Slurpees, Oh My!:  A mound of shaved ice combined with endless flavor combos make for sumptuous summertime sips. You're only limited by your imagination when creating incredible concoctions. Get your mixology on by pairing fruit flavors with coconut to make a piña colada slush that will shoo away the scorching summer heat. If you don't have an ice shaving machine, don't worry. You can finely crush ice in a blender, pour on the flavorings and have a sip-worthy Slurpee that will have you swooning in the summer sun.
To craft your unique sun-centric beverages, select fruit juices or create your own simple syrups.  To make a simple sugar, combine granulated sugar and water equally and let it simmer on the stovetop until the sugar is fully dissolved. Once your simple syrup is made, you can store it in a sealed glass jar in the refrigerator for up to a month.
You can infuse your simple syrup with fruits, cinnamon sticks, herbs, or vanilla beans. If making syrup is a little too labor-intensive for you, there are many different pre-made flavorings available at the supermarket you can dowse on your snow cones.  Experiment with different types of flavor blends. And get whimsical by applying sugar to glass rims, or pop a fanciful umbrella to your scrumptious slushies for an added flair.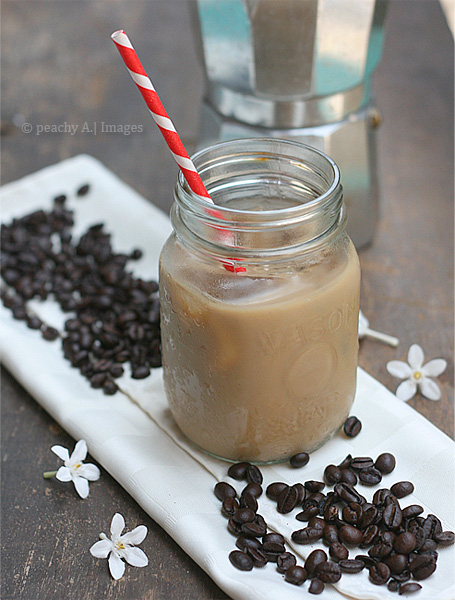 Cool Caffeinated Drinks:  Iced tea is a traditional summertime favorite beverage and certainly has an honorary place for poolside sipping.  However, let's not limit ourselves to iced tea alone.  Other caffeinated delights include bubble teas or iced coffees. If you're not sure how to make iced coffee, don't worry, these are super-simple drinks you can whip up in no time.
You can go easy by brewing your favorite coffee and adding ice.  Or, you can diversify by adding flavored milk or cream to iced coffee. For example, try sweet coconut crème or condensed sweetened milk for a wildly yummy cold coffee on a summer day.  If coffee isn't your thing, then consider making a creamy iced chai latte.  This type of tea is still caffeinated but packs a powerful spice punch; it's a delightful beverage when poured over ice on a hot day.
Mojitos, Mules, and Mocktails Galore!:  Whether you opt to include alcohol or not, cocktail-centric beverages are all the rage for summertime sipping.  Start by whipping up a classic Moscow mule. This drink consists of vodka, ginger beer, and a splash of lime. Leave out the vodka for a soothing mocktail and pour it into a chilled copper cup for a traditional cool mule.
Or, make a magnificent mock mojito by passing on the rum and muddling fresh mint with lime juice, simple syrup, and club soda. Shake well and pour into a tall chilled glass with mint and lime garnish. Huzzah! That's summertime fun in a glass!
Experiment with other cocktail recipes like margaritas on the rocks. Traditionally made with tequila and orange liqueur, a non-alcoholic margarita can be just as dandy as its spiked version. Combine frozen lemonade and limeade from concentrate in a blender with sparkling water, powdered sugar, and crushed ice. Press the blender button, pour into salt-rimmed margarita glasses, and you have a mocktail that kicks off any summer fiesta in style.
New Takes on Old Faves:  We mentioned iced tea and teased you with citrus-based beverages. So why not take old-fashioned drink recipes such as lemonade and ice tea brews to the next level and put a unique spin on summertime sippers?
For example, add fresh strawberries to a tantalizing pitcher of homemade lemonade for a punchy twist on an old favorite. Or, play with flavorings for traditional iced tea by introducing raspberries, kiwis, and pineapples to a cold tea brew. The result will have you puckering and sitting pretty for any summertime picnic.
Smashing Summer Beverages That Soothe and Satisfy
Whether you're catering for a summer adult party with alcohol or going full-on mock with virgin cocktails, there is virtually no limit to your creativity with summertime beverages. With a bit of imagination, a dash of exotic flavors, and a pinch of decorative pizzaz, you'll be rocking the scene with a bevy of bodacious beverages this summer.