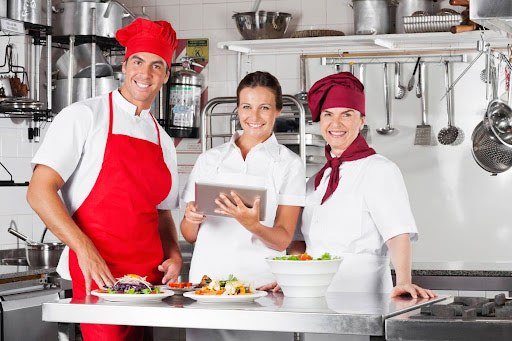 In every commercial kitchen, there is a question – how clean is clean? Cleanliness level is determined not just by venue management but by health and safety procedures and governmental public health organisations, so there are obligations for the space. To keep the kitchen space at the level of cleanliness expected of an establishment that caters to the public, daily cleaning is required with regular deep cleaning absolutely essential – and mandated by law at regular six-month to twelve-month intervals. Unsanitary kitchens are at risk of closure along with heavy fines as it will present a massive and avoidable risk to customers, who are the ones who will fall ill due to sanitation issues. Add to that, grease and grime is a fire hazard which adds subsequent risk to anyone patronising a dirty venue. 
So, how clean?
How clean is dependent on a few factors and who you are asking the question for. There is clean as required by law to ensure the venue is compliant to safety standards and can stay open. Then there is customer perception and feeling in your venue – they will feel comfortable in a cleaner space, and if they are comfortable they are more likely to visit regularly which impacts profitability and a venues bottom line. And then there is the perception of sanitisation – essential to keep COVID lockdowns and restrictions to a minimum and keep consumers venturing out, which is only possible if they feel safe and secure. Cleanliness and regular sanitisation is reassuring and limits any chance of cross-contamination and ensures customers keep coming back. 
What is the Best Course of Action?
Hiring a professional commercial kitchen cleaning service greatly reduces risk and takes the burden off staff to undertake regular deep cleans and will give management and customers peace of mind. How often the cleaning service is brought in is up to the venue, and needs to align with the kitchen cleanliness schedule, but ultimately we recommend having a deep clean every three months at a minimum. This will keep your venue ahead of the inspectors that could pop in at any time, ensuring there is no chance of downtime or shutdown. Cleanliness is vital when running a commercial kitchen, and even seemingly minor changes significantly impact the health and safety standards in the space. Ensuring everyone – management, staff, and customers – are on the same page and invested can significantly impact business operations. 
Book a Deep Commercial Kitchen Clean
There is certainly a point, however, when it's essential to bring in the help of professionals. Whether you need your kitchen cleaned now, or you would like to book for the future, contact Grease Gone Commercial Cleaning London to discover how we can help your venue with your deep cleaning needs. Our services make day to day cleaning far easier to manage as our team are cleaning experts, so call us today for more information or to receive a quote.