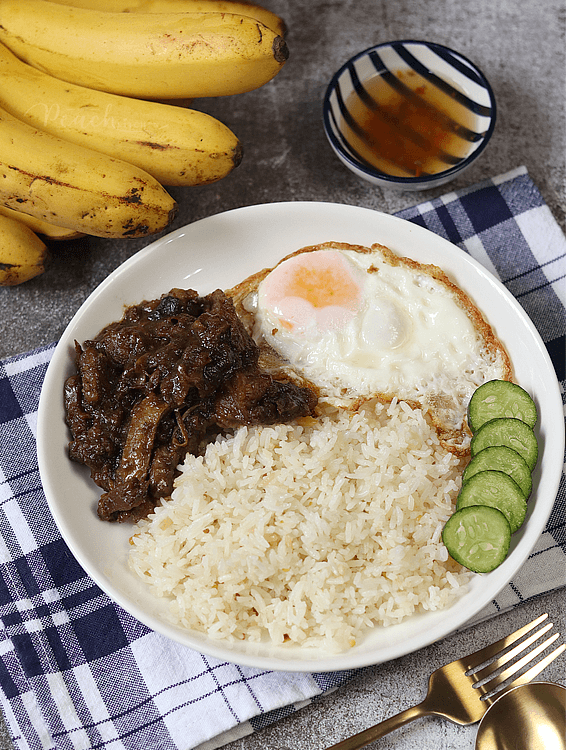 After ng Beef Tapa request ni DaddyDoodleDoo, he told me that he didn't want the dry beef tapa like the one that I made. That what he really wanted was the saucy tender beef tapa — and so, TapSiLog for breakfast ulit! But this time, we're having SAUCY BEEF TAPA …
Saucy Beef tapa is very tender because instead of marinating it. It's boiled in the marinade until it becomes tender. You can take it out from the sauce and shred it after simmering and then put it back and continue simmering for those who prefer shredded beef tapa. I personally like it in chunky pieces so I just let it simmer until it becomes tender and super saucy.
Kayo mga mommies, anong bet nyo sa beef tapa? Dry or saucy?
Print
Saucy Beef Tapa
500 grams

Beef Sirloin, thinly sliced and then cut into strips

8

cloves garlic, minced

1/4 teaspoon

Ground Black Pepper

1/4 cup

soy sauce

1/4 cup

cup brown sugar

1 1/2 cup

water
optional
1 tbsp

cornstarch

3 tbsp

water
Instructions
Combine everything in a pot. Mix well.
Bring to as boil and simmer until beef is tender. Add more water if needed.
Simmer to reduce the sauce.
If sauce is thin, you may thicken it up with cornstarch slurry.
Gradually add the slurry until the sauce thickens.
Serve with steamed rice or garlic fried rice.