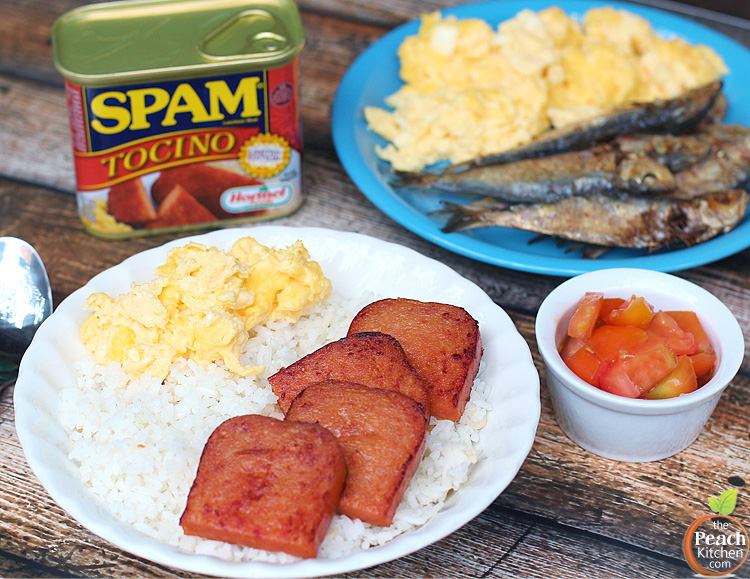 Is this SpamSiLog or ToSiLog??
To my non-Filipino friends, SILOG is a term that has been coined from the Filipino breakfast staple SInangag (garlic fried rice) and itLOG (egg). Another syllable is prefixed in it, usually the first syllable of another viand/dish that comes with the garlic fried rice and egg. A good example is TOSILOG. TO comes from Tocino,which is sweetened cured pork.
Tocino is a staple here in household.  We make our own tocino at home and I grew up eating it with garlic rice and egg for breakfast. We also love Spam and we could eat it everyday given the chance, but of course, we try to limit opening a can around twice or thrice a month.
It was such a pleasant surprise when I saw Spam Tocino in my newsfeed on Facebook.. (yes, I am following the Spam Facebook page, hihihi).
I think Spam heard that we Pinoys love Spam so much that they were inspired to create a Spam variant that will cater to the Filipino palate, hence, Spam Tocino.
I found this at SM Hypermarket in Monumento last week when Sis and I are doing our groceries. Since everyone was home yesterday, I decided to cook this for brunch so everyone can try.
So, should I call this SpamSilLog or Tocilog? Or should I just call this SpamCinoSiLog? hahaha… What's in a name anyway? Whatever I call this, I know it would still taste as delicious. After all, this is a combination of something which I both love.
Have I told you this is only limited edition?
Unlike regular Spam which you slice and then fry directly in oil, Spam Tocino has a special direction of cooking at the back of the can. It is simmered in a little bit of water first which would form into a syrup and serve as a glaze when it's done.
I know seeing the word syrup and glaze there would give you  a clue that this is a sweeter version of Spam. Hardcore Spam-lovers may not like this since Spam is know for being a bit on the salty side. I, myself, love Spam because of it's traditional salty taste.
The verdict?
My tatay, my nanay, and my brother didn't like it and prefer regular Spam.
But from one tocino lover to another, I find Spam Tocino the second best variant of Spam ever created! It's something I can keep in stock at the pantry for  emergency when sudden craving for tocino kicks in.
My sister and Ykaie couldn't agree more. I wonder what my peanutbutter♥ will think of this?
Have you tried Spam Tocino yet?