The perfect breakfast to wake up to ~~ Ube Champorado, creamy, purple yam rice porridge paired with crispy fried fish.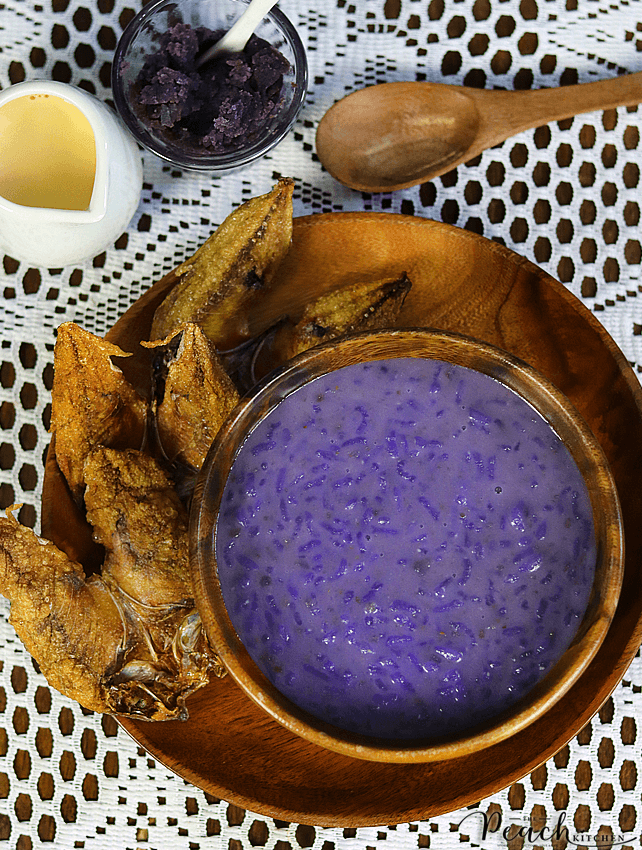 One of the hardest part of being a mommy is thinking of what to cook for the family you love every single day. I'm sure you'll agree, diba? It's not just one meal too — there's breakfast, lunch, dinner — and merienda! You can combine meals to make cooking bearable like one meal for breakfast and lunch or one meal for lunch and dinner. Just so you can save on time, work, and energy. Especially in this hellish weather we have these days (hello 43º!), as much as possible we want to cook everything in the morning.
But sometimes, the menu you think about are just one and the same every week. And let's admit it, kahit tayong mommies nagsasawa din. So I thought why not make Ube Champorado for breakfast instead of the usual chocolate we always make. It can also double as afternoon merienda.
WATCH THE VIDEO HERE: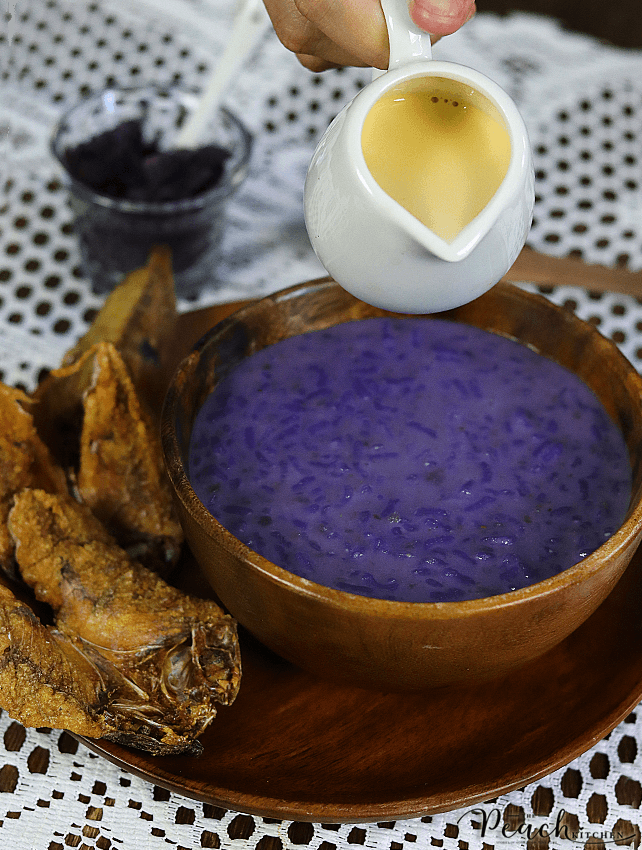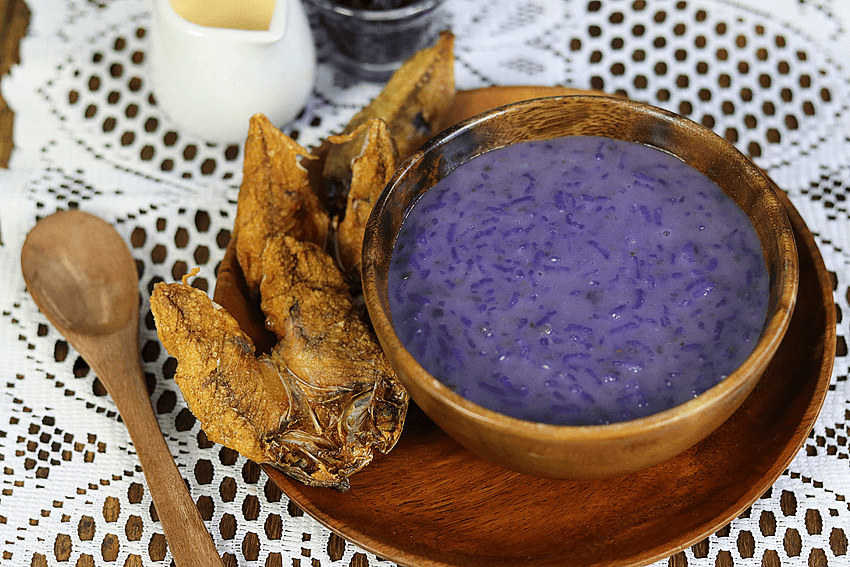 I used Ube Jam to make my Ube Champorado flavorful but you can also use ube halaya, ube powder, or just ube flavoring kung wala talagang mabiling ube jam. But I ave to tell you that the taste would be different. Of course, it's more delicious if there's ube jam or ube halaya. One other thing I added is coconut milk to make it richer and creamier. If you don't have coconut milk available, you can also use evaporated milk, heavy cream, or all purpose cream.
As for the the ka-partner of my champorado, if you don't have danggit, you can also pair it with tapa, tuyo, or cheese! You know naman how anything sweet and salty goes so well.
Ano kayang next flavor ng champorado and mai-try?
OTHER RECIPES YOU MIGHT LOVE…
Print
Ube Champorado + Crispy Danggit
1 cup

glutinous rice

5 cups

water

1/4 cup

sugar

1 cup

ube halaya/ ube jam

1 tsp

ube flavoring

1/2 tsp

salt

1/2 cup

coconut milk
evaporated milk for serving
Instructions
Pour the glutinous rice and water in a medium pot over medium heat. Stir.
Cover and bring to a boil.
Reduce heat to low and simmer for about 15-20 minutes or until the glutinous rice is cooked.
Stir regularly to prevent scorching and sticking. You may add water if necessary to get your desired consistency.
When rice is cooked, add the ube jam/ halaya, coconut milk, ube flavoring, and salt. Make sure everything is mixed well and heated through.
Add the sugar and mix well, you may add more depending on your desired taste.
Serve with crispy fried danggit on the side and topped with powdered milk or evaporated milk.
Enjoy!
♥ If you make this recipe, kindly snap a photo and tag @thepeachkitchen on Instagram (OR hashtag it #thepeachkitchen). I'd love to see what you cook!