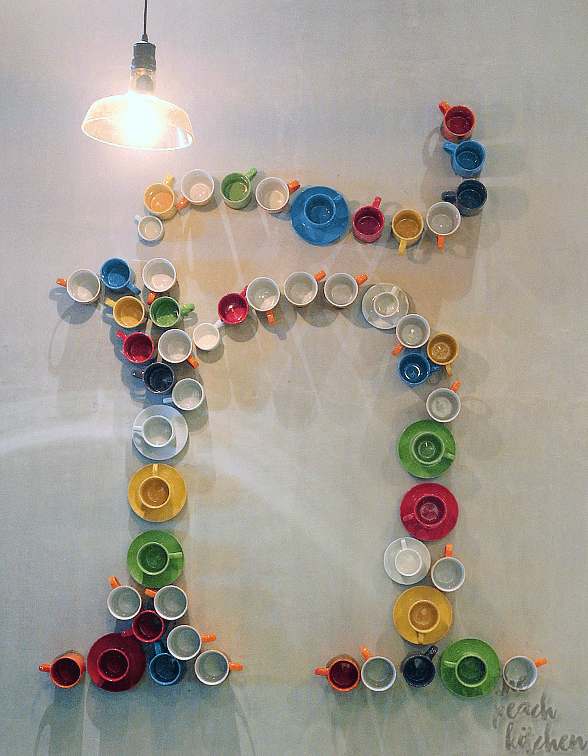 I've always thought about enye (ñ) as a very special letter when I was a child, after all it's the only letter that I know of which has a tilde on top. Fast forward to the present day, I've come to know a very special place in Eastwood City called Cafe Enye.
Quirky, fun, unassuming, cozy, and surprising that's what Cafe Enye is to me. It's located outside the mall right beside Eastwood Excelsior and opens up a welcoming red door for me and my family one weekend lunch that we were in Eastwood.
It's interior boasts of a quirky, cozy, romantic ambience. It gives out the feeling of being home and yet also gives the impression of impeccable, friendly service.
Cafe Enye serves Colonial Spanish Cuisine but modernized and given a local twist.They open up at 7am to serve you breakfast and close up at 1am to serve you tapas and drinks!
I'm excited to share with you what we had…
Our meal started with a plate of Chicharones Salad (₱250), a man-style salad that's made with mixed greens, topped with homemade pork chicharones, poached egg, orange segments, and then tossed in citrus-honey vinaigrette. If there's a salad of your dreams, this is it — you can only wish there's more of those crispy pork pieces.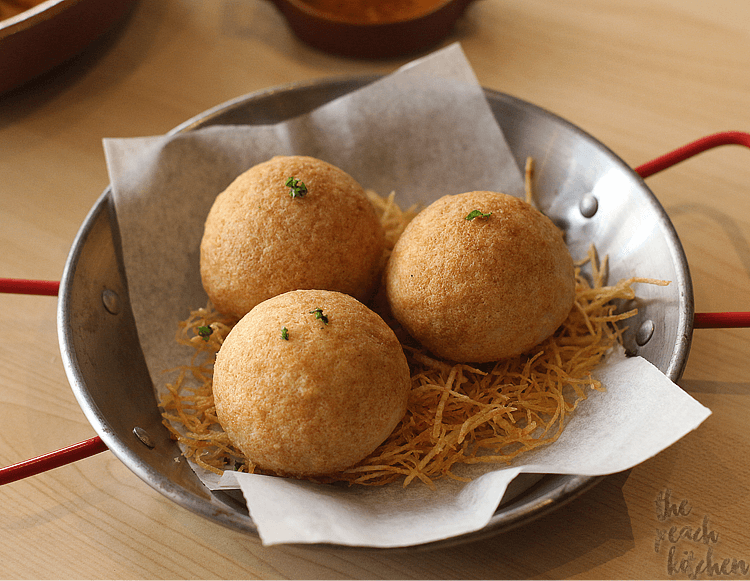 Enye Callos Buns (₱135/3 pieces) – These buns remind me of Tim Ho Wan's famous buns. It's crisp on the outside but warm and soft inside and bursting with slow-cooked callos.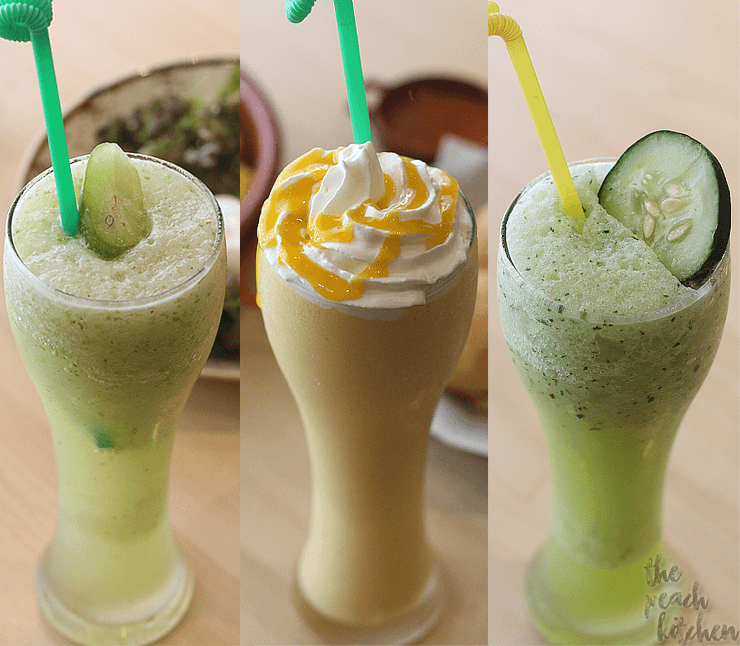 Kamias Shake,  Mango Shake,  Calamansi Cucumber Shake (₱90)
Lechon Carbonara (₱250) is carbonara reinvented with its rich white sauce, egg yolk, bacon bits, and of course, Cafe Enye's mojo chicharones. You shouldn't miss this when at Cafe Enye.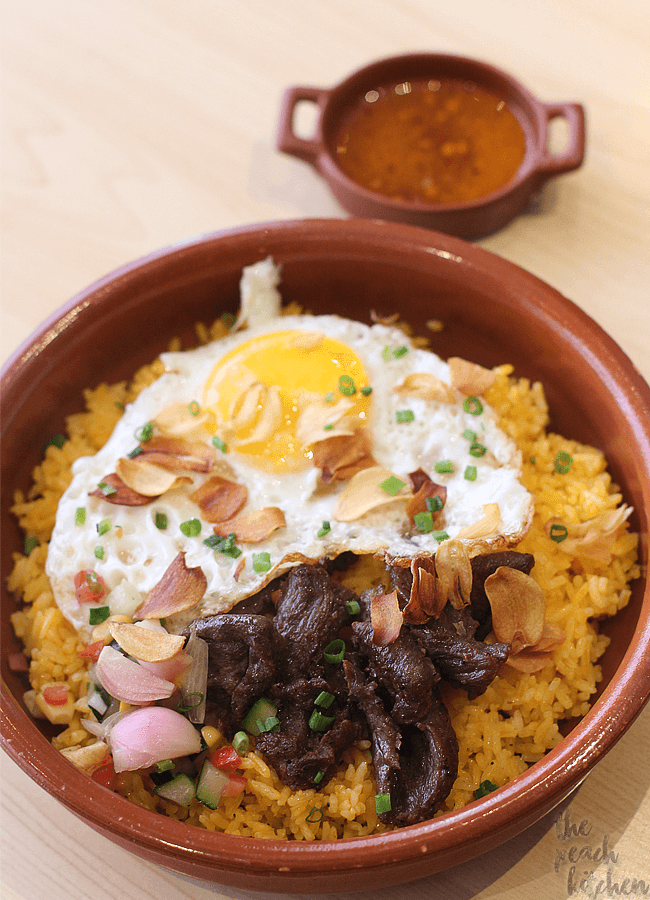 Ykaie and I love the Paella Brunch Plates because we are crazy about breakfast food and they've just made breakfast food a lot more irresistible! We tried their Home-Cured Beef Tapa (₱215) which was served with your choice of egg and Enye rice, then topped with pickled vegetable salsa, and garlic chips.
The Gambas Enye Style (₱350) is to die for! The shrimps was cooked in garlic -infused olive oil and roasted garlic. Then it was topped with garlic and garlic chives. I'm sure this will go so well with Enye rice.
Enye Cocido (₱395) – this is a classic Spanish stew made of chicken and pork, and a medley of vegetables like carrots, plantains, and cabbage. It is served with an  eggplant relish and a bowl of rice but you can clearly see that this serves 2-3 persons. Oh, it has chorizo slices too!
I just love how tasty this Fish Mojo Skewers (₱380) is! It's a plate of Enye rice served with two sticks of flavorful fish skewers, cilantro yogurt, and harissa.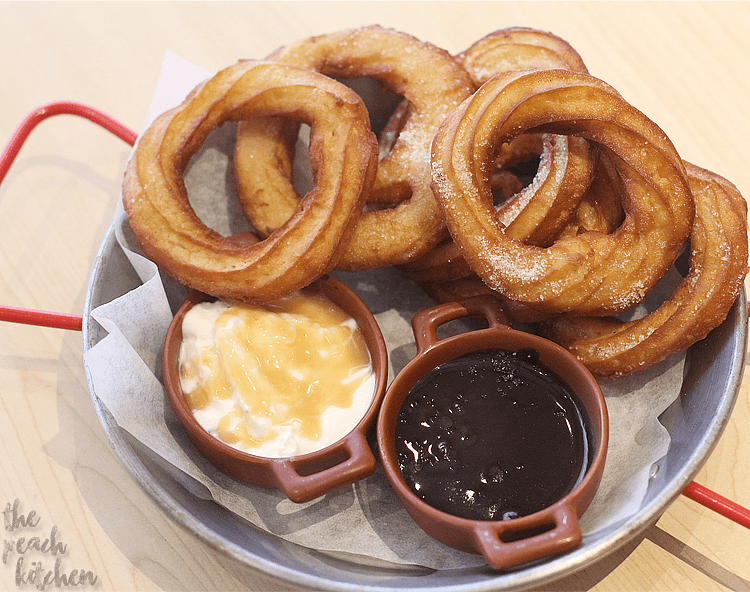 To end our meal was Chouxros with Dulce de Leche Cream (₱170), warm churros served with dulce de leche cream and tsokolate peanut butter dips.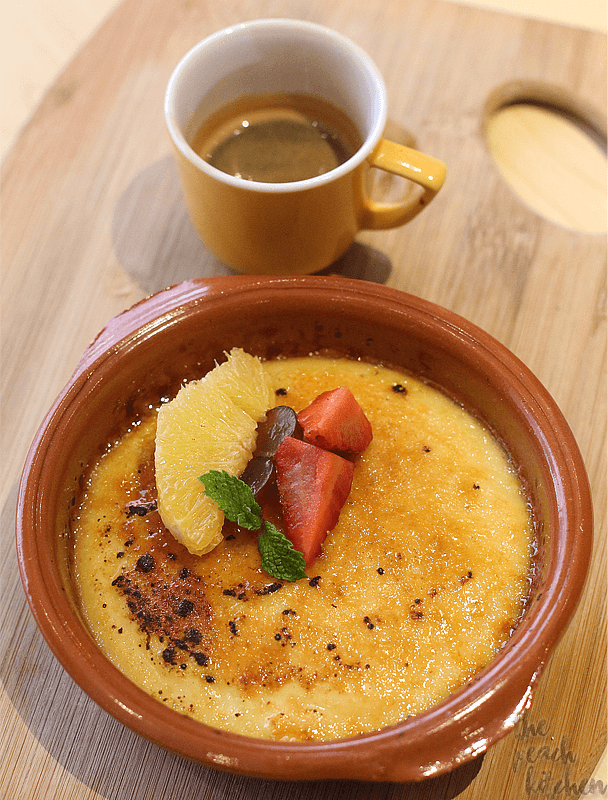 My favorite was the Creme Catalan (₱185), classic vanilla and orange zest infused custard topped with fresh fruits and served with a shot of artisan espresso.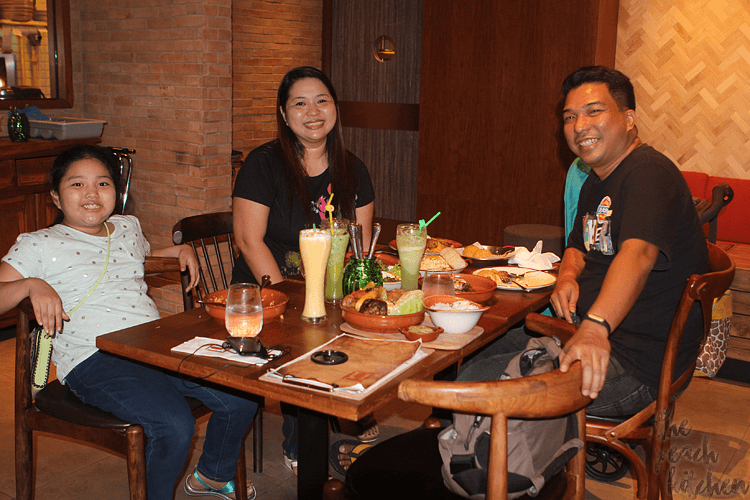 This is us , enjoying our meal immensely… Ooops, Ykaie is smiling with her mouth full…
This is the bar where coffee and cocktails are concocted for those who are staying up until 1 am…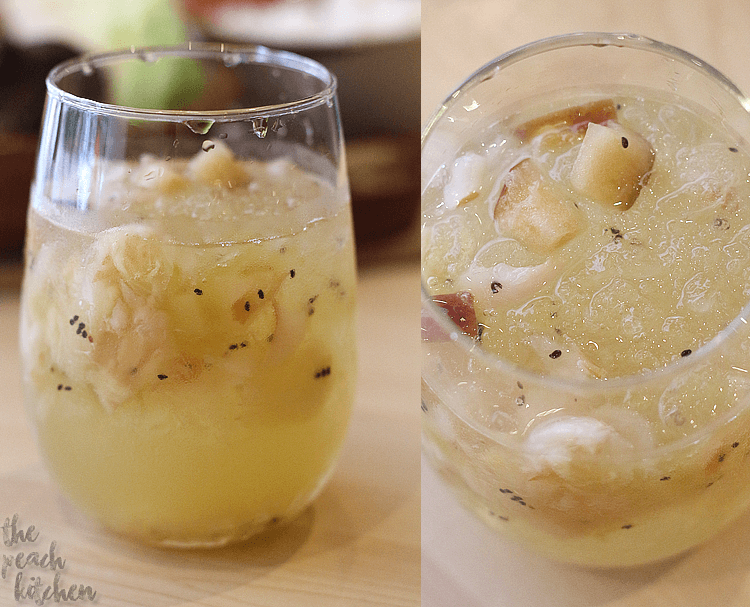 The Ñ (₱250) is one of their specials – a blend of gin, apple, kiwi, lychee, pineapple, white wine, and soda.
Capping off our Weekend lunch at Cafe Enye is this beautiful cup of cappuccino……
Café Enye is located at the Ground Floor of the Eastwood Excelsior on Eastwood Avenue, Eastwood City.