Rich and savory Dinuguan paired with warm and soft puto — Pinoy comfort food at its best….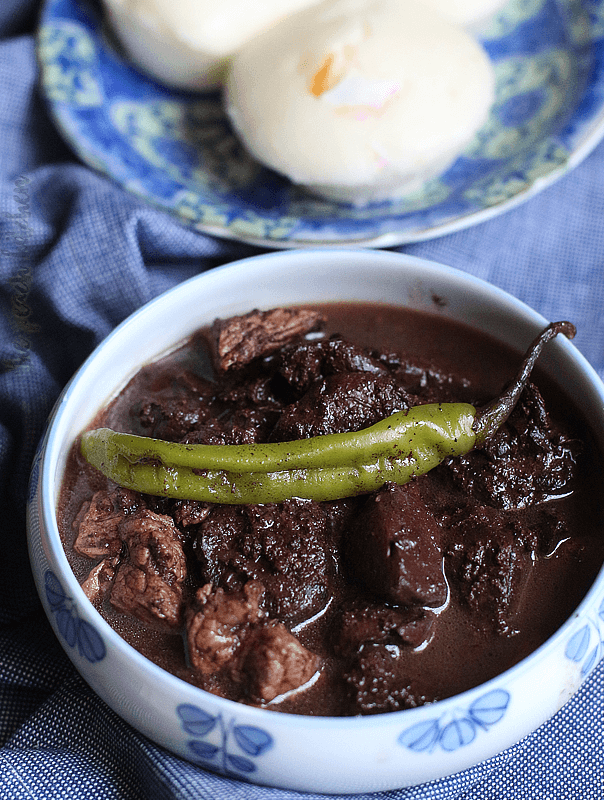 I know.
When I posted about these juicy and flavorful Burger Steaks, I told you (and MYSELF) I'm swearing off nuts, beans, mushroom, red meats, spinach, tuna, tuyo, anchovies, sardines, liver, kidneys, soy milk, tofu, shrimp, lobster, scallops, oatmeal, sweets, and alcohol in the name of health.
It was harder than I thought..*sob* specially when husband craved for Dinuguan last week.  Dinuguan is Pork Blood Stew. It is a savory stew usually made of meat and/or offal simmered in a rich, spicy dark gravy of pig blood, garlic, chili, and vinegar. It's a Filipino favorite and very much similar to similar to European-style blood sausage, or British black pudding.
It's delicious when served with steamed rice but divine when served with its partner: Puto (rice cake)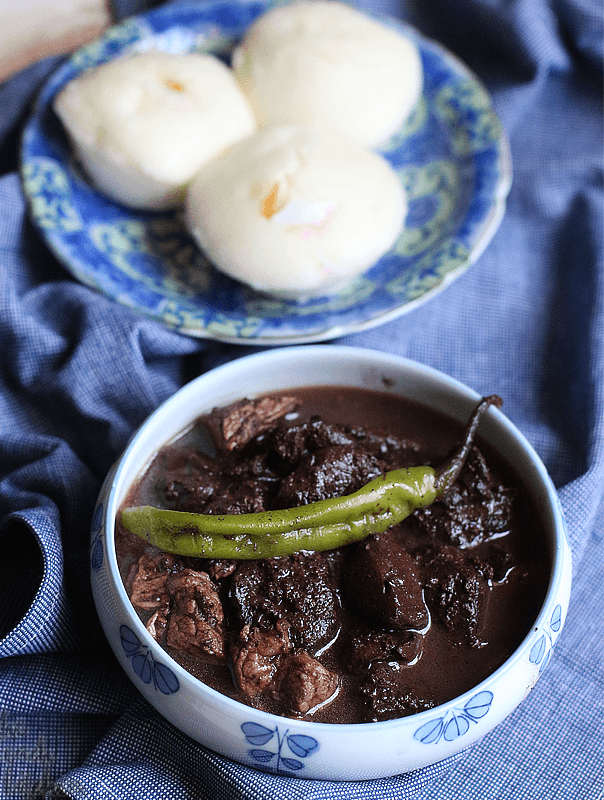 This Dinuguan is made of pork belly and beef sirloin. I like combining pork and beef when cooking dinuguan because it makes it more flavorful. I usually add pancreas and intestines too but of course, I had to forego putting some because of, (ehem) health reasons.. LOL!
I'm glad to be back in my kitchen this week….
Print
Dinuguan at Puto
250g

pork liempo,cut into bite size pieces

250g

beef sirloin, cut into bite size pieces

3 cups

of pork blood, the coagulated blood,cut into bite size pieces

3

pieces chili peppers

3cups

water

1/2 cup

white vinegar

1

medium onion,chopped

3

cloves of garlic,minced

2 tbsp

cooking oil
patis (fish sauce) to taste
Instructions
In a pot, sauté garlic and onions in cooking oil until onions become transluscent.
Add meat and sauté with onions and garlic until brown. Pour in water and bring to a boil.
Simmer until meat becomes tender.
Pour in pig's blood and add chili peppers.
Simmer for a few minutes until pork blood turns black. About 15 minutes.
While it's boiling, add the vinegar and let it boil for a minute before stirring to cook the vinegar.
Season with fish sauce.
Serve with steamed rice with a sprinkle of rock salt on top.OR serve with puto