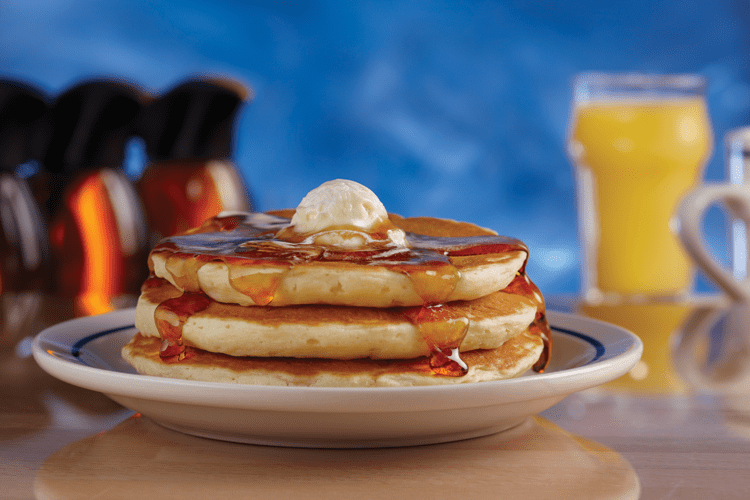 What it if I told you that there's this one day when you can eat all the fluffy pancakes you want and help a foundation for children with cancer and chronic illnesses at the same time?
It may sound too good to be true but IT IS and it's happening on March 7, 2017 on five (5) IHOP locations. It's called IHOP National Pancake Day!
On March 7, all IHOP restaurants in the Philippines will once again join locations throughout the United States, Canada, Puerto Rico, Guam and Mexico in celebrating a unique and beloved IHOP restaurant tradition: National
Pancake Day.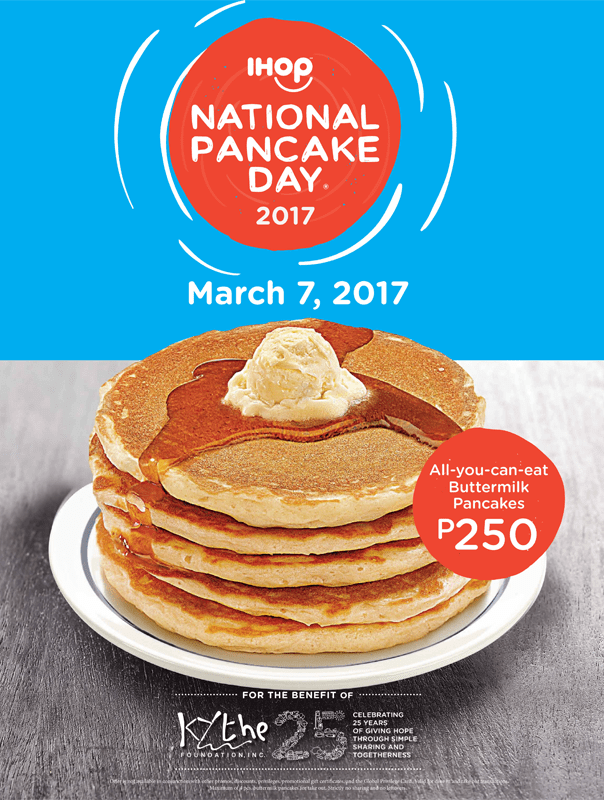 From 7 AM to 10PM on Tuesday, March 7th, all 5 IHOP locations will be offering guests the opportunity to enjoy unlimited servings of their world famous buttermilk pancakes for only ₱250, to enjoy in the restaurant. ₱200 out of the ₱250 generated from those pancakes will once again be donated to the Kythe Foundation, which provides children with cancer and chronic illnesses the chance to learn, play, and grow while in treatment, even if they're in the hospital.
National Pancake Day began in the United States in 2006 and in the past decade has raised $20 million dollars for children's health charities in the local communities Last year, IHOP Philippines joined the celebration, raising nearly ₱400,000 for the local Kythe Foundation charity.
"Last year, IHOP Philippines, with the public's generous and kind hearted support, was able to raise nearly ₱400,000 for the Kythe Foundation Charity through our National Pancake Day initiative. This year, we are once again elated to take part in IHOP's arguably most popular and clearly most impactful tradition," said Archie Rodriguez, CEO of Global Restaurant Concepts Inc., IHOP restaurant franchisee in the Philippines. "With every single IHOP restaurant in the Philippines participating in our 3rd National Pancake Day, we are hoping to raise a total of ₱500,000 this year for the Kythe Foundation to aid, in our own small way, in improving the quality of life and alleviating the condition of our children battling pediatric cancer."
Why was Kythe chosen as the partner beneficiary?
The Kythe Foundation is an organization that focuses on psycho social assistance to kids with cancer, blood and cardiovascular diseases. Through their initiatives, children confined in hospitals are given the opportunity to play, grow, and learn through various activities.
IHOP believe that their advocacy as a non-profit organization is aligned with our company's child centric values and we believe in what they do for the community.
For more information on Kythe, please visit www.kythe.org.
What is included in the ₱250?
The ₱250 includes the unlimited buttermilk pancakes with a choice of IHOP's signature syrups and whipped butter. It does not include drinks and other pancake flavors. However, you are free to order from the menu should you wish different fare.
Which of the IHOP branches are participating?
Bonifacio Global City – 6AM to 11PM
UP Town Center – 7AM to 9PM
Century City Mall – 7AM to 9PM
SM Mall of Asia – 7AM to 10PM
Araneta Center – 8AM to 10PM
See you at IHOP on March 7!