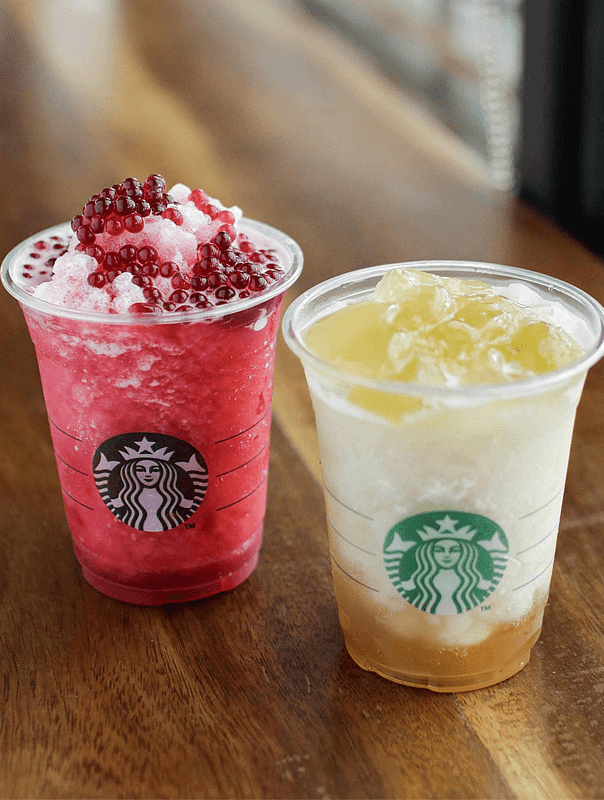 Remember last year? When I attended the the launch of Starbucks Teavana? I was very excited because of the three Starbucks Teavana Handcrafted Beverages that they launched along with it.
This year, Starbucks is taking it up a notch by launching Teavana frozen teas. I think these drinks are perfect for people like me who are trying to avoid caffeine and creamy drinks . When you are trying to avoid both and want an ice blended drink, the only choice you have is the Mango Tea Frappuccino. Well, not anymore.
Let me introduce you to the two Teavana frozen tea flavors:
TEAVANA FROZEN CHAMOMILE TEA WITH KYOHO GRAPE AND ALOE (Tall – ₱ 150| Grande ₱ 165|Venti– ₱ 180) – is made with  Starbucks signature Chamomile tea, honey white grape puree, bits of aloe, and whole Kyoho grapes. This drink has a very unique cool, sweet, and refreshing flavor that just calms you out. If you're wondering what Kyoho Grapes are, it's "Giant mountain grapes" from Japan,  which are skinned, pitted and left whole to maintain their texture.
TEAVANA FROZEN HIBISCUS TEA WITH POMEGRANATE PEARLS (Tall – ₱ 150| Grande ₱ 165|Venti– ₱ 180) This is very much like the Iced Shaken Hibiscus Tea with Pomegranate Pearls from last year. It's bursting with Hibiscus, tropical papaya and mango, and hints of cinnamon and lemongrass from Starbucks signature Hibiscus tea. The pomegranate pearls complement the tea with the lightly sweet and tart flavor of real pomegranate juice.
**Both are available in Iced Shaken format
Since it doesn't have caffeine, I let Twinkle try it the other day and she loved it! Now I think fruity and floral flavors go well together.
NEW FOOD ITEMS
This month's new food items is l♥ve! Starting off with this Mango Float Cake which is made with moist and buttery cake then layered with creamy mango mousse and meringue, finished with mango buttercream icing. It's like a Mango sansrival and cake combined together and IT. IS. THE. BOMB.
If you're on a health kick, you'd  be happy too because of the Arugula Pasta Salad with Creamy Parmesan and the Oriental Vermicelli Chicken Salad.
The Arugula Pasta Salad with Creamy Parmesan comes with al dente tri-color fussili pasta, fresh tomatoes, black olives and bell pepper on a bed of arugula with creamy parmesan dressing. I love arugula because of its peppery taste and it gives this pasta salad such a nice layer of flavor.
The Oriental Vermicelli Chicken Salad comes with Vermicelli noodles, crunchy vegetables, crispy fried wanton strips, and sesame chicken slices you can toss together in oriental dressing.
Both pasta and noodle salads are yum!
Penne Pesto with Mushroom as the name suggests, this is penne pasta sautéed with button mushroom and creamy pesto sauce.
Classic Beef Lasagna – A Harmony of savory meat, creamy bechamel sauce and lasagna baked with mozzarella cheese.
Aside from the new drinks and food items, Starbucks also launched a new design for its Starbucks Card. Available for an initial activation amount of ₱1,000, the Maple Leaf Starbucks Card comes in four colorful options.