If you're in Tagaytay and looking for some place romantic to take your special someone for dinner, I suggest you take her (or him) at the Taza Fresh Table of the Taal Vista Hotel.
We had one of the best dinners there and while I'm with the whole family, I couldn't help but feel the romance in the air because of the ambience — dim lights, candles, soft music, and lots of greens outside.
Taza means fresh and you can tell they use only the freshest ingredients in their dishes because of the way it tastes. They offer mostly modern Italian and Mediterranean dishes but most are made using local ingredients such as Laguna Cheese, Tagaytay mushrooms, and Mt, Kanlaon black rice.
I know you're curious about what we had for dinner, so here they are…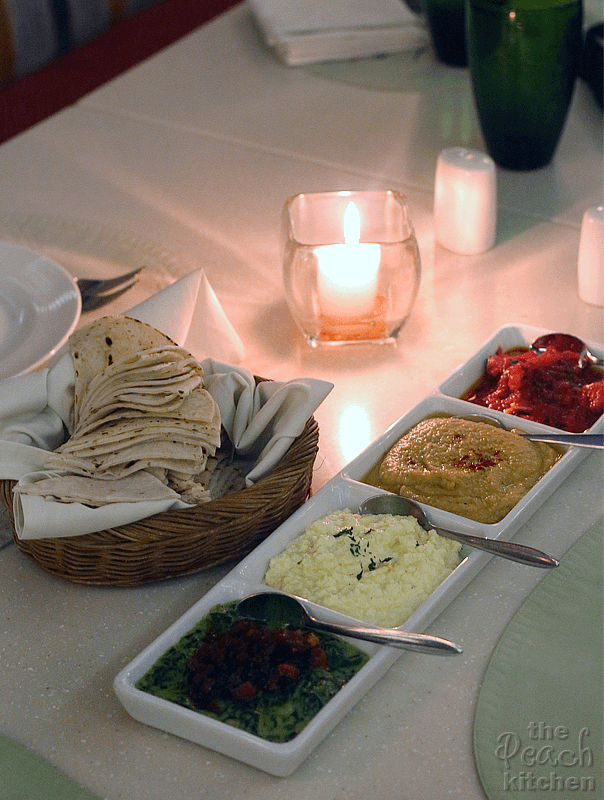 Our dinner started with their Mezze Served with Flat Breads (₱800), It's a starter set with choice of four items.We had Spinach with Bacon Jam, Ricotta, Hummus, and Chorizo with Garlic. My favorites were the Hummus and the  homemade Ricotta. I can live with the Mezze alone and this set of four can actually serve a family or barkada of eight.
The mezze was followed by the Taza Salad (₱390) which is composed of quinoa, cherry tomatoes, wild arugula, romaine lettuce, micro-greens, Cebu-dried mangoes, radish, beets and tossed in a la minute tarragon white-wine vinaigrette. I like that this has a few butterfly pea flowers (blue ternate)  on top as garnish.
The Four Cheese Pizza (₱600)  had that nice chewy crust I always look for in pizza. It was topped with tomato sauce, olive oil and four cheeses:  Laguna kesong puti, Pato Queso de Bola, Laguna Mozzarela, and their homemade ricotta. Yum-O!
This Mushroom and Spinach Matagliati (₱595) is very much like my Mushroom Cream Pasta only it has truffle oil and made of  a trio of Tagaytay mushrooms (oyster, shiitake, and button mushrooms) and créme fraiche.
I heard that the Tomahawk Pork Chop (₱800) is one of Taza's bestsellers. The pork chop as big as my face! Perfectly cooked, with fats a bit charred giving it a smoky flavor. It is served on a bed of mashed potato, caramelized onions and bananas, and pork jus. I only ate two teeny weeny slices of this, promise!
We also shared this Grilled Turmeric Chicken (₱620). The chicken was marinated in yogurt, fresh turmeric ginger, cilantro and tzatziki was served with coconut rice.
To cap off our meal, we had a dessert of Canoli and Apple pie ala Mode.
Our dinner ended just as the restaurant was closing at 10pm. We relished each and every bite of their delicious food.
OPERATING HOURS:
MONDAYS TO THURSDAYS
Lunch 11:30 AM – 03:00 PM
Dinner 06:00 PM – 10:00 PM
FRIDAYS
07:00 AM – 03:00 PM
06:00 PM – 10:00 PM
SATURDAYS
07:00 AM – 10:00 PM
SUNDAYS
07:00 AM – 06:00 PM
Taza Fresh Table is located at Ground Floor, Taal Vista Hotel Kilometer 60, Aguinaldo Highway, Tagaytay City 4120 Philippines
facebook.com/taalvistahotel
Twitter and Instagram: @taalvistahotel
www.taalvistahotel.com
TAAL VISTA HOTEL
I know you're also curious about our room and reservation, so here are some photos.
Thank you so much for such a warm hospitality Taal Vista Hotel. See you again soon.