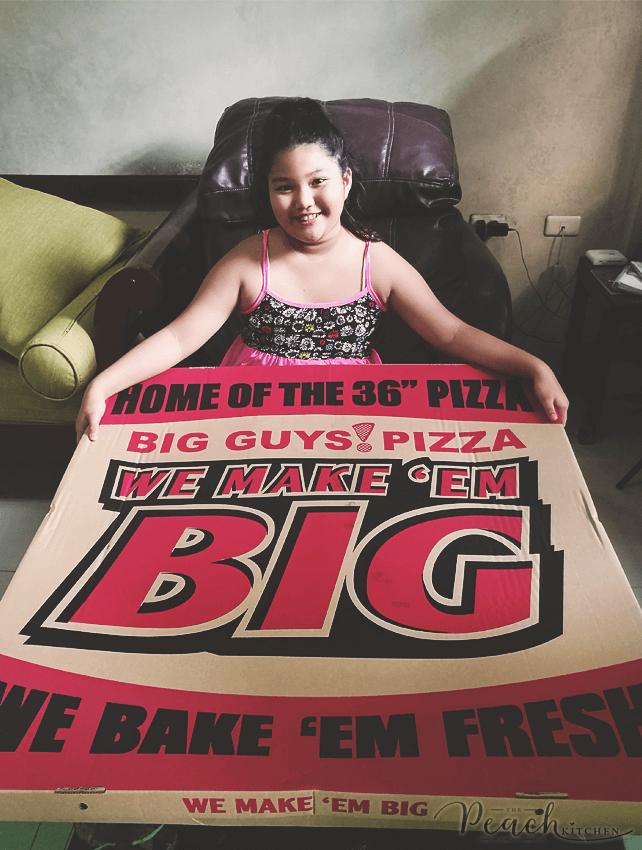 Did you ever wish there's a giant pizza that could serve everyone during family reunions, office meetings, or barkada get togethers?
Well, your wish has just been granted. All I'm wishing for was a pizza but was so surprised when Big Guys sent over one of their 36″ pies. (Thank you so much Big Guys Pizza!)
My little pizza monster a.k.a Ykaie couldn't be happier!
This pizza has at least 70 slices in it and Ykaie can finish four in one sitting.
70 slices. That could feed up to 20 people. If you're worried that it might break the bank, well, worry not because you can buy their 36″ inch pizzas for as low as ₱999
If you're coming from a small family or group of friends and know that in your heart of hearts that you're not gonna be able to finish the 36″ pie, then opt for their 10-, 15- or 20-inch ones.
Prices for each flavor and sizes are down below.
Best-selling flavors include Big Guys Specialty (12 flavors divided into one 36" Pizza)., All Meat, Super Supreme, Italian Supreme and Big Gal.
Above is the list of their branches and contact numbers. Of course, they deliver.
I think Big Buys Pizza has your holiday parties covered.