Quick, easy, tasty and protein packed Chicken Piccata on Yellow Soybean Pasta — awesome week night meal…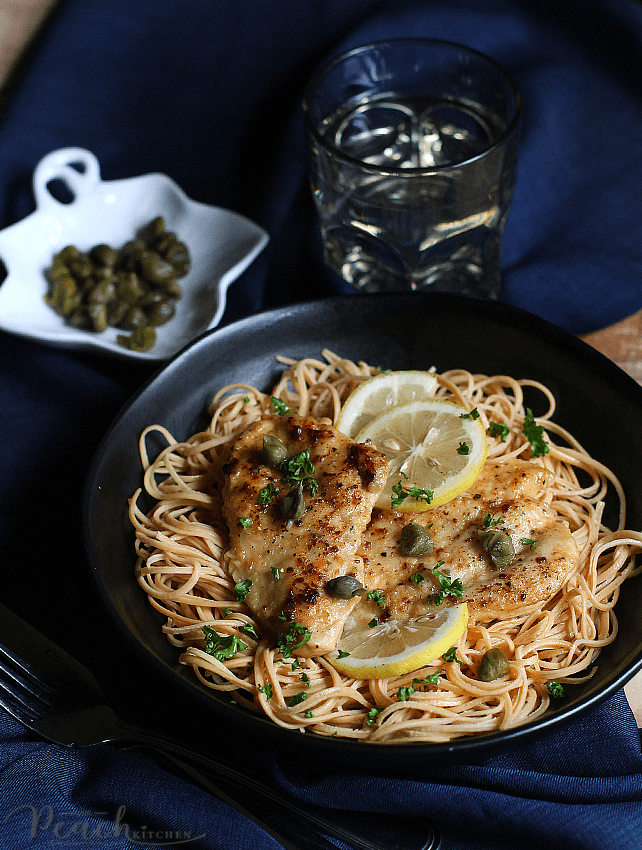 Twinkle is a handful these days! Yes, she's two and yes, I am dealing with my terrible twos. This is the second time I'm dealing with this situation, after Ykaie, of course. I so wanted to write everyday but I have to play hide and seek with her. Every time she sees me sitting down and trying to get cozy with my laptop, she immediately goes and tries everything to pry me away. She either pulls my hand and ask me to play with her or sits on my lap and tries to grab everything in front of her.
Yeah, terrible twos is terrible –hah! I read that it's during this stage that toddlers struggle with themselves between their reliance on adults and their independence. Tantrums are frequent because they can't express themselves that well. One minute I see Twinkle climbing the stairs, the sofa, the speaker — and the next, she's so clingy she wants me right next to her while watching cartoons and playing with her Anna and Elsa dolls. It's difficult to do anything else. I have to admit, though, I enjoy every single second of that clingy moment and my heart skips a beat whenever I catch her trying to do stunts at home.
So while she's still sleeping, I'm taking my sweet time to share this Chicken Piccata on Yellow Soybean Pasta with you.
I made this three times in the last two weeks. Ykaie and peanutbutter♥  both loved it. They enjoyed it for dinner and for baon at work and at school. We enjoyed it on it's own, on top of pasta, with bread — basically anything we can enjoy it with. The chicken breast are so tender and becomes so flavorful when you immerse it in the sauce and smother it with lots of capers.
I believe it's already healthy but I'm "healthy-fying" it even more by topping it on 7 Grains Organic Yellow Soybean Protein Pasta.
7 Grains' Organic Yellow Soybean pasta is a way to eat pasta without the carbs. It's made out of 92% organic yellow soybean and 8% water. It's really a miracle pasta — if you know what I mean.
And it this indulgent month, it's one way to keep my carbs in check.
So thank you, friends from 7 Grains for sending out these protein pastas — and also for  sending out this Skinny Tomato all natural Ketchup and Skinny Seasoning.
This is one of those recipes that finds its way into our daily menu rotation. It's easy to make, quick cooking, elegant for when you have company, healthy, versatile— and delicious.

Chicken Piccata on Yellow Soybean Pasta
Ingredients
1 box of 7 Grains Organic Yellow Soybean Protein Pasta, cooked according to package direction
4 large boneless chicken breasts, butterflied and cut
3 tbsp salted butter
3 tbsp olive oil
juice of 2 lemons
¼ - ½ cup capers (depends on how much you like them)
2-4 tbsp flour for dredging chicken
1½ cup chicken stock (or 1 chicken cube dissolved in 1½ cup water)
salt and pepper to taste
chopped parsley and grated parmesan cheese for garnish
Directions
Season both sides of chicken breast with salt and pepper.
Put flour on a plate and dredge each side of chicken breast lightly, shake off excess.
Heat butter and olive oil in a pan.
Fry the chicken breast until golden brown, around 3-4 minutes each side. Put it on a plate and set aside.
In the same pan, add chicken stock, lemon juice, and capers. Whisk to scrape off the bits and let it dissolve into the sauce. bring to a boil and simmer for 2 minutes.
Put the chicken back in the pan and simmer for another two minutes.
Sprinkle with chopped parsley.
To Serve: Put cooked Organic Yellow Soybean Protein Pasta in a plate. Top with 1-2 pieces chicken and then a few tbsp of sauce. Sprinkle with grated parmesan cheese and more parsley.
♥
 If you make this recipe, kindly snap a photo and tag @thepeachkitchen on Instagram (OR hashtag it #thepeachkitchen). I'd love to see what you cook!