I am feeling under the weather today. To be honest, I haven't been eating healthy. I'm craving too much sweets and I'm giving in to my cravings because, well, masarap ang sweets!!! I also haven't been getting enough sleep. Just like today, I went to bed at 9pm last night and then I woke up at 12:30am. To perk myself up, I decided to look at photos and I suddenly remembered I haven't shared this with you yet: our lunch at Rustic Mornings By Isabelo.
We had lunch here one Sunday in February after breakfast at Pan De Amerikana to celebrate Nanay's birthday. We arrived just in time for lunch and since it's family day, there were lots of families waiting outside. I believe we were number six in line that day.
There was a Waffable booth in the waiting area. A waffle bar selling waffles on a stick. Syempre, sabi ni Ykaie gutom na sya so she can try it.
Most of the tables were al fresco, but the table we got was inside their air conditioned area.
Because matakaw kami we were in a food tripping mood and were already hungry, I think we ordered way too much than our tummies could handle.
To start, we had the Spinach and Artichoke Dip (₱350), the dip was thick, creamy, and garlicky — just the way we like it.
It was followed by a salad made with Spinach, Arugula, Apple, Candied Walnuts, Bleu Cheese, and Rustic Morning's Signature Vinaigrette (₱350).
I love the Rustic Mushroom Soup (₱200) because you can tell it's made from fresh mushrooms. It's rich, thick, and creamy too. The French Fries (₱130) are for Twinkle who can now say "Fa-fwies"
I ordered the Berry Good For You Smoothie Bowl (₱350) just because I wanted to try it. It's a smoothie bowl that tasted like a mixed berry smoothie topped with banana slices, mango cubes, chia seeds, shredded coconut, and cacao nibs.
peanutbutter♥ had the Spanish Callos (₱300) which he says is good but there was way too much rice in the serving.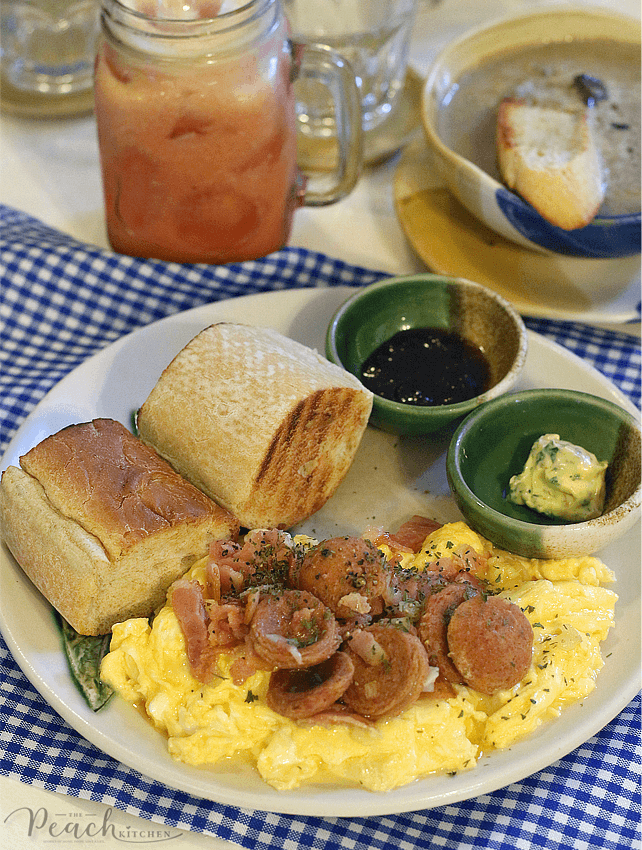 Sis had the Meat Lovers Omellete (₱270) which was omellette topped with sausage slices and ham bits. It was served with two slices of french baguette, herbed butter, and jam.
I think Ykaie was bitin from the Waffable waffle, so she had the Half & Half Waffle (₱215) – half plain and half churros waffle plus an extra order of Hashbrown (₱85) on the side.
Nanay had the Waffle,Breaded Chicken , and Salad (₱320). She wasn't able to finish all of it, though and we ended up eating half of it.
It was a fun lunch and we ended up really full! We missed our cousin Rome on this Sunday Lakwatsa.
Rustic Mornings by Isabelo is located at 11 I. Mendoza St, Marikina, 1800 Metro Manila.