Another restaurant we were able to try in Baler is Charlie Does. According to their website, it's a coffee shop, hostel, and a surf shop in one. But we were only able to try their food since we ate there during lunch time. It's a quaint restaurant that serves vegetarian meals. Medyo pa-healthy kami kahit na pagod kami galing sa pasyal…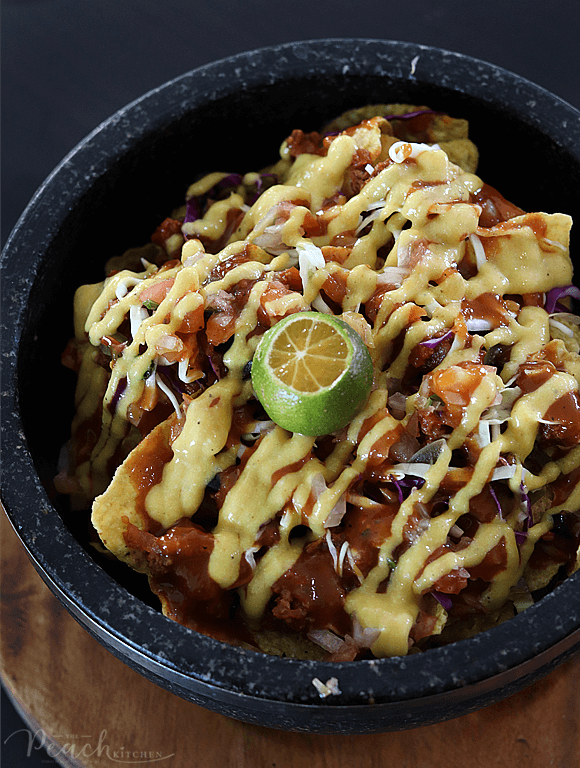 We started off with this Charlie Does Vegetarian (or was it vegan?) Nachos  served in a hot stone bowl. It's a big serving of nachos topped with ground Quorn, tomatoes, onions, shredded cabbage, vegan cheese, and calamansi.
peanutbutter♥ and my sister who calls herself Anney ordered the Tofu Sisig with brown rice and egg (₱120). Their version has Shiitake mushroom so it's very earthy. Sarap! magaya nga ito…
I didn't know Pako (or Fiddlehead Fern) can be cooked this way until I've tried it — Sautéed Pako (₱50). It was sauteed in garlic and onions and topped with fried garlic.
I forgot what this salad was called and how much is the price but it was made of iceberg lettuce, cucumber, watermelon, onions, nuts, feta cheese, and steamed pako. The dressing was soy and balsamic vinegar.
Twinkle loved this Vegan Pancake (₱120). It was topped with a dragonfruit compote. I find it too sweet.
Ykaie had a Banana Smoothie to go with her meal….
….which is this plate of  Charlie Does Fries (₱100) that she just had to share with Twinkle.
Charlie Does is located at Buton St, Baler, Aurora.