One of the most exciting things about deciding to cut back on the waste you produce in your kitchen is the shopping you get to do. That might seem counterintuitive at first. But we're not advocating that you throw out everything you already have; moving towards a more sustainable kitchen is something you get to do over time. You get to be thoughtful about it.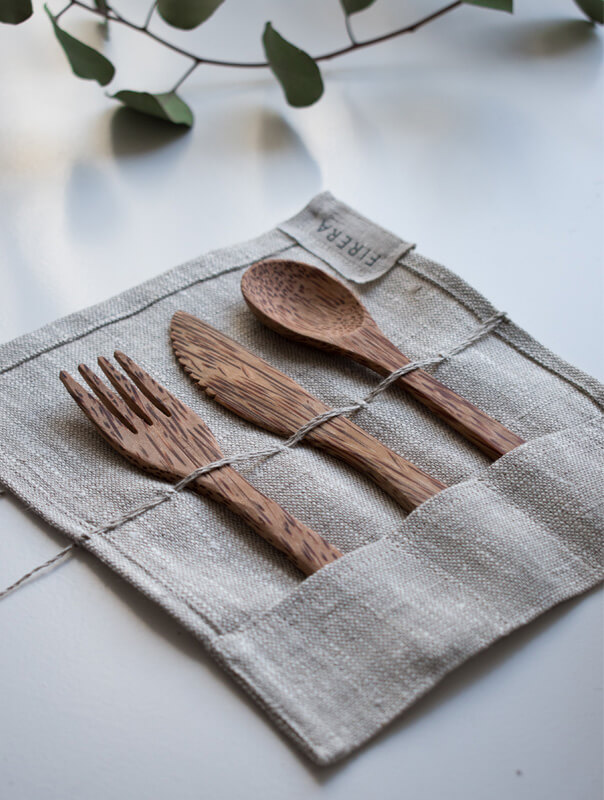 Paperless Towels
Who among us doesn't feel a twinge of guilt every time we rip off a paper towel, use it for a moment, and toss it into the garbage? You can find so-called paperless towels on Etsy, typically made of cotton, so that they are machine washable. Another option–this one available on Amazon–is called: Swedish dishcloths. These cloths are made of a wood pulp/cotton blend; they are super absorbent and can be washed in either the dishwasher or washing machine.
Zero Waste Dish Soap
Dish soap generally comes in a plastic bottle and contains chemicals that might not be so great for the environment. The eco-friendly dish soap industry is thriving. A company called SeekBamboo is a proponent of the sustainable household movement; they sell a Zero Waste dish soap bar that can be used to clean dishes, sinks, floors, and to take stains out of carpets and clothes. This soap is long-lasting, made from all-natural ingredients, and arrives in plastic-free packaging. That same company offers various products such as a Zero Waste kit menu, (bamboo) charcoal toothbrush and bamboo toilet paper to help you achieve greater sustainability in both the kitchen and the bathroom.
Reusable Lids
Don't reach for the plastic wrap; instead, reach for reusable bowl covers or silicone lids. Some options are oven-safe, which is convenient for storing leftovers that you plan to reheat in the oven. You can buy specially made bowl covers or simply use beeswax paper. Organic reusable beeswax food wraps can be found on Amazon.
Reusable Storage Bags
>Have you longed to eliminate plastic baggies from your life? So have we. Some of the eco-friendly alternatives include silicone food bags, zipper-top bags made with PEVA (a PVC-, BPA-, and lead-free biodegradable vinyl-alternative), widemouth glass jars, mason jars, stackable glass storage containers (that are shaped like plastic grocery store containers), and stainless steel bento boxes.
Reusable Produce Bags
You can really burn through a lot of plastic when you shop the produce aisle. Thankfully, there is a burgeoning reusable produce bag industry, including cotton net bags, linen bread bags (for bulk items such as rice and dried beans), and reusable vegetable preservation bags. The options here range from inexpensive to very expensive, depending on the aesthetic you're going for.
Water Bottles
We can all agree that plastic water bottles need to go. When we think of an island of plastic trash floating in the oven, we inevitably picture plastic beverage bottles bobbing in the waves. The reusable water bottle industry has really stepped up its game, providing stylish, trendy alternatives to disposable plastic. Some of the most popular brands include Hydro Flask, Yeti, S'well, Klean Kanteen, and CamelBak. You can personalize your water bottle with waterproof and dishwasher safe stickers so you can both express yourself and easily pick your water bottle out in a crowd.
Seltzer Machine
Unfortunately, those of us who can't live without our bubbly water can contribute a lot of waste. Some carbonated water brands do sell their product in glass bottles, but many brands use plastic. Either way, you can create a lot less waste if you make your own sparkling at home. The SodaStream machine retails at around $150, although there are less expensive machines.
Eco-Friendly Straws
We all know that plastic straws are terrible for the environment (think of the turtles!), but until recently, the alternatives were terrible. However, the eco-friendly straw industry has innovated, and we no longer have an excuse to reach for the plastic kind. There are straws made from stainless steel, grass, wheat, bamboo, and many other materials.