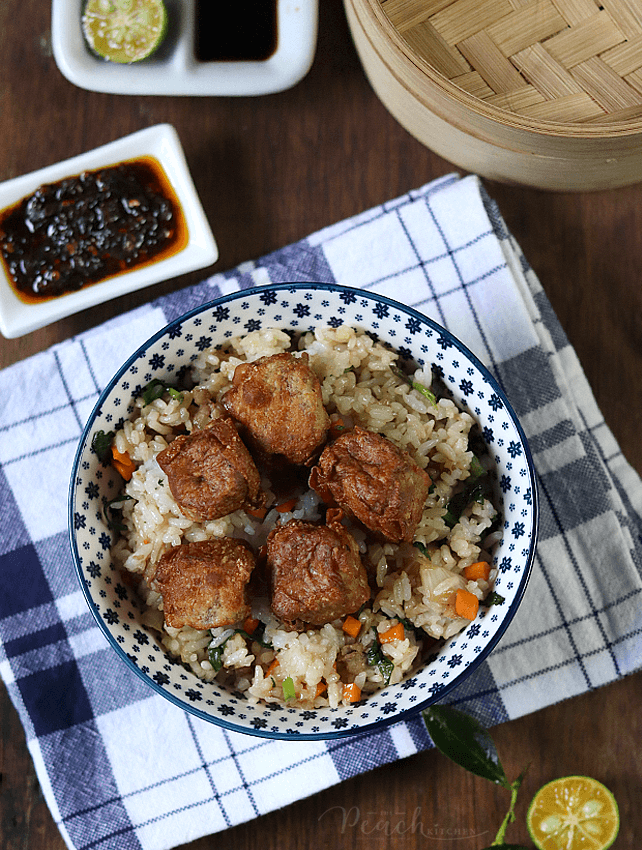 Let's face it, now that school has started for our chikitings, life is busier thatn EVEEERrrrrr. diba? It's amazing how we can stick to our busy schedule — working at home, household chores, helping the kids answer their modules, prepare breakfast,lunch, and dinner — and most of all still have some ME time left to watch our favorite korean novelas. I am watching Mystic Pop-Up Bar, btw.
One of the secrets is by preparing easy-to-cook meals during my busiest days to be able to manage my time properly and squeeze in everything I need to do in a day. This Chao Fan with Fried Siomai is one of the easiest dish to cook and it's flavorful as well.
My kids love love love fried rice and crispy fried siomai so I know it's something they would like. What I like about this dish is that I can put tiny pieces of vegetables to keep it nutritious. I added kangkong, carrots, and spring onion.
As for the siomai, you can use your homemade siomai or your favorite store-bought siomai.
Share nyo naman sa akin ang secret fried rice recipes nyo mommies para magaya ko!
OTHER RECIPES YOU MIGHT LOVE…
Print
Chao Fan with Fried Siomai
for the Chao Fan
2 tbsp

cooking oil

4

cloves garlic, minced

1

onion, chopped onion

6 cups

cooked rice

1

bunch of kangkong, chopped

1

carrot, chopped into small pieces

1/4 cup

chopped spring onion

100g

ground pork

1 tbsp

soy sauce

1/2 tbsp

liquid seasoning
Fried Siomai
ready-made siomai
cooking oil for frying
soy sauce
calamansi
chili garlic sauce
Instructions
Heat oil in a pan/wok. Saute garlic and onion until onion is translucent.
Add the ground pork and cook until brown. Add the carrots and cook for a minute.
Add the cooked rice and season with soy sauce and liquid seasoning.
Cook for about 5-10 minutes, mixing well. Then add the kangkong and spring onion, cook for 2 more minutes.
For the fried siomai: Heat oil in a pan and fry the siomai until brown and crispy.
To serve: Scoop 1-2 cups of rice in your box/bowl, top with 5 pieces fried siomai.
Serve with soy sauce, calamansi, and chili garlic oil for dipping.
♥ If you make this recipe, kindly snap a photo and tag @thepeachkitchen on Instagram (OR hashtag it #thepeachkitchen). I'd love to see what you cook!