There is no doubt about it, finding the perfect food to eat alongside a delicious cocktail can make it a hundred times tastier, or at least seemingly so. Although martinis may not be the first food pairing drink that you think of, it is undoubtedly true that there are many tasty munchies to choose from.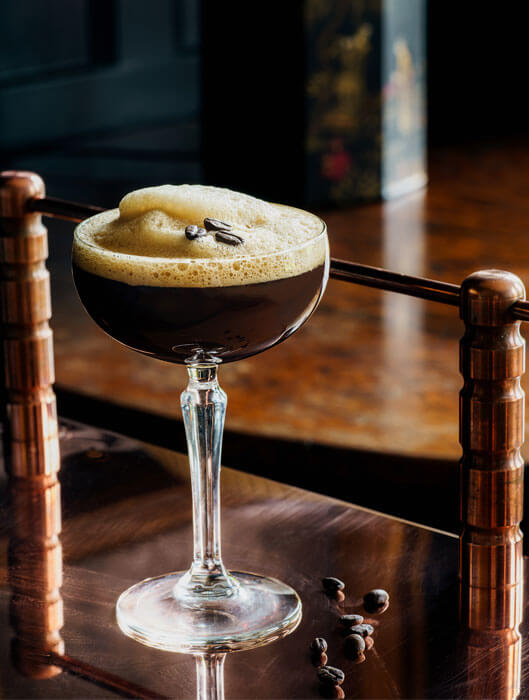 When it comes to an espresso martini drink, for example, you may not think there are many food pairings. After all, what goes with vodka and espresso? As it turns out, the truth might surprise you. Without further ado, check out these eight yummy foods to pair with an espresso martini.
1. Olive, Red Pepper and Goat Cheese Crostini
When you combine the smooth taste of olives, the crisp taste of red pepper and the irresistible taste of goat cheese, it creates a surprisingly wonderful flavor balance with the unlying ingredients in an espresso martini. Put it all on a crostini for a truly delicious snack.
2. Meat and Cheese Board
With alcohol, few snacks are as reliable as a good old meat and cheese board. While some people might think of this food pairing more often with wine, meat and cheese taste quite lovely when you serve them up next to a martini blend.
3. Tomato Basil Bruschetta
For the experience of espresso and Italian food combining, you must try tomato basil bruschetta while you are sipping your elegant and caffeinated concoction. The two dishes did not come from the same place for nothing. You can definitely tell these tastes go together.
4. Nutty Biscotti
For something a little light, some nutty biscotti can make a satisfying treat while you are drinking a martini as well. The blander taste of biscotti contrasts nicely against the strong vodka and coffee undertones, and there is just enough of nutty taste to appreciate.
5. Chocolate Brownies
If you have a sweet tooth, then eating chocolate brownies that contain very rich chocolate is another excellent menu option. If the flavor of espresso is a little too strong for you, the sugar of the brownies will balance the bittersweetness of the coffee to a more pleasant level. For those who do not care for brownies, other types of rich chocolate can also work well.
6. White Chocolate and Pineapple Cake
Speaking of chocolate, another food pairing that can be a wonderful idea is the combination of white chocolate and pineapple on a cake. Coming together to create the masterpiece known as "mimosa cake," these ingredients also provide a lovely balance to the bitterness.
7. Cheesecake
A menu with desserts is never complete without cheesecake. Likewise, throwing together a list of yummy foods to serve with an espresso martini would be impossible without this scrumptious addition. While simpler flavors might be easier to complement, that is no reason to shy away from trying something new. Feel encouraged to experiment!
8. Vanilla Ice Cream
No matter how delicious the food pairings on this list may be, it is very possible that none of them can compare to the classic tastiness of vanilla ice cream. Whether you make it from scratch at home or you buy a carton from the grocery store, this makes a simple and pleasing martini side.
Whatever type of food you like, there are numerous options available to find a tasty pairing that you can enjoy with your espresso martini. If you are like many people and you are unsure where to start, there is no need to worry. While the possibilities are not limited to this list, you can use it as a guide for some of the best espresso martini and food pairings.