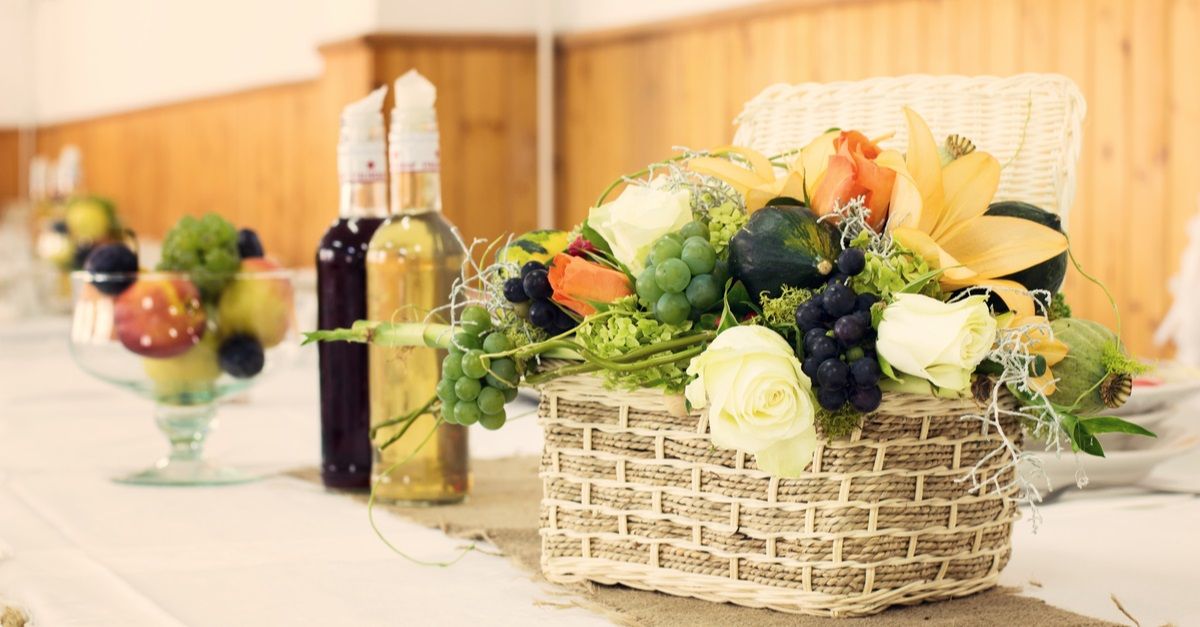 Everyone likes getting food as a gift. But what if your friend or loved one is on a special diet, trying to cut back on sugar, or avoiding salt?
In that case, you can still get them a nice food gift, but you'll want to be a little choosier. We've gathered some yummy, gourmet food gift ideas that you can feel good about sending to your health-conscious loved ones.
You can't get much healthier than fresh fruits and vegetables. That's what Harry & David provide in this deluxe farm box. Each one contains 13 pounds of vegetables, fruit, and herbs that are sourced directly from C&B Farms and their growing partners. They've committed to sustainable practices—something your health-conscious loved one will appreciate.
Perfect for those who love gourmet cooking, this large farm box is great for families. Each box arrives the same day it was picked, so you know everything will be fresh and delicious. Contents vary depending on the season.
Take your loved one on a trip around the world with these globally inspired entrees from Williams Sonoma. They are ready to heat and eat, so your friend can simply store them in the freezer until she needs them. The set of six is handmade by a team of skilled chefs with a reputation for delivering specialty gourmet food with a commitment to sustainability.
Your loved one will enjoy meals with influences from India, Italy, Russia, and Japan. The set includes Tandoori Chicken with Steamed Rice, Beef Meatballs, Chicken Parmesan, Mushroom Stroganoff, Kale and Mozzarella Ravioli, and Chicken Teriyaki.
If your friend is watching his sodium intake, choose this heart-healthy low-sodium gift basket from Nutritious Gifts. The basket is handmade, and the food ingredients carefully chosen. Your friend will find organic tea, WildPlanet tuna (sodium-free), extra virgin olive oil, all-natural peanut butter, fruit jerky, Shady Lane Food Granola, and more.
These are foods your friend can really use and enjoy. Send it and see what he has to say!
Add a little celebration to your gift by choosing one of these edible fruit arrangements. They're made with real fruit and packaged in platters, bouquets, or bundles, perfect for birthdays, Mother's Day, or any special occasion. You can even order a balloon, stuffed animal, or sweet treat to dress up your healthy gift.
Satisfy your friend's craving for something crunchy with this collection of healthy nuts from Olive & Cocoa. This crate includes cashews, roasted almonds, roasted peanuts, cinnamon toffee almonds, and pistachios in the shell. All of them come wrapped together in a hand-crafted wood crate with a ribbon.
For that friend who chooses only the best, send this classic caviar gift from Gold Belly. It features Regiis Ova Caviar by Chef Thomas Keller, which has the same buttery and nutty flavor as the Supreme Royal caviar. The eggs have a soft texture that your friend will savor, plus they're farm-raised and sustainably harvested from California's Napa Valley.
The package includes your choice of 30 grams ­­– 1,000 grams of classic caviar. It arrives in a beautiful black branded box and branded jars or tins. You can add a Mother of Pearl Spoon if you like.
Everything in this gift basket from Fancifull is vegan, so you can feel confident that your vegan loved one will appreciate it. She'll find fresh seasonal organic fruit, hummus, falafel chips, organic olive oil, sea salt popcorn, granola bites, cookie bites, raw chocolate, almonds, and more. It's perfect for guilt-free snacking even if you're not vegan!
Seafood is healthy food, and this collection from Sea to Table is sure to delight. It includes twelve flash-frozen servings, vacuum-sealed (2 per pack) for easy meal planning. Your friend will enjoy Alaska Sockeye Salmon, Gulf of Maine Redfish, Northwest Pacific Cod, West Coast Dover Sole, and Atlantic Winter Skate.
This is a unique gift that will surprise any fish lover, as it provides a wide variety of the best wild fish the country has to offer.
Breakfast is good anytime, especially a breakfast like this from Stonewall Kitchen. It includes everything your loved one needs to feel like they're actually in New England enjoying a delicious, hearty feast. It comes with the company's Farmhouse Blend Coffee, Farmhouse Pancake & Waffle Mix, Maine Maple Syrup, Wild Maine Blueberry Jam, Strawberry Jam, and Cinnamon Bun Mix.
That last one may not be as "healthy" as the rest, but if your loved one enjoys it, she doesn't have to tell anyone! It all comes in a beautiful Nantucket-style basket.
Here's another heart-healthy basket you can send from Manhattan Fruitier. It includes unsalted roasted almonds and sodium-free organic 72 percent cacao single origin dark chocolate. Your friend will also get organic dried apricots and organic whole-grain oatmeal from Farm to Table that is high in fiber and protein. The company tops it all off with five pieces of seasonal fresh fruit.
When you're in search of gourmet food gifts for health-conscious friends or loved ones, these gourmet gifts are both wholesome and delicious.