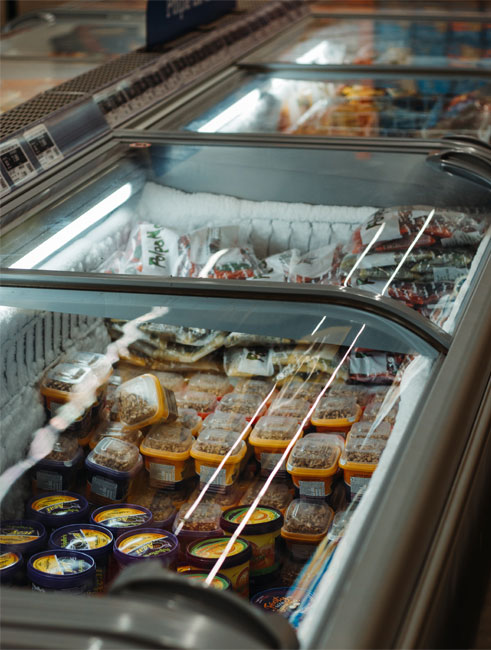 For those who need ample storage for their restaurants or home businesses, a chest freezer is an investment that goes a long way. Often equipped with more consistent freezing capabilities as well as more generous storage space than upright freezers, chest freezers are a great storage solution for large amounts of meat, fresh fish, tube ice, ice cream, fruits, and vegetables, among others.
But due to a chest freezer's horizontal layout, it can sometimes be hard to access the items inside. If your goods aren't laid out the right way, it can be challenging to access the item you need. On top of having to rummage through tall piles of frozen goods, you may need to extend your arms quite deep into the freezer chamber—which won't be good for you if you have a bad back. To get maximum enjoyment out of your chest freezer, you should take special care to keep its contents organized.
Below are some helpful tips for keeping frozen goods inside a chest freezer within easy reach. Try these organization techniques as soon as you start using your new chest freezer model.
Designate Specific Zones in Your Chest Freezer for Particular Items
One of the easiest tips that you can use to organize your chest freezer is to designate particular zones for particular items. For example, the leftmost side of the freezer can be for frozen meat items like steak or pork chops, the middle can be for frozen fruits and vegetables, and the rightmost side can be for tube ice and ice cream. Remembering what kinds of items go in which zone will make it a breeze to find them as soon as you lift the freezer lid. It will also be a good scheme to follow as you add more items to your stash.
Keep All Items Vertical
This may seem like it's already the obvious thing to do, but remind yourself to stack all the items in your chest freezer in an upright position. Avoid squeezing bags or containers in between vertical piles, as these could very well get in your way when you're trying to move items around. Although it may be tempting to try to maximize the space by fitting items sideways, doing so will do more harm than good and create additional stress for you when you're navigating your chest freezer's layout.
Store Frozen Goods in Transparent Packaging Materials
The easier it is to see your items in the chest freezer, the more accessible they'll be when you actually need them. Knowing that, make sure you know what's inside each bag or container at the very first glance. If your items don't already come in clearly labeled packages, make them more visible by putting them inside clear plastic bags or transparent containers. This will save you the trouble of wondering what's what and spending more time rummaging through your chest freezer.
Label Every Item Inside Your Chest Freezer
Another good strategy for organizing items in your chest freezer is to label every package and container inside. Make unlabeled items easier to find by putting waterproof labels or masking tape on them, or simply marking them with a permanent marker. Indicate exactly what type of frozen good is inside the packaging, as well as its expiry date. To make your labeling system even more efficient, you can tape an inventory sheet on the lid or side of your chest freezer. Keep track of how many items are going into your freezer by marking the sheet every time you make a new label.
Organize Items by Their Expiry Date
Your organization system should also help you implement a "first in, first out" principle for every item in your chest freezer. Following this protocol helps you ensure that the foods stay fresh and don't spend too long in storage. This is the best way for you to keep your items from getting spoiled, and it will ultimately reduce the amount of wastage you have in your business establishment or household. Ideally, the items that are closest to their expiry date should be at the very top of their respective piles, while the longer-lasting items should be at the bottom. Try to avoid populating your freezer with new products before you've used up all the ones you previously bought.
Use Freezer-Safe Bins or Baskets
Lastly, you may want to consider spending a little extra money on freezer-safe bins or wire baskets. These will make it less difficult for you to pull up and organize multiple frozen items at the same time. Get the types that are explicitly advertised as safe for use in a chest freezer, and choose according to your freezer model's specifications.
With these tips at your disposal, you'll be able to maximize both the storage capacity and the flexibility that are unique to a chest freezer. Get the most out of your new chest freezer model by keeping your goods fresh, accessible, and organized!