Having pizza is a lust for most of us. You will find only a few handpicked people who don't love to eat delicious pizza. But most of us like to try pizza from famous pizza destinations. We all have our favorite restaurants, and we do not want to miss any weekend without having our lovable pizza.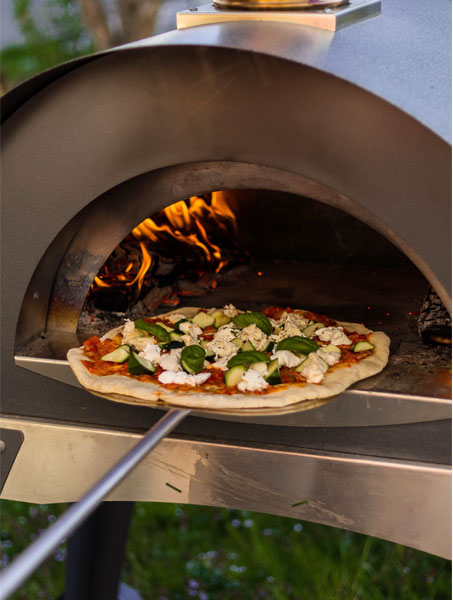 We live in a fast-paced world where everything is getting digital with the advancement of technology. Technology has different effects on our lives. For instance, it has gifted us innovative tools through which we can mitigate our daily needs quite easily. On the other hand, we have no time to engage in things because of the fast world.
In that case, we cannot omit the fact that portable outdoor pizza ovens are quite efficient and improved to give us the taste that we get from the restaurants. Our favorite pizza destinations are common places for us to visit as we do not have much idea about portable outdoor pizza ovens.
Here we are going to discuss the various types and aspects of the best outdoor pizza ovens. After reading this article, you will be able to understand the importance of outdoor pizza ovens and how their usage can work for us.
Different Types Of Outdoor Pizza Ovens
It's not always possible for us to determine the fact of getting out and having pizza in restaurants. Some of the restaurants are expensive enough to let us think twice before we go or order from those areas.
So, it's always better to find an alternate solution, and here we are with the portable pizza ovens for you. If you do not understand much about these pizza ovens, you will not be able to bring the best one to your home.
Now we are going to discuss the various types of pizza ovens. There are basically four types of pizza ovens, and those are wood, gas, stainless steel, and coal. All these outdoor pizzas have their own features, and we can say that their unique features will manipulate you.
1. Wood Outdoor Pizza Oven
You can understand it by the name as the wood outdoor pizza ovens use wood to heat the pizza. These wood-burning outdoor pizza ovens also come in two types where technology has its own magic.
For instance, you can have the conventional wood pizza oven, where there is a dome placed above the burning fireplace. On the other hand, there is another modern wood oven that works with an eclectic ignition system.
Sawdust, wood chips, and charcoal briquettes are generally used as charcoal for the baking of pizza in these types of outdoor pizza ovens.
2. Gas Outdoor Pizza Oven
This is simply powered by gas to bake your pizza in a gas outdoor pizza oven. So here, the basic difference is that you are using gas as fuel instead of wood. This type of outdoor pizza oven is very popular as it has the ability to bake your pizza faster than wood-oriented ovens.
On the other hand, you can control the temperature of these ovens easily and manage the time of cooking as well. Both stones and bricks can be used to enclose the oven. Durability, portability, and easy-to-use gas outdoor pizza ovens are often bought by people to make their pizza as quickly as possible.
So, now it is possible to cook pizzas outdoors without the home ovens by limiting the number of pizzas at a time.
3. Stainless Steel Outdoor Pizza Oven
Stainless steel outdoor ovens are preferred by many people who like to go easy. With the background coating of steel, it is now possible to cook pizza with more durability and flexibility.
People prefer this because the maintenance and installation are very quick and easy. On the other hand, these steel outdoor pizza ovens are less expensive than others.
4. Coal Outdoor Pizza Oven
This is not very popular but very famous for the choosy people. With a coal outdoor pizza oven, you will be able to cook a crispier crust that tastes better than wood outdoor ovens.
But, on the other hand, it takes longer than the usual time of almost 10 minutes to bake a pizza. So, it is not for people who love to go easy and quick.
The oven floor, ceiling, and cooking surface are generally made of Black steel sheets. The size of the pizza varies, but mostly four 12-inch pizzas can be cooked at once.
Usage Of Outdoor Pizza Oven
After acknowledging the different types of outdoor pizza ovens, you might still be in confusion about the usage of these ovens. Well, the usage is simple, but there are various ways you can use it.
Through the help of outdoor pizza ovens, you know that you can use it outside of your house and sometimes carry it to the dream destination, where you would love to bite on a chunk of your favorite pizza.
But what about your favorite pizza?
Don't worry! No matter what type of pizza you prefer, you will be able to cook and eat any kind of pizza in these outdoor pizza ovens. The good news is that you can also bake something more with these ovens apart from pizza.
1. Baked Pizzas
If you want a perfect pizza for you when you are outside, it's the perfectly baked pizza in your new oven. There are too many forms available for having the pizza. Some prefer to have it with banana coating, and some with beef and also other people with seafood.
But whatever the coating is, if you can bake it perfectly, you will be able to get the best taste out of your pizza.
2. Roast Vegetables
In 1939, a fundraising cookbook was published in Boston, where we probably got the first pizza recipe. So, we have gone through various recipes over the years, and now we have all kinds of options to use on our pizza.
Moreover, you can also use outdoor pizza ovens to grab sole roasted vegetables.
3. Bake Bread
Apart from the main course, you can also use these ovens for baking loaves with residual heat.
Isn't that interesting?
4. Cooking Meats
On the other hand, if you want to taste some smoky and rich flavored meat, you can simply try slow cooking in your pizza oven. Moreover, you will also be able to grab the juicy grill flavor of your meat if you try it.
Size And Features
Apart from the other features of outdoor pizza ovens, size is a big factor for these portable ovens. It is portable because the size is small and can be carried easily. Conventional pizza ovens are tough to handle.
For instance, if you use a large wood oven that weighs around 500lbs, you will not be able to carry it to another place quite easily. In contrast, other portable ovens, like gas ovens, are generally small in size. For instance, you can simply carry a gas outdoor pizza oven of 58 cm W x 150 cm H to another place. You can also use coal ovens which also can fit in small places.
You can easily carry a 40lbs pizza oven to your friend's house in this weakened area, and that is why people prefer to use these portable ovens. A maximum 16″ size pizza can be made with a gas oven. 12-inches pizza is common for these small portable ovens.
Portable Pizza Oven Brands
Now it's time to explore the brands that give us the opportunity to use the technology and make pizza at home or at our favorite places. There are various brands available in the market, and among those, we have hand-picked the best options for you.
Let's take a look at amazing outdoor pizza oven brands.
1. Ooni
This is the brand that allows you to get out of your house and use the backyard or garden place to make this weekend enjoyable for you with delicious pizzas.
You will be able to make 12″ or 16″ pizzas and also can use both wood and gas power. Ooni is a Scotland-based company situated in Edinburgh which produces its products in China. In 2012, it introduced us to the world's first portable fired wood-pellet pizza oven.
2. Gozney
Gozney is a U.K.-based company founded by Tom Gozney. The aim of this company was to combine both beautiful design and wood-fired engineering in one place. They became successful in their mission when Tom first made the oven in his own hands, mixed with his ingenuity.
3. Bertello
Bertello Wood Fire & Gas Outdoor Pizza Oven was first introduced to the world through 'Shark Tank', where Andy and Eric Bert introduced a portable outdoor oven that can work with both propane and wood simultaneously.
These ovens are affordable and high in quality to give you the ultimate taste of pizza.
Time To Go Beyond Convention
It's time to leave the convention and go beyond the boundaries to afford a portable outdoor oven so that you can make pizza outside your home. There is no limit when you consider technology, and these above-mentioned brands were able to break the conventions to manage flexibility and convenience for us.
Pizza is delicious, and we should consume it in suitable circumstances. Maybe it's in your garden or the forgotten backyard of your house, which can be the next destination to grab some pizza with your friends this weekend following a portable outdoor pizza oven.