Creamy, sweet, and tangy—Thousand Island Dressing is so good when homemade.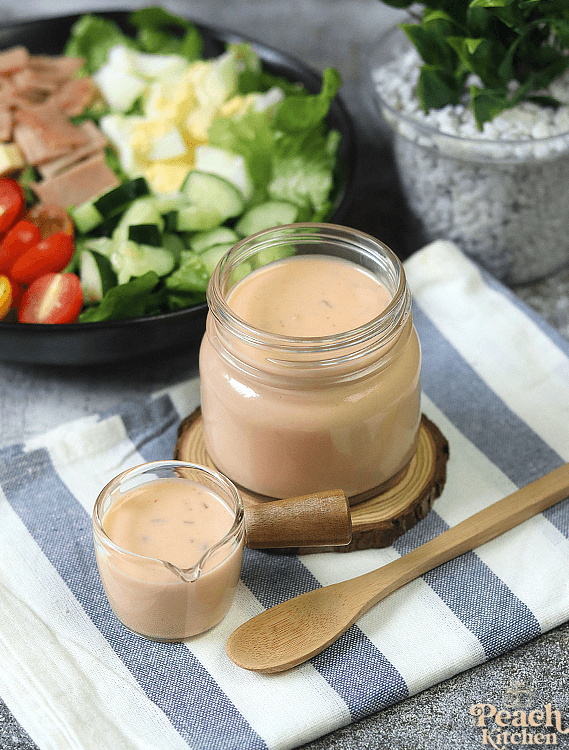 Besides Honey Mustard Dressing, this is the first dressing that I learned to love. I think it's hard not to because it's a classic dressing that is served accompanying most food that needs "sauce" like burgers, french fries, and whatnot.
Growing up, I learned to make this creamy delicious dressing at home. I can't believe I haven't shared it here… LOL! Thousand Island Dressing takes minutes to make. And like most food, homemade one tops the taste of storebought ones.
WATCH THOUSAND ISLAND DRESSING RECIPE VIDEO HERE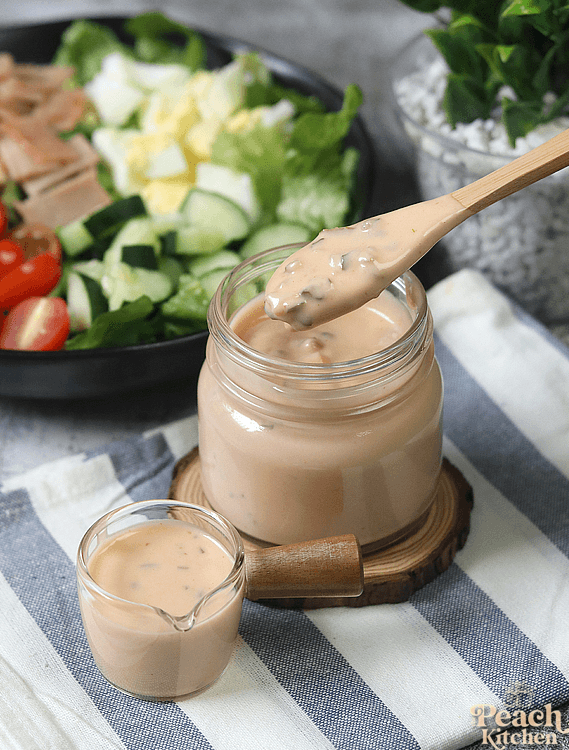 Other recipes include a lot of ingredients but I make this with only four. Ang konti diba? It means this is an affordable dressing that can make your salads and anything that needs a "secret sauce" taste wonderful.
WHERE CAN YOU USE THIS THOUSAND ISLAND DRESSING?
This is a versatile dressing/dip. You can use this for salads, as veggie dip, or dip for french fries,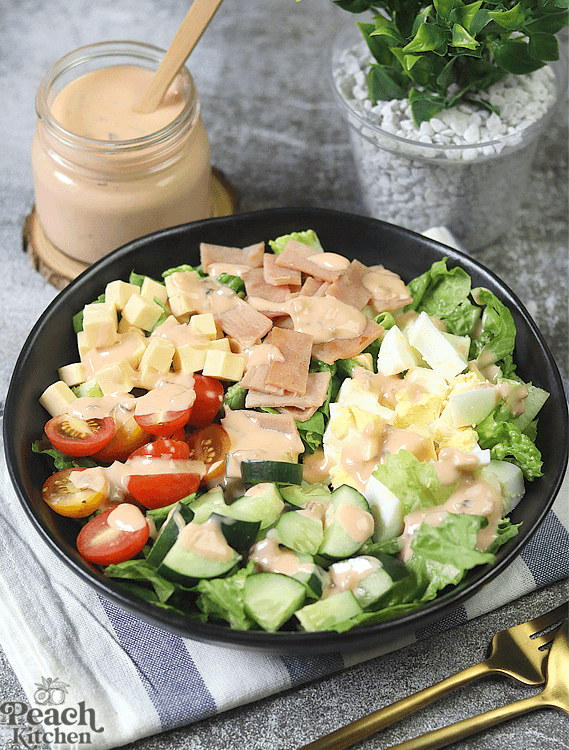 Now that you have the secret recipe for homemade Thousand Island dressing, you can enjoy the rich and tangy flavors anytime you want. Say goodbye to store-bought dressings and impress your friends and family with this delicious homemade version. Happy cooking!
Notes
Feel free to customize your Thousand Island dressing by adding additional ingredients like minced garlic, lemon juice, or hot sauce to give it a unique twist.
This recipe yields approximately 1 1/2 cups of dressing. You can easily double or halve the ingredients depending on your needs.
The dressing will keep fresh in the fridge for about a week.
Print
Thousand Island Dressing
1 cup

mayonnaise

1/4 cup

tomato ketchup

3 tbsp

sweet pickle relish

1 tbsp

sugar
Instructions
In a mixing bowl, combine the mayonnaise, ketchup, sweet pickle relish, and sugar, Mix well until all the ingredients are thoroughly combined.
Transfer the dressing to a glass jar or airtight container. Refrigerate for at least 1 hour to allow the flavors to meld together.
Once chilled, give the dressing a good stir before using it. This will ensure that all the ingredients are evenly distributed.