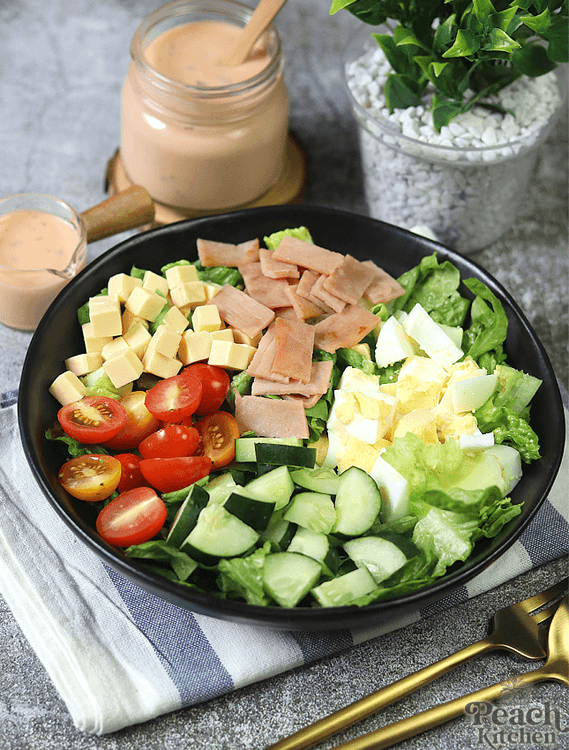 In an effort to eat more healthy and kinder to my LPR ((Laryngopharyngeal Reflux Disease), I'm eating more fruits and vegetables these days. Of course, I'm hoping for my family to do the same but syempre, we all love meat kaya they also eat the same amount of meat as the veggies.. LOL!
But with that effort, another salad addition to those that I already prepare at home is this classic Chef Salad with Thousand Island Dressing. This cherished salad not only delights the senses but also nourishes your body with wholesome goodness. The last two salads I made were this Vegetarian Taco Salad and Kani Mango Salad with Creamy Mango Dressing. They taste super amazing and I thought of making it again but I was craving Thousand Island Dressing too.. so I just thought I'd make this.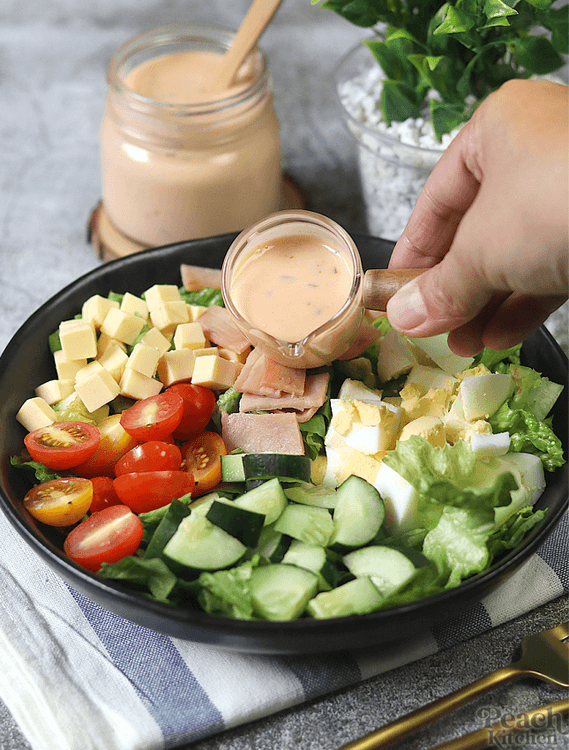 WATCH CHEF SALAD RECIPE VIDEO
The Perfect Combination of Freshness
The Chef Salad is a delightful medley of fresh and crisp ingredients that come together harmoniously. It typically includes:
Crisp lettuce leaves
ham slices or bacon bits
Hard-boiled eggs
Tomatoes
Cucumbers
Cheddar
One of the beauties of the Chef Salad is its versatility. You are free to add or substitute any ingredients based on your preferences. The key is to combine a variety of textures and flavors to create a well-rounded salad experience.
Thousand Island Dressing: The Perfect Finish
What truly elevates the Chef Salad is the creamy and tangy Thousand Island Dressing. This iconic dressing is a magical blend of mayonnaise, ketchup, sweet pickle relish, and various seasonings. The resulting sauce is rich, velvety, and complements the freshness of the salad ingredients.
The Thousand Island Dressing adds a delightful sweetness and tanginess to the salad, making it the perfect accompaniment. It brings together all the flavors and ties the salad components into a cohesive and delicious whole.
Health Benefits and Customizations
The Chef Salad with Thousand Island Dressing not only satisfies your taste buds but also offers several health benefits. It is a great way to incorporate more veggies and lean proteins into your diet. The salad provides essential vitamins, minerals, and fiber while keeping the calorie count in check.
To make this salad even healthier, you can use low-fat or light versions of mayonnaise and cheese. Additionally, you can add a sprinkle of nuts or seeds for added crunch and nutritional value.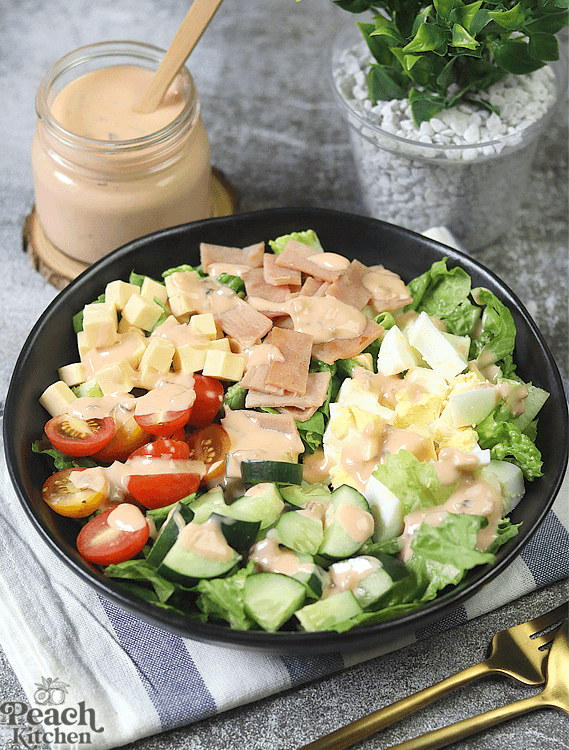 Serving and Enjoyment
To serve the Chef Salad, arrange the lettuce leaves at the bottom of a large salad bowl or plate. Then, layer the rest of the ingredients on top, creating an appetizing display of colors and textures. Drizzle the Thousand Island Dressing generously over the salad or serve it on the side.
This salad is perfect for a light lunch, a refreshing side dish, or even as a hearty dinner option when paired with a crusty bread roll.
Print
Chef Salad with Thousand Island Dressing
Mixed greens or romaine lettuce
hard boiled egg
cucumber, sliced
tomato, sliced
ham, sliced
cheese, diced
Instructions
Layer the lettuce (or different kinds of greens) on your serving plate and then assemble all the other ingredients on top.
Top it with the cucumber, tomato, ham slices, hard boiled egg, and cheese
You can serve the dressing drizzled on top of the salad or separately.
Serve immediately. Enjoy!