Quick, easy, and delicious — enjoy this Mild Chili Clams with noodles, pasta, rice or on its own…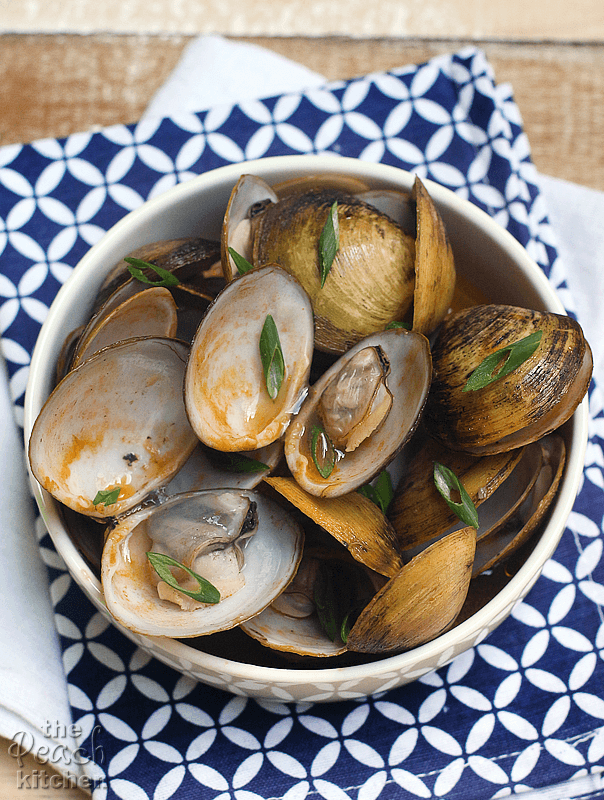 Just like you, I am fond of watching cooking shows. One of my favorite shows is Martin Yan's Asian Favorites on the Asian Food Channel. I love that he cooks delicious dishes that has easy to follow instructions.
I've taken one of his recipes which is the Fiery Chili Clams and tweaked it so it matches my family's taste.  Ykaie can now tolerate a little heat when it comes to the food I serve them so I made this milder and added a bit more sugar. And guess what? They loved it!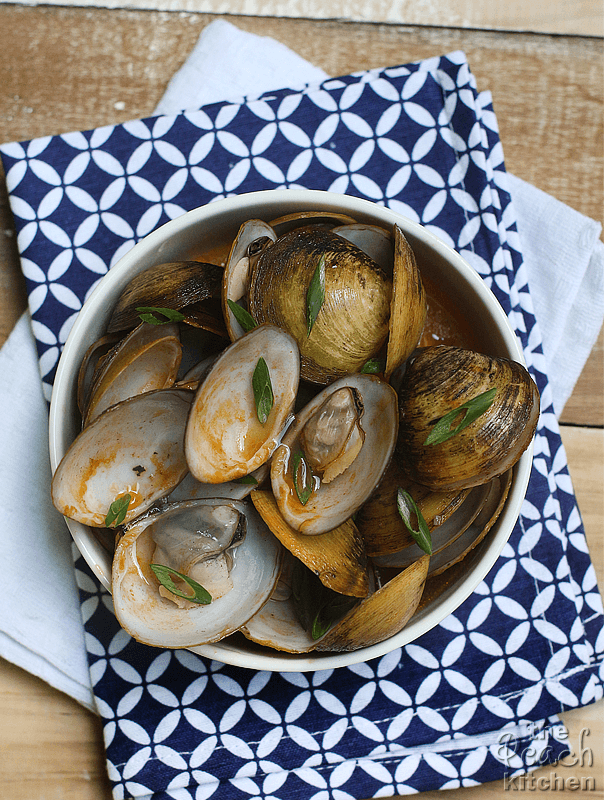 It was also so nice that I was given a chance to interview him. It's not everyday that you get to interview such a chef extraordinaire and popular television host. Read on as to what he has to say…
Interview With Chef Martin Yan
When did you discover your passion for cooking?
For as long as I can remember, I have always had a passion for cooking. My father was a restaurateur and my mother operated a grocery store – this meant that I was always surrounded by food. But I guess the first time I truly discovered my passion for cooking was when I moved to Hong Kong to work part-time at my uncle's restaurant as a chef. I decided to work in the kitchen because of the knowledge I received from my father on cooking authentic Mainland Chinese. Not only did I earn money from working on the weekends, but I also developed my skills as an aspiring chef. I remember being so excited to show my friends what I learnt by cooking for them, and feeling a deep sense of accomplishment and motivation when I saw them enjoying the food I cooked.
What is the very first dish that you cooked?
When I was very young,  I would help my mom prepare Daikon & Sparerib Soup – simple, yet nutritious – this was a family favorite and perhaps the reason why I still have to start my day with a bowl of homemade soup.
Do you have a favorite dish to cook for family or friends? What is it?
I think a very special dish I enjoy cooking for my family is Poon Choi, which is mixed vegetables in a pot. The only reason why I don't have the opportunity to cook it up all the time is because it requires many different types of vegetables and ingredients, but when I am free, I enjoy cooking this dish for my loved ones. Another dish I enjoy cooking for my family and friends, especially when it's cold, is Steamed Carrot Cake. I usually cook it during winter because carrots are in season.
What inspires you in creating new recipes?
I find inspiration in the people that I meet, the places I travel, and new food that I eat. I am a firm believer that there is always something new to learn, and for that reason I am always excited to bring those experiences back to my kitchen to create new dishes. For example, on Martin Yan's Asian Favorites – all the dishes that I cooked on the show are inspired by the food I have tasted across South East Asia. From the Philippines, I took inspiration from the Filipino Empanada and created Savory Meat Turnovers. From Thailand, I taught viewers how to make authentic Green Curry. I think seeking inspiration is all part of being a chef – it pushes you to be creative and adventurous with flavors.
What trends are you noticing when it comes to the cuisines that you cook?
There are two trends I would say are emerging in the culinary world. One is that people are more open to trying new flavors, and chefs around the world are combining elements of different culinary traditions. People are on the lookout for unique flavor pairings, and that is why there are so many restaurants and chef nowadays that specialize in fusion cuisine. Another trend I am identifying is the demand for fresh produce and vegetables. More people are opting for cuisines and dishes that incorporate fresh flavors! With the accessibility to farmer's markets everywhere, restaurants and home cooks are increasingly serving simple, healthy and wholesome dishes.
What do you do to stay current on new trends? Describe two or three of the most interesting industry trends.
I travel worldwide throughout the year, which is why I have been able to see what's new and what's hot. The three most interest industry trends I have realized are:
Small eats such as tapas and dim sum
Other ethnic cuisines, and not just Chinese or Thai, but chefs are increasingly branching out to other cuisines such as Cambodian, Myanmese, etc.
Comfort foods that are simple, home-cooked and nothing too fancy
Do you own a restaurant? If yes, Please give me the names of your restaurants and their locations. My readers may want to visit them.
In San Francisco, I run M.Y. China located on Market Street. We specialize in authentic Chinese food – from dim sum to noodles, and from roasted poultry to salads. People who dine at M.Y. China are people who want to experience the real taste of Chinese flavors.
What advice can you give to someone who dreams of becoming a chef like you someday?
First of all, it is important to love and have a passion for cooking and food. Second of all, love what you do and you will never have to feel like you're working a day in your life! Being a chef and TV host is tough work! The travelling can put a lot of stress on your body. But if you love what you do, this will not burn you out. Finally, expect long hours of hard work – but like most things in life, if you work hard, you will achieve your dreams.
I agree with him 100%. It's all about passion whether you're cooking or not. You really have to love what you do and you will never have to feel like you're working.
Thank you so much Chef Martin Yan for granting this interview! Keep inspiring!
♥ If you make this recipe, be sure to snap a photo and tag @thepeachkitchen on Instagram (OR hashtag it #thepeachkitchen). I'd love to see what you cook!
Print
Mild Chili Clams
Adapted from Chef Martin Yan's Fiery Chili Clams
1

kg large clams

2

slices ginger

2

cloves garlic, minced

1 tbsp

olive oil

3 tbsp

chopped green onions
Seasonings
1/4

beef broth cube dissolved in 1/4 cup water

1/4 cup

tomato ketchup

1 tbsp

chili garlic sauce

1 tbsp

soy sauce

1 tbsp

vinegar

1 tbsp

white sugar
Instructions
Combine seasoning ingredients in a bowl; set aside
Heat olive oil in a hot wok.
Add ginger and garlic. Saute until fragrant.
Add the clams, seasoning, and green onion. Mix well.
Cover and cook until the clams open, 6-8 minutes depending on the size of the clams.
Serve over noodles, pasta, or rice.