The restaurant menu is one of the elements that truly defines a restaurant's brand. From the food items on the list to the menu design itself, as well as the food prices, diners can immediately gauge the quality of what's being offered and what they can expect from their experience at the restaurant.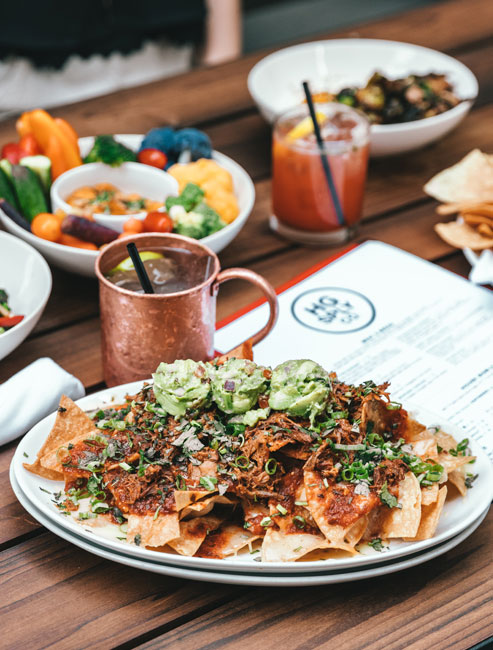 A menu should be able to create a great first impression of a restaurant and clearly inform guests about the dishes they can order. But few restaurateurs know just how much value a menu redesign could add to their profits.
Do you head your own restaurant, and are you looking for new ways to succeed in the highly competitive dining industry? If so, here are a few suggestions for making your menu more profitable than it currently is:
1) Prominently Display QR Codes for Your Digital Menu
A QR code is a high-tech barcode that customers can scan with their smartphones to quickly access information, websites, or services without even needing to type anything. These days, QR codes are everywhere–on posters, social media, billboards, and yes, restaurant menus.
In restaurant applications, you can include QR codes on your menus to direct customers to your restaurant's website, which may have more information about certain dishes. Alternatively, you can skip traditional paper menus altogether by letting customers scan a QR code display and directing them to your digital menu. From their phones, they can order the dishes they like, and using an integrated kitchen display system (KDS), your kitchen staff can immediately start preparing their order.
Not only will your restaurant save on printing costs for your menus; you may also be able to achieve significant savings on labor while facilitating faster and more accurate order-taking. You can also stay on your diners' radar even when they're not inside your restaurant if you feature your menu QR codes on your business's social media accounts. Enticed by your digital menu, your customers will be motivated to either pursue their cravings at your physical branch or order food for delivery or takeout.
Aside from being used on menus, QR codes can also play a prominent role in pay-at-the-table restaurant solutions. In the Philippines, financial technology or fintech company Maya Business has launched the Maya POS terminal, a portal payment device that can accommodate QR code, e-wallet, and credit card payments. When the customer has ordered from the menu and is ready to pay, a server can bring the wireless Maya credit card terminal directly to their table, and the former can use their phone or credit cards to pay the restaurant. This eliminates security risks such as fraud and identity theft, and it can strengthen the impression customers already have of the restaurant from its innovative menu.
2) Consider Using Tablets for Menus
You can take the digital experience up a notch by using tablets as menus and encouraging customers to order through a touch screen. The option to use a tablet or other form of digital display means you can be more creative with your menu, for example by making it interactive and featuring eye-catching moving visuals.
In addition, shifting to a digital display menu will make it much easier to update your menu whenever there are changes. And while there will be initial costs involved, consider the tech as an investment that will engage your customers and boost the sales of your dishes.
3) Know Your Diners' Preferences
In designing and planning your menu, you have to keep your target market in mind. You should also avoid being complacent about how their tastes and preferences are evolving, as these can factor into the long-term decisions you make about your menu.
Gather feedback from your regular customers to understand their preferences. Better yet, use tools like the data analytics features from your POS system to analyze your current menu's performance against its past performance over the months or quarters. This approach can help you reduce food waste and improve certain processes in your restaurant.
4) Streamline Your Menu
It may also be time to do your customers a favor and streamline your menu. Too many choices may incite decision fatigue in your customers, where they get too overwhelmed simply deciding what to order.
In contrast, with a limited but dependable menu, customers will be able to order faster and more decisively. Moreover, the kitchen can operate more efficiently and concentrate its efforts on preparing your best-selling and most profitable dishes.
5) Design the Menu to Reflect Your Brand
Remember that your menu is an extension of your brand identity. Reinforce your restaurant's image with consistent design elements, such as fonts, colors, and imagery. When you do so, your customers will be able to instantly recognize your brand when they look at your menu. Don't discount how powerful a simple menu redesign may be for strengthening your brand identity and making it more popular with customers.
6) Offer Seasonal Specials
Embrace the changing seasons and inspire buzz among your customers by offering seasonal specials. These limited-time offerings can create a sense of urgency and excitement among diners.
Cooking fresh and seasonal ingredients over a particular period will promote cost savings for the restaurant. Best of all, it will encourage repeat visits from customers who are anticipating the new dishes they'll taste.
7) Adjust Your Pricing Strategies
The psychology of pricing can significantly impact your menu's profitability. You can experiment with different pricing strategies, such as decoy pricing (i.e., offering a slightly more expensive item to make others seem like a better deal) or bundling complementary items to increase the overall check size. Keep an eye on your competitors' pricing so that your own menu can stay competitive.
In optimizing your restaurant menu to improve your restaurant's profitability, don't forget to innovate and consider new technologies like the Maya Terminal so that you can enhance your customers' dining experience. Indeed, a smart, streamlined, and innovative menu will benefit both restaurants and the customers they serve.