We were at SM North EDSA this weekend. Last Saturday, we took Ykaie to the salon. She specifically wanted to be cut and styled and treated at Curlz by Jazz 1st & Exclusive Salon for Curly Clientèle (which I'm gonna tell you all about at www.mommypeach.com soon)
I was informed that it will take 2-3 hours for the service to be finished, so we decided to wait for her at SM. Her schedule was at 11am, so naturally after a few minutes of walking we got hungry na — it was lunch time na kasi. We decided to have lunch at SM The Block Food Hall since we haven't tried it.
This is not your usual "food court" ha. In terms of ambience, it's very aesthetic — lots of greens and pretty boho-themed tables and chairs. The food they serve has also leveled up – syempre that includes the pas well.
Here's what we ate..
Mr. Chops
Twinkle and I shared this Chicken Chop Rice Meal (₱239) which includes an extra large chicken chop, seasoned rice, prawn crackers, cabbage, and soup. We also ordered 3 pieces of Siomai for ₱99. The sauces for the chicken chop are sweet and spicy, sweet and sour, and gravy.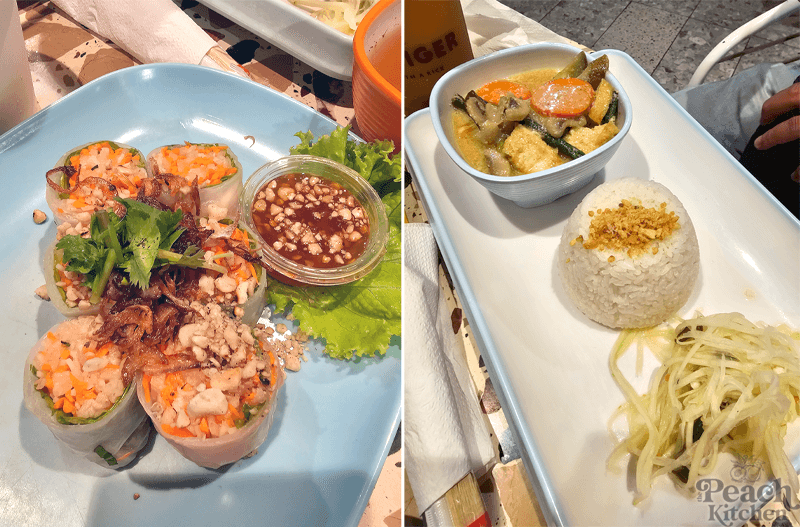 Easy Tiger
Daddydoodledoo wanted to try Easy Tiger which serves Thai food. Of course, naki-order ang Mommy Peach nyo na matakaw. I ordered Fresh Spring Rolls (₱140) while the hubs ordered the Vegetarian Tofu Curry Set Meal (₱199). Yes, mapagpanggap syang vegetarian… LOL. His meal comes with rice, tom yum broth, and papaya salad.
To complete our meal, we ordered Thai Milk Tea (₱95) and Water Chestnut Rubies (₱120)
Char Express
We came back the next day — not for the food, silly — we decided to buy a new smart tv and speaker because the appliances were on sale. I decided to try Go Salads naman. I ordered the Wild Wild West Salad (₱200) which includes Buffalo Chicken Bites, Shredded Carrots, Sweet Corn Kernels, Tomatoes, Croutons, Greens, and Herb Ranch Dressing. I brought it at SM The Block Food Hall, so we can also try Char Express.
We ordered the Bento Box Set A (₱390) which includes Charsiew, Sweet & Sour Fish, Spicy, Four-Season beans, and steamed rice. I love love love the Charsiew — it's tender, flavorful , and has the right balance of salty and sweet! Next time na mag-SM kami, I'll order the charsiew and other dishes from Char Express.