This Filipino-Style Cheesy Baked Macaroni is perfect for lunch, dinner, pot lucks, and to celebrate special occasions. So EASY and comforting too!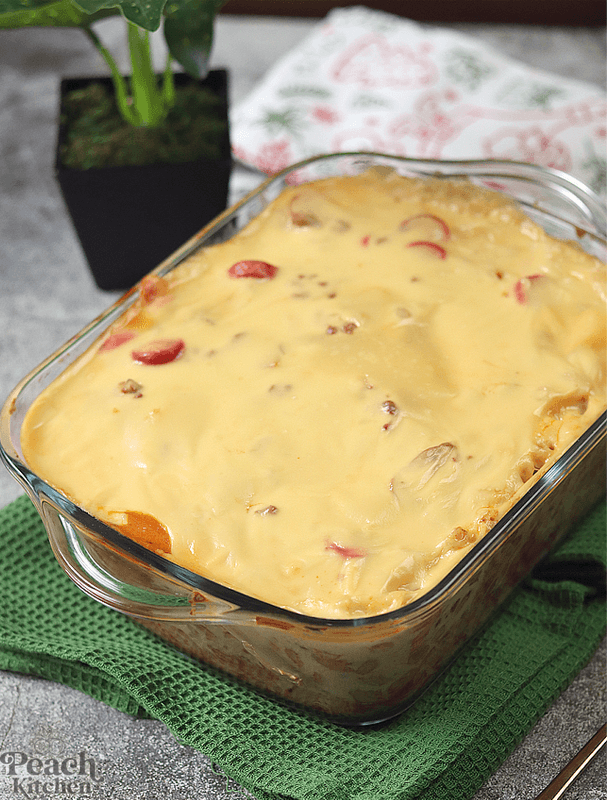 I made this to celebrate my Tatay's birthday in heaven last November 2. My tatay loves this kind of macaroni but his recipe has pork liver in it which I don't know how to cook. So I just made my version instead.
I miss my tatay so much. He is such a cheerful and positive person. Whenever I feel down or have problems, he manages to cheer me up even if I don't tell him what the problem is. I actually miss him and my nanay especially because I already realized how hard adulting can be… heehee.
The good thing is now that I'm an adult I can cook myself some comfort food whenever I'm not feeling so good — like this Filipino-Style Cheesy Baked Macaroni.
CHEESY BAKED MACARONI RECIPE VIDEO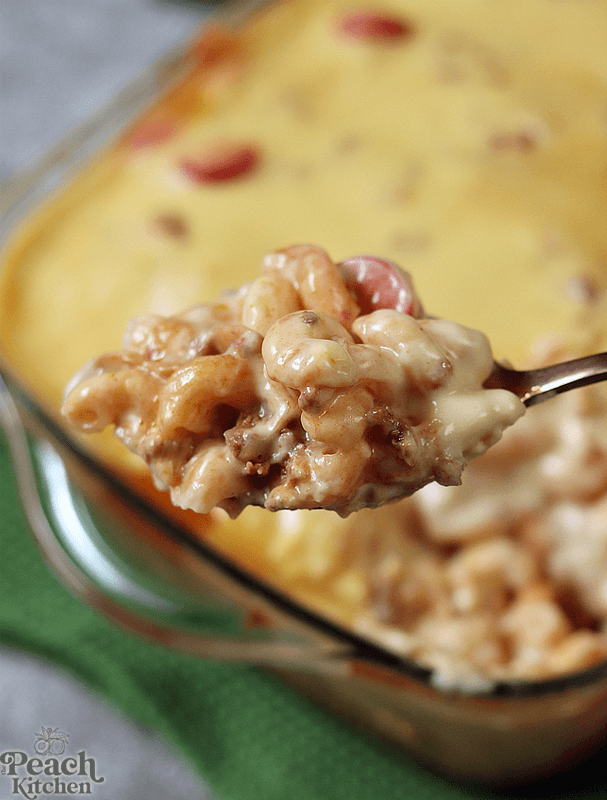 See how cheesy and creamy it is?
NOTE:
This recipe is a lot for our family of four. Since I made this to celebrate my Tatay's birthday in heaven, I gave some to my sis.
I figured that if I'm going to make this for my family only, I should halve this recipe but still use 500g ground beef to make for a meatier result. Oh and maybe add bacon.
Tomorrow is the start of another week and the monday right after a week of vacation (sem break). Good luck to me…hihihi. For now, I shall leave you with my recipe and I hope you give it a try.
Print
Filipino-Style Baked Macaroni
500g

macaroni noodles, cooked according to package direction

2 tbsp

oil

5

cloves garlic, minced

1

large onion, chopped

500g

ground beef

1/2 cup

sliced mushrooms

6

hotdogs, sliced

1

kg spaghetti sauce

3/4 cup

water

1

beef cube

1 tsp

dried basil

1 tsp

dried oregano

1/4 tsp

ground pepper
Cheesy White Sauce
3

cloves garlic, minced

1/4 cup

butter

3 tbsp

flour

1

large can evaporated milk

1 cup

all-purpose cream

1.5 cups

grated cheese

1/2 tsp

salt
Instructions
Cook the Cheesy White Sauce:

Heat butter in a pot until melted. Add garlic and sauté until fragrant.
Add the flour and cook for about 1 minute. Pour in the evaporated milk and all purpose cream.
Add the grated cheese. Stir until the cheese melts.
Add 1/2 tsp salt and mix well.
Bring the mixture into a light simmer.
Turn off heat, this will thicken more as it cools down.
Cook the Beef Sauce: Heat oil in a pot. Sauté the garlic and onion until onion becomes translucent.
Add the ground beef and cook until brown.
Add the mushrooms and hotdogs. Mix well.
Add the spaghetti sauce and water. Stir and bring to a simmer.
Simmer in low heat for 15 minutes. Stirring every 3-5 minutes to prevent it from sticking in the pot.
Add the beef cube, dried basil, dried oregano, and ground pepper.
Mix well. Taste and adjust seasonings. Turn off heat.
In a large bowl, combine the macaroni noodles and the beef sauce. Mix well and make sure all the pasta is coated with sauce.
Transfer it in a baking pan and top with the Cheesy White Sauce.
Bake in the oven for 15 minutes until bubbly.
Serve and enjoy!