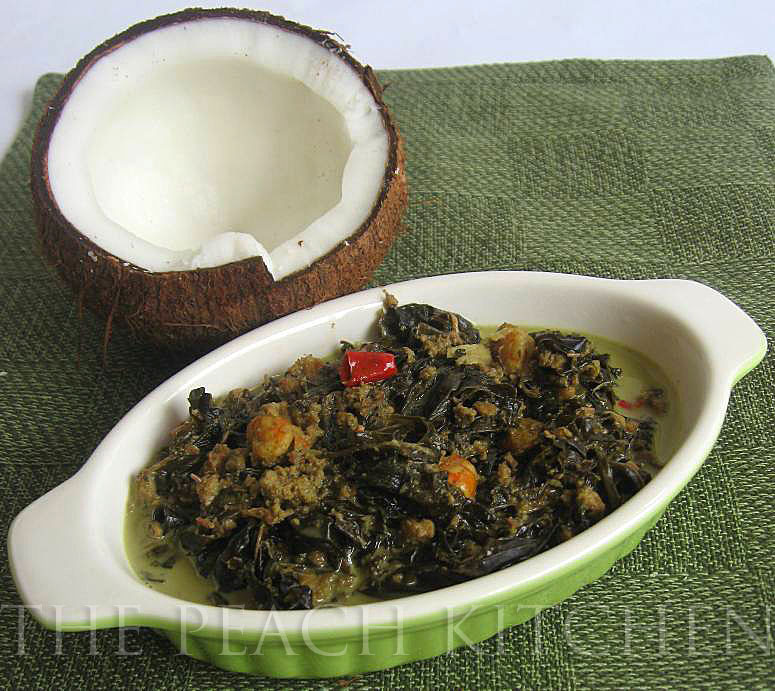 Laing is one of those dishes that I love but my mom never cooks. The first time I ate Laing was when our next door neighbor, Aling Leoning, [which also happens to be my mom's good friend] gave us a bowl. It tasted good……with the right consistency of sauce,creamy and a little spicy. When my first craving for Laing came, I decided to try and buy at the local carinderia but it didn't taste quite as good as Aling Leoning's [Laing]. I know I just have to have her recipe for it, specially when they migrated to the US. She sent me the recipe thru e-mail.
The recipe must've been sitting in my e-mail for at least a month now before I had the urge to try it. peanutbutter♥loves Laing as well and these past few busy days I've only been buying meals for us,I know I have to serve him some good food.So here it is. This is also my way of thanking Aling Leoning for giving me the recipe…mwah.
Print
Laing/ Taro Leaves cooked in Coconut Milk
A bunch of Taro Leaves, washed and dried [♥you can also buy dried ones at the grocery]
milk of

three

coconuts [♥ you can also used canned]

¼

ground pork

100g

shrimp, washed and shelled

1 tbsp

ginger, sliced

3 tbsp

shrimp paste

1 tbsp

sugar
salt and pepper to taste
bird's eye chili [optional]
Instructions
Wash taro leaves, slice into bite size pieces and dry it out for a few days.
Pour half of the coconut milk and same amount of water in a deep pan or a wok.
Mix in the sliced ginger,ground pork, shrimp and shrimp paste
Simmer for 20 minutes.Then add taro leaves.
Simmer until Taro Leaves are soft and wilted. If sauce dries out before the leaves are soft just add water.
Add the rest fo the coconut milk just before it gets cooked.
Stir in, sugar, salt and pepper to taste.
If you want it spicy put slices of bird's eye chili.
Believe me..This.Is.Soul food.