One of the things that I want to experience is to go to Loboc River and eat at the famous floating restaurants that is so popular among international and local tourists. That's where we had lunch before starting on our country-side tour.
Among the other restaurants at the entrance, we chose Riverwatch because they seem to have the most number or variety of dishes served. The river cruise buffet costs P300 and you'll have to pay additional P100 before entering the dock. The P100 is for the maintenance of Loboc River and the facilities in it like toilets etc.
Tita Rlyn and Ykaie
peanutbutter♥ took this photo of us sitting at our table inside the boat. We were assigned table no. 10.
Soup was also served in the buffet table but it was the instant soup kind. Among the dishes served were grilled tuna, pork barbecue, steamed crabs, squid adobo, sautéed vegetables, green mango and shrimp paste….
…pancit, fried chicken, banana heart stew, palitaw, kutchinta. watermelon, pineapple and banana.
This is my plate…
This is what the boat looks like from the inside. A band is serenading all those who are dining with relaxing (?) songs.
It was definitely an enjoyable experience. The food they served were just regular dishes you can eat at any restaurant in the country but the experience of eating while you're cruising and seeing the wonders of nature and being serenaded doesn't happen everyday.
Sharing this post for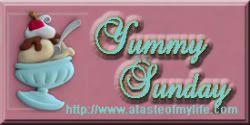 and the Summer Lovin' Saturdays at Homemaker in Heels.