Mushroom Cream Pasta ~  a 30-minute pasta recipe with a creamy, rich, mushroom sauce..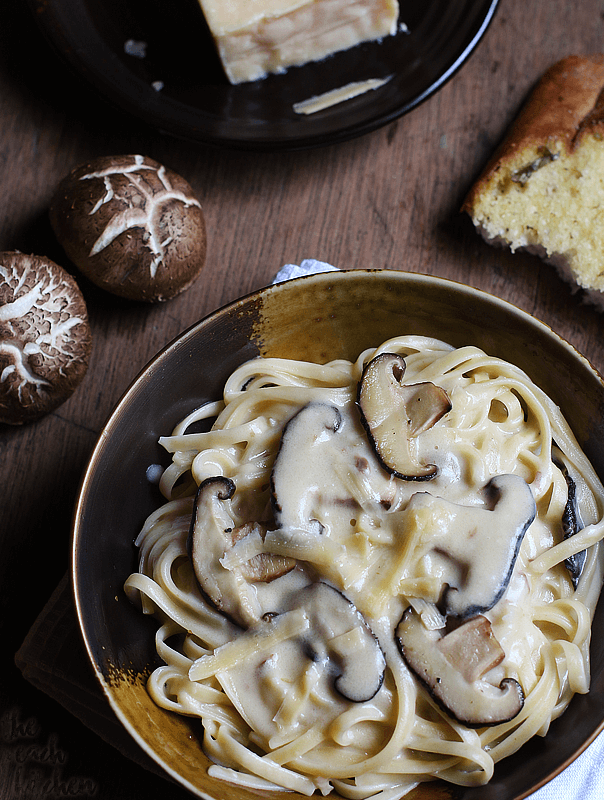 Today was a battle between me and my eyes. I don't know how long I stared onto my computer screen before I could type in anything. My mind is still a blank from being sleepless since Sunday.
After being able to sneak in a one hour nap this afternoon plus a cup coffee, I think I was able to recharge a little so I can now tell you what happened between Saturday and today.
Last Saturday was Ykaie's Recognition Day. She was third honors! Can you believe it? I am so proud of this little girl.  She actually got two medals, one for being the third honors and one for being the math wizard. We celebrated that night by eating out with her lolo and lola.
Twinkle got sick that night resulting in mild fever the next day… until this morning. I suspected it was because she was teething. We brought her to the hospital for a check up and all results were normal, there was nothing to cause her fever. So I guess I was right. I hope her temperature doesn't go up tonight anymore.
Because of being tired and my lack of sleep, I have a quick and easy meatless pasta dish for you.
With this pasta dish you won't be looking for meat anymore because you get rich, creamy mushroom sauce with lots of mushroom slices. I used shiitake mushroom because I love its earthy flavor plus I added in a bit of truffle oil (which you may or may not choose to add) towards the end for more flavor.
I'm sure you'll love this recipe and it's also perfect for lent.
Print
Mushroom Cream Pasta
400g

Linguine , cooked according to package direction

1 tbsp

olive oil

3

cloves garlic, minced

100g

fresh shiitake mushroom, sliced

3 tbsp

butter

2 tbsp

all-purpose flour

1 cup

water

1

can condensed cream of mushroom soup

1 cup

heavy cream (or all-purpose cream)
grated parmesan cheese
salt and pepper to taste

1 1/2 tsp

Truffle oil (optional)
Instructions
Heat olive oil in a pot and sauté garlic until fragrant.
Add shiitake mushrooms and cook for 2-3 minutes. Season with about 1/4 tsp salt. remove from pan and set aside.
In the same pan, melt butter. Add flour and stir to form a roux. Add water and whisk until free of lumps.
Pour in condensed cream of mushroom soup and heavy cream. Add shiitake mushroom.
Whisk to combine and simmer for 3 minutes.
Season with salt and pepper. Turn off heat, add truffle oil and give it a quick stir.
Scoop over pasta on a plate and sprinkle with grated parmesan cheese on top.