Marinated, charred chicken skewers served with a spicy peanut sauce made easier by using Prima Taste Sauce Kit.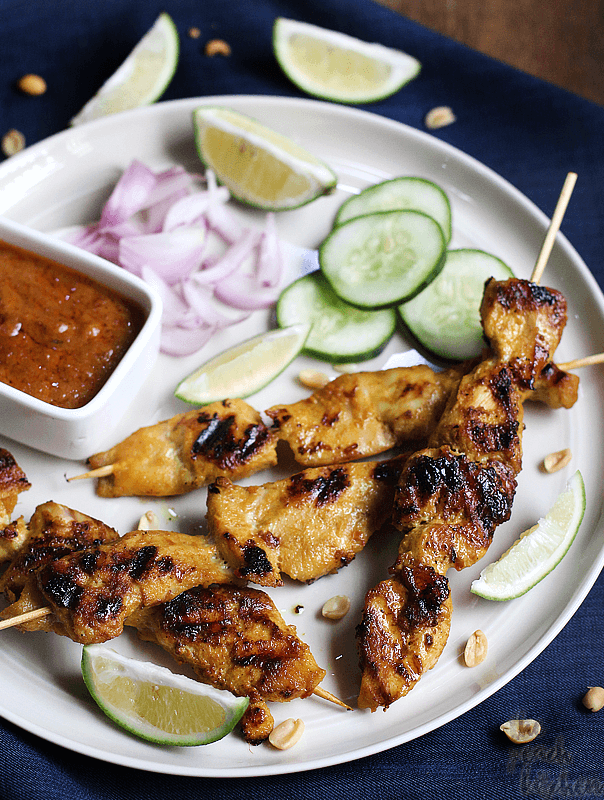 I finally invested in a good grill pan. It's just my second time to use it but I can say that I am so in love with it. Not only does it help me serve up healthier meals because I'm using less oil, it also gives my grilled meats that perfect charred grill! Check out those chicken skewers above.(yeah! *happy dance*)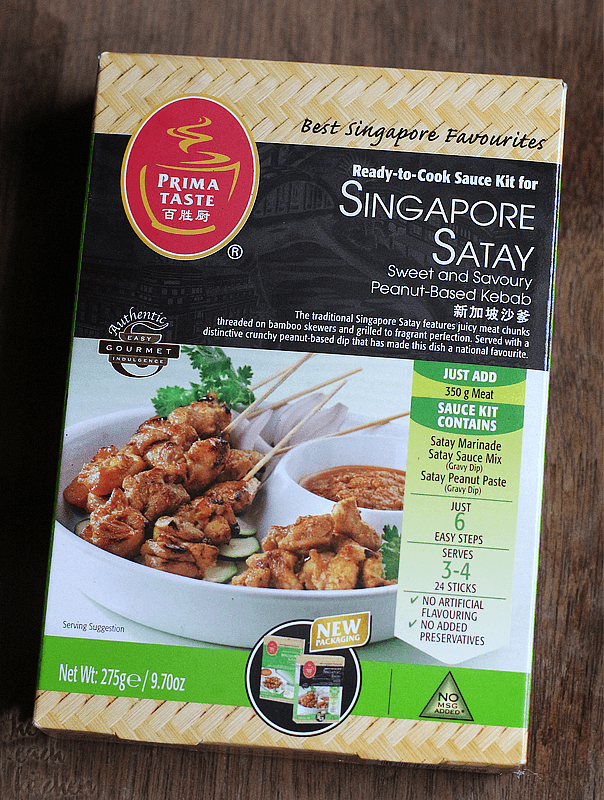 Thanks again to our nice friends from Prima Taste for sending out ready made sauce kits. Thumbs up to these kitchen helpers that help us mommies save time and cook delicious meals. (Remember when I made Hainanese Chicken Rice??)
The Singapore Satay pack consists of:
Satay Marinade
Satay Sauce Mix (Gravy Dip)
Satay Peanut Paste (Gravy Dip)
Recipe/ Direction on how to cook using the sauce packets. The recipe is listed below.
All you need to do is to follow the easy peasy instructions in the box and you'll get flavorful chicken plus spicy and creamy peanut sauce!
I made this for lunch the other day when Ykaie was at school. Since there were only two of us, I had some leftovers. Sis tried it the next morning and she loved it as well. She was actually asking if I could make this on Sunday for Twinkle's 9th month celebration. I told her I couldn't 'cause I still have to buy sauce kits.
I'm so sorry I couldn't stay up to tell more stories. I have to wake up early tomorrow 'cause it's Ykaie's Recognition Day! She got 3rd Honors and I couldn't be more proud! She really is a dynamite!
I hope you have the best Friday night and an epic weekend….
Print
Chicken Satay
400g

Chicken Breast
Singapore Satay Marinade**
vegetable oil (for brushing the chicken)
Singapore Satay Peanut Sauce
Singapore Satay Sauce Mix**

150

ml water

25

ml vegetable oil
Singapore Satay Peanut Paste**
Cucumber, sliced
Red Onions, Sliced
Lime Wedges
** Included in Prima Taste pack
Instructions
Mix chicken breast with Singapore Satay Marinade. Leave in chiller for at least 6 hours.
Thread meat on satay sticks or skewers. Flatten meat with the back of a spoon for quicker and more even cooking.
Brush satay sticks with vegetable oil and grill satay sticks till cooked
Note: Each stick of satay should weigh about 15g
Pour Singapore Satay Sauce Mix and 150 ml water into a pot. Stir and heat on low heat till almost boiling
Add 25 ml vegetable oil and mix well. When gravy is boiling, add Singapore Satay Peanut Paste and mix well. When a layer of oil forms on top of gravy, turn off heat
Serve Singapore Satay hot with satay gravy, cut cucumber, red onions, and lime wedges