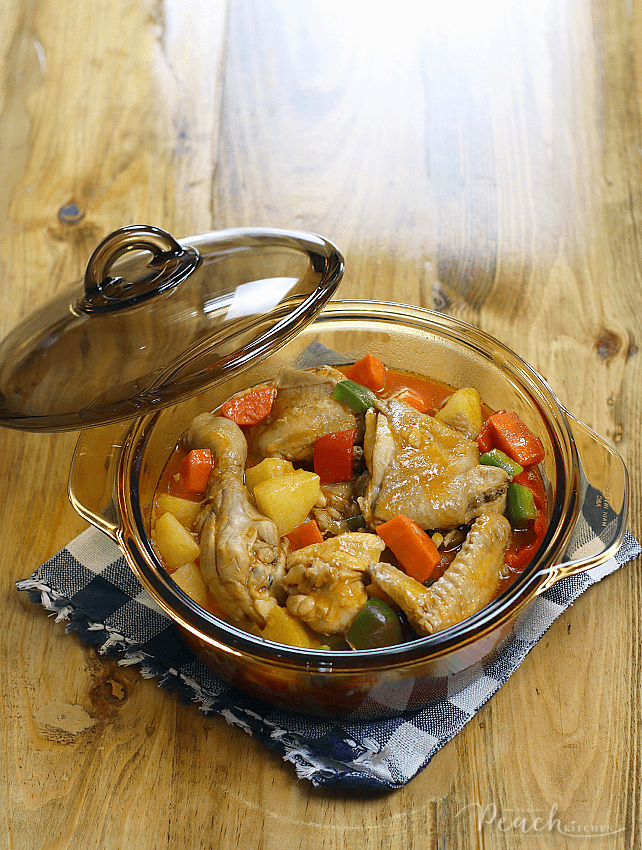 One of my favorite classic Filipino dish is Chicken Afritada. I think I could eat it for one whole week and not get tired of the taste. What better way to "test drive" a new pot than to cook one of your favorites, diba?
Most of us moms are used to cooking using stainless steel or teflon pots, right? I am too because that's what my mom used too when I was younger. And at home, that's what I used when I was learning how to cook. Ceramics or glass containers are used to serve the dishes on the table.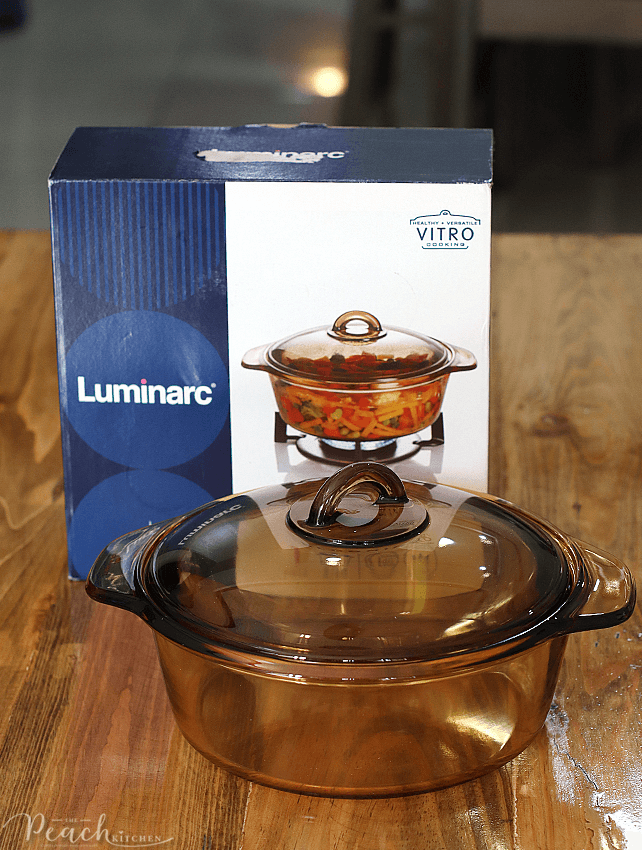 When I became a mom and moved into my own home, it became exciting to try new dishes, new pots and pans, and new kitchen gadgets. It's one of the things that excites me up to the present. So trying out my new Luminarc Vitro Blooming pot in cooking Chicken Afritada really made my day.
I got the 2L pot which I think is just the right size for a family of four (or six… because we have lots of leftovers!). The new Luminarc VITRO BLOOMING is an extended range of Luminarc's Vitro cookware collection made by Arc International, the world leader in glass tableware manufacturing.
It's inspired by French morning blooming rosebushes (water drop on flower) and has a newly improved lid & bigger ears which allows you to hold it easily. Plus a brown color that makes it more sleek.
SO WHAT DO I LOVE ABOUT THE NEW LUMINARC VITRO BLOOMING?
I love that the lid fits inside the rim It means you won't have to face with problems of spilling when cooking. The improved rim design also prevents soup from spilling when pouring.
It is made of Vitro-ceramic material which guarantees exceptional thermal, mechanical, and chemical resistance.
Instead of separate cookware to boil, stew, steam, fry, roast and grill, Luminarc Vitro does it all, which can go from the freezer to the fire and directly to the table. Ideal for those who do not want the hassle of dishing food from cookware to serving ware, saving you time and less dishes to wash up later.
It's easy to clean.
It's resistant to thermal shock… which means it can be transferred directly from freezer to oven or direct flame for reheating, thus saving precious time and energy. Vitro-ceramic can withstand temperatures from -40°C to 800°C and tolerate fluctuations in temperature (up to 380°C).
It is non-pourous and 100% hygienic. Luminarc Vitro is produced with the latest technology and made from pure and natural materials with extremely fine pores, anitbacterial, odor and stain free, making your food 100% safe and hygienic for consumption.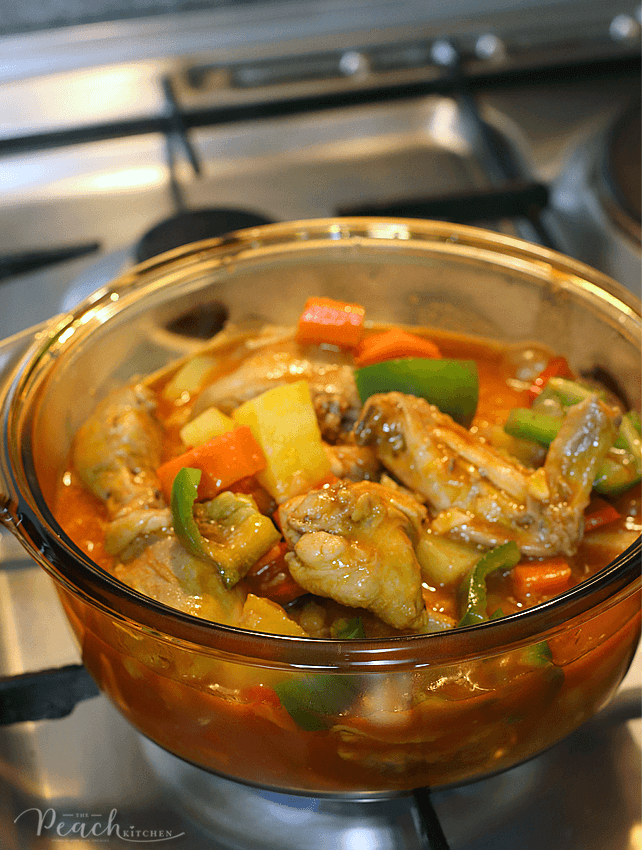 Cooking, serving, storing , and reheating is a breeze with this pot! One pot does it all…. I love it.
To those of you who are thinking of getting one, you can get the Luminarc Smart Cuisne and other Luminarc products in selected SM, Robinsons, Metro Gaisano, Landmark, Gaisano Malls, Lazada, Shopee and other leading department stores nationwide. You can also get them at Lazada and Shopee (links are below)
Lazada: www.lazada.com.ph/shop/luminarc-philippines
Shopee: www.shopee.ph/luminarc.ph
If you're thinking of trying out my easy Chicken Afritada, recipe is below…
OTHER CHICKEN DISHES YOU MIGHT LOVE…
Print
Chicken Afritada
3 tbsp

cooking oil, i used canola oil

1

large potato, cut into

1

-inch pieces

1

large carrot, cut into

1

-inch pieces

1

medium white onion, chopped

3

cloves garlic, minced

700g

chicken pieces, I used leg quarters and wings for this recipe

1

bay leaf (optional)

200g

pack tomato sauce

1 cup

water

1

green bell pepper, diced

1

red bell pepper, diced

1 tbsp

fish sauce
pepper to taste
Instructions
Heat oil in a pot and fry the potatoes and carrots until cooked. Remove from pot and set aside.
Remove excess oil and leave about 2 tbsp. Sauté onions and garlic until onions become translucent.
Add chicken and cook with the onions for a few seconds.
Add water and tomato sauce. Simmer until chicken becomes tender.
Add potatoes and carrots. Simmer for around 2 minutes.By this time the sauce becomes thick because of the starch in the potatoes.
Season with fish sauce and pepper to taste.
Add bell peppers and simmer for a minute or until bell pepper is cooked but not too soft.
Serve with steamed rice.
♥ If you make this recipe, kindly snap a photo and tag @thepeachkitchen on Instagram (OR hashtag it #thepeachkitchen). I'd love to see what you cook!