Authentic Ilocos Bagnet, steamed vegetables, and bagoong monamon … one last Vigan lunch hurrah!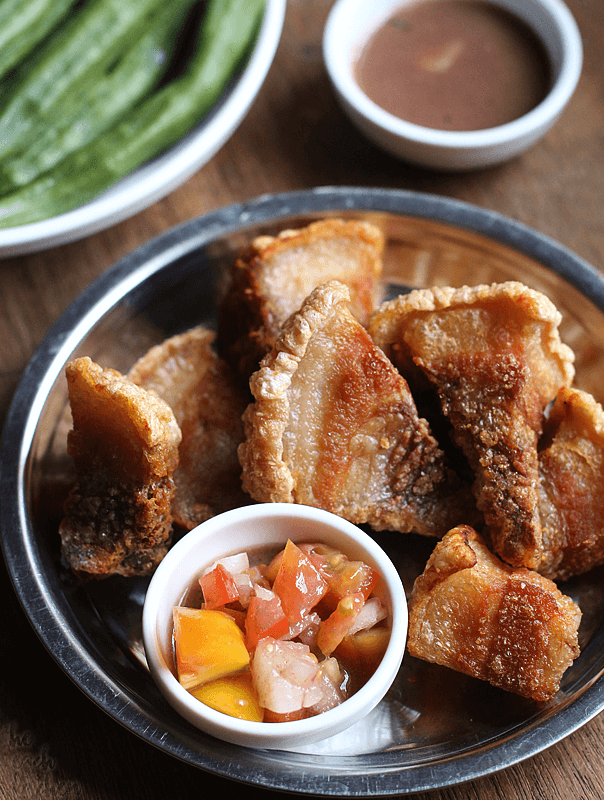 If you think you've heard the last of Vigan yesterday, then you are all wrong. Vigan Longganisa wasn't the only one I bought from Tongson Royal Bibingka — I also bought half a kilo of Bagnet… just because we couldn't get enough of it.
To my non-Filipino friends, Bagnet is Ilocos' version of the popular Lechon Kawali or Deep Fried Pork Belly but instead of lechon sauce or liver sauce, Bagnet is usually served with bagoong monamon or anchovy paste together with some chopped onions and tomatoes and perhaps steamed vegetables on the side.
Although I try to avoid it as much as possible during regular days, somehow being in Ilocos Sur (Vigan, in particular) kinda lured me into eating more of it — I guess that's what happens when you're faced with authentic Ilocos Bagnet.
You see I even bought some to take home.. and this is what happened for lunch today…
Bagnets were deep fried. Okras, kamote tops, and kangkong were steamed. And anchovy paste were sautéed in garlic and ginger.
Oh, and a basin of rice were eaten too! BURP!
Meanwhile, since I don't think I'll be able to post our 6-Day Ilocos getaway soon, I'm leaving you with a 12-minute video where all of our adventures are squeezed in….
We are just so crazy in this video.. hope you get a good laugh.
Print
Ilocos Bagnet, Steamed Veggies, and Sauteed Anchovy Paste (Bagoong Isda)
500 grams

ready-made Bagnet from Ilocos
cooking oil for frying
Okra, Kamote Tops, KangKong
Anchovy Paste
1 tbsp

cooking oil

2

cloves garlic

1

inch knob of ginger

1/2 cup

anchovy paste

3 tbsp

vinegar
Instructions
Put Okra, kamote tops, and kangkong in a steamer and steam until cooked. Set aside.
For the Anchovy Paste: Heat oil a small sauce pan. Sauté garlic and ginger until fragrant. Pour in anchovy paste, stir and bring into a boil. Add vinegar and bring into a boil before stirring.
Reheat Bagnet by re-frying to get that crispy, crunchy texture. Heat oil in a pan and deep fry sliced bagnet until golden brown.
Serve steamed vegetables, Bagnet, and anchovy paste with hot steaming rice.