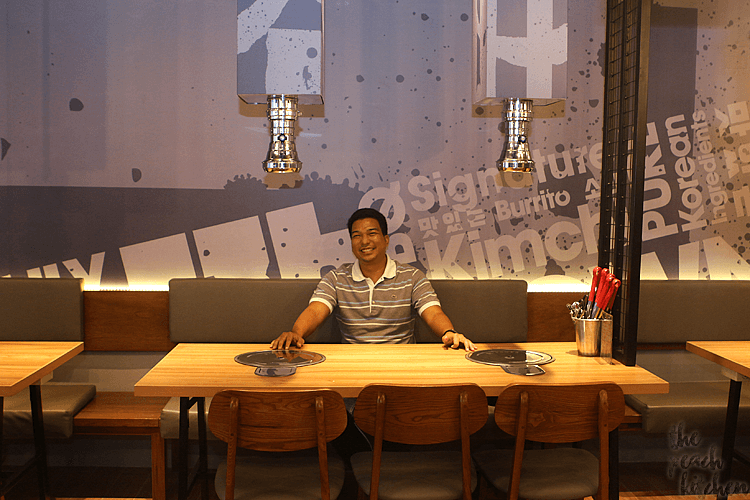 "Are you in the mood for Korean?". That is one question that would always get a big "YES" from me. I've been in love with Korean flavors ever since I've tried my first Bibimbap years ago. From then on, I've been trying out different Korean restaurants, cooked Korean at home, and fallen in love all over again when I met Samgyupsal.
When I was invited to the launch of Soban K-Town Grill, I didn't know I was in for a surprise. The brainchild of the collaboration between Mr. Sung Rah, Sariwon Korean Barbecue's award-winning restaurateur from Seoul, and the Happyfoods Group behind Sariwon Philippines, Soban K-Town Grill redefines Korean cuisine by weaving traditional Korean ingredients and techniques with American comfort food sprinkled with a little bit of  Mexican street food culture.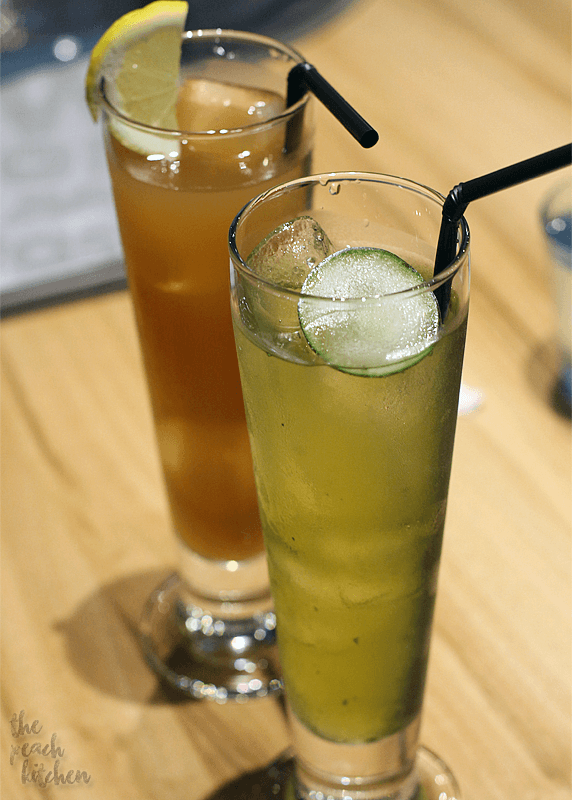 Drinks were served while we were waiting for the launch to start. peanutbutter ordered the Soban Iced Tea (₱65) while I enjoyed a glass of Green Iced Tea (₱65) which has hints of mint and lemon. This is by far the most delicious Green Tea Iced Tea I've tried.
The launch started with a drinking game called Kong-Kong-Chill-Ppang (pronounced as Kong-Kong-Chill-Bang).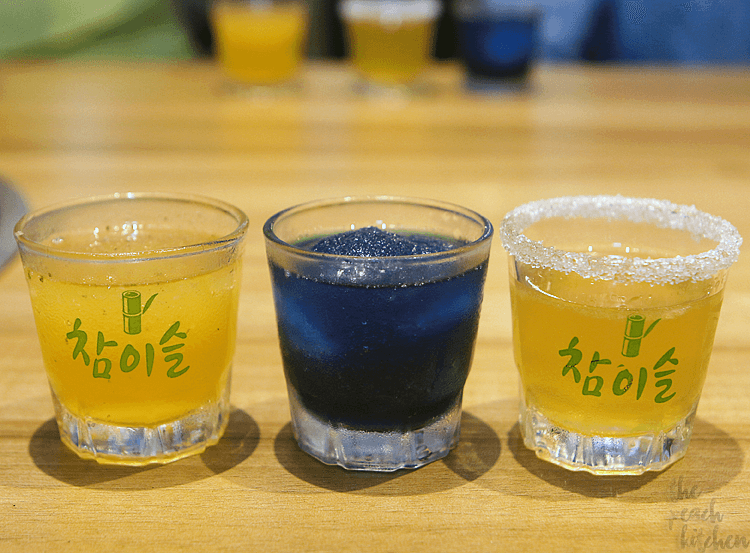 The game was not only fun but we were able to try Soban's Cocktails: Black Dragon, Galaxy, and Seouljito. Everything was equally good but I love Galaxy the most. It probably has something to do with its colors resembling the galaxy and all its stars.
Of course, the real fun started when they began serving the food with the K-Town vibe!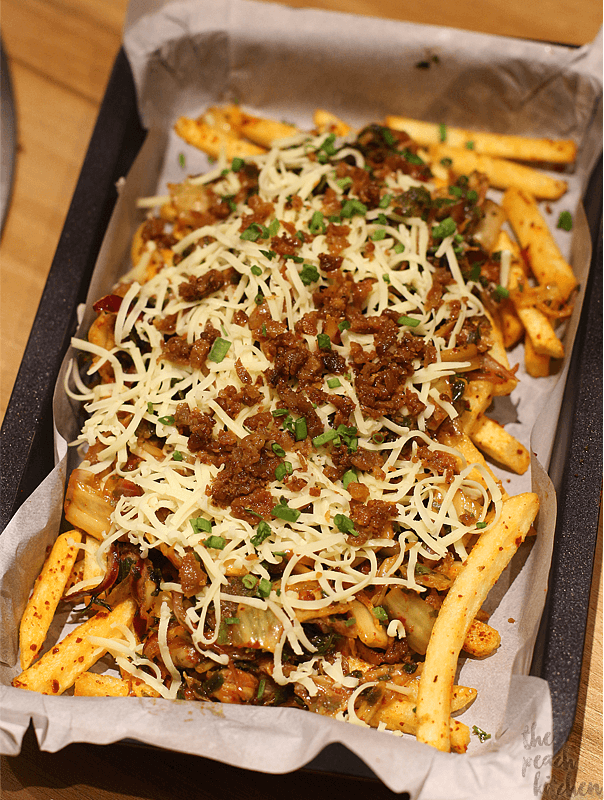 First up was the Kimchi Fries (₱199), french fries that's oozing with the flavor of kimchi and is topped with roasted pork bits and cheese. It's good enough for sharing and an interesting starter.
The K-Taco (₱145| 2 pcs), a soft taco filled with lettuce, kimchi, sour cream, cheese, and your choice of K-BBQ meat, can be ordered in one, two, or three pieces. Two pieces can be really filling!
You won't be missing your tapsilog too much when you're in Soban K-Town Grill, because they also have a version of it called Korilog (₱135) which is very affordable. You can either have it with beef or chicken. Beef Korilog has Beef Bulgogi while Chicken Korilog has caramelized fried chicken. Both meals are served with kimchi fried rice and sunny side up egg.
Craving for a Burrito? So not a problem with Soban's Korrito (₱180), a burrito made with fresh lettuce, sour cream, kimchi, cheese, kimchi fried rice, and of course, your choice of K-BBQ meat.
Now, here comes my favorites! The Samgyupsal and Dak Galbi Sets.
The Samgyupsal Set comes in 90g (₱315) , 120g (₱355), and 180g (₱405) serving sizes.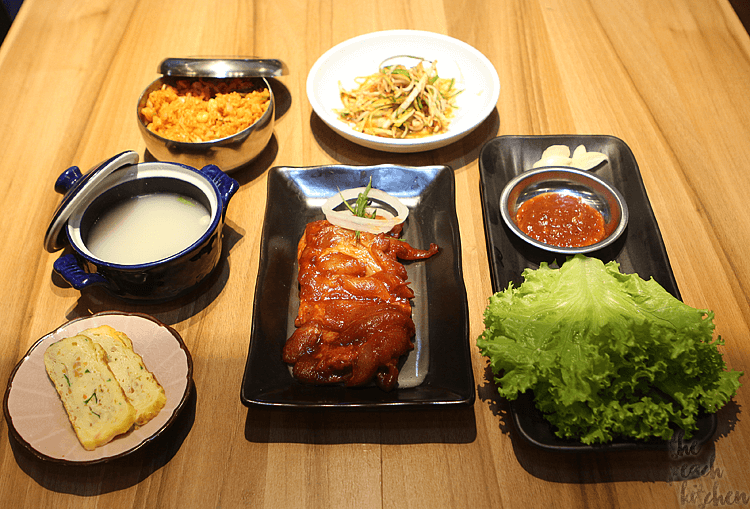 The Dak Galibi Sets offers the same serving sizes: 90g (₱310), 120g (₱325), and 180g (₱360).
Both sets are served with unlimited salad, rice, soup, and egg roll appetizer and you can add ₱15 to upgrade the rice to kimchi fried rice. The pork sets are available in six barbecue flavors while the chicken set offers only tree, the fruity, spicy, and doenjang flavor.
The Dak Bulgogi Set (₱320) is my favorite among the solo sets because I just love how this caramelized boneless fried chicken can be crunchy outside, tender and juicy inside, and flavorful all over.
If you're a family or a barkada of four, I suggest you try the 6-Flavor Samgyupal Set (₱1,420) which includes 540g of pork belly in six luscious barbecue flavors: original, fruity, chili bean, soy garlic, wine,and doenjang (korean miso). This comes with unlimited servings of rice, soup, salad, and egg roll.
peanutbutter♥ and I had fun grilling our samgyupsals….
So far, my favorites among the six flavors are: original, fruity, and doenjang.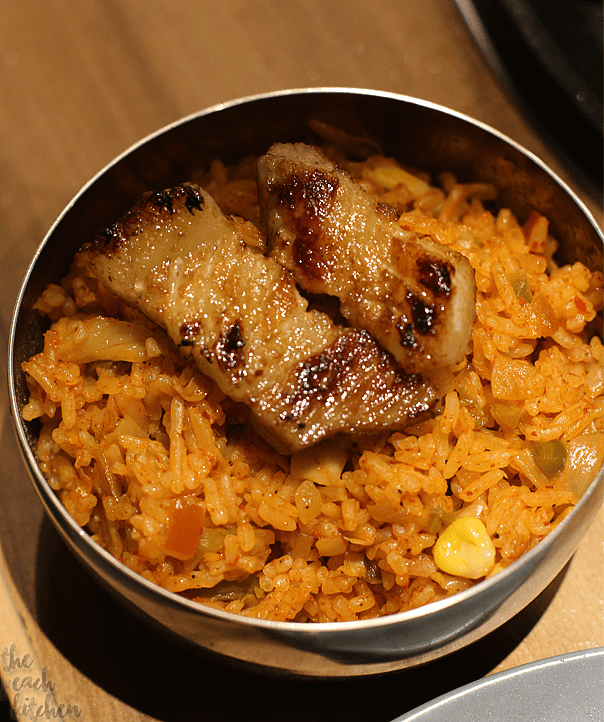 The fruity samgyupsal goes so well with spicy kinchi friedn rice because it's a bit sweet and it balances out all the flavors…
Our meal ended with the Ice Cream Trio (₱135), which is 3-scoops of their housemade ice cream: cookies and cream, vanilla, and coffee.
..and the Coffee Prince (₱120), homemade coffeE ice cream on a bed of soft graham and korean red beans! This is really a must-try!
What can I say? Soban K-Town Grill gets a two thumbs up for me. They offer flavorful feasts that won't put a dent in your pockets in a hip, no nonsense ambience… and guuuuyyyys, they have a six-flavor samgyupsal!!! That should be enough reason to drop by Soban K-Twon Grill!!!
Get to know more about them by following the Soban K-Town Grill Facebook Page.