I grew up in a household that uses an Oster Blender to make smoothies or "shakes" as we call 'em before. So I know how long Oster has been in the market and that it is a household name.
So when friends from Oster told me they would be sending me an Oster MyBlend Personal Blender for me to try, I immediately said yes. You know how much I love my smoothies and a more convenient way to make them would mean easier mornings.
Opening the box brought me the blender base, an adaptor, the sports bottle with the blade assembly, a spill proof drinking lid. Just by looking at its component, you can tell how easy to use its gonna be.
I used it to make a Mango Banana Smoothie and I can tell that this personal blender and I are gonna be friends for a really long time…Why? Check out the reasons below…
Why I l♥ve the Oster MyBlend Personal Blender
BPA-Free Sports Bottle. BPA or Bisphenol-A is the main component of polycarbonate that is used to make water bottles and food storage containers. Studies showed that BPA can seep into food and beverages from containers and is harmful to ones health.
Easy To Use. Oster MyBlend has a simple one touch blending action that even my 8-year old can do. It's as simple as pushing down the jar to start it up and you can already make your favorite smoothies.
Ready To Drink. Drinks are made directly in the 20 oz BPA-free sports bottle. There are no spills from pouring nor a pitcher to clean up.
Easy To Clean.
Perfect for individuals with busy lifestyles because you can quickly take your drinks on the go.
I've had a set back with it when I tried to make really frozen drinks. There was a few chunks of ice left but when I let it run longer, it was taken cared of. The result was thinner than when I used my regular blender. But with the affordable price, ease of use, less fuss, easy clean-up, and high speed function I'd say this is one of the best personal size blenders. I'd give this product my thumbs up.
If you'd like to own an Oster MyBlend Personal Blender, now is the perfect time to buy one because there's an ongoing promo from today until June 30, 2016. Purchase an Oster MyBlend Personal Blender from all major retail outlets like SM, Anson's, Landmark, Rustan's and Coleman Stores and you get a FREE Coleman Jug!!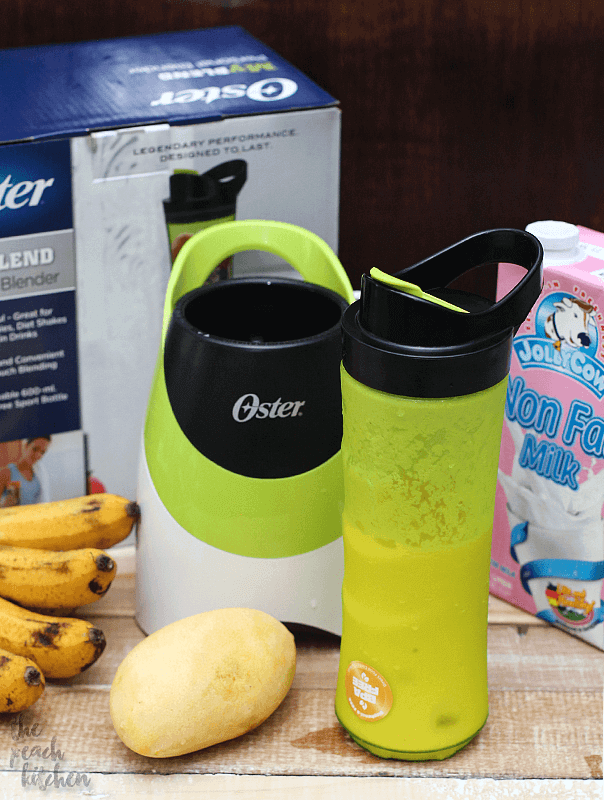 Enjoy cool drinks on-the-go with Oster MyBlend Personal Blender!
To know more about Oster, you can follow them on:
Facebook: https://www.facebook.com/OsterPHL
Instagram: https://www.instagram.com/osterph
Website: http://osterphilippines.com/
Oster MyBlend Giveaway
And because we know how much you love your smoothies on the go, Oster and The Peach Kitchen has teamed up. We are giving away one (1) Oster MyBlend to one lucky The Peach Kitchen reader.
It's very easy to join, just follow the Rafflecopter below…
Just a few more reminders:
This contest is open to all readers with a METRO MANILA address where prize can be delivered.
Please follow and complete all the requirements on Rafflecopter.
There will only be one (1) winner.
This giveaway will start from May 28 , 2016 until June 4, 2016
I will announce the winner on June 5, 2016.
The winner will be notified through the e-mail provided.
Good Luck and Thank you so much for joining!
Print
Mango Banana Smoothie + Oster MyBlend Review and Giveaway
1

banana

1

mango

1/2 cup

of non-fat milk

3/4 cup

of ice cubes
Instructions
Put everything in your blender and pulse until smooth and creamy.
You may add extra ingredients like honey to suit your taste.
Enjoy!