This Chicken Mami is light, nutritious, and has been our comfort in a bowl during the rainy weather.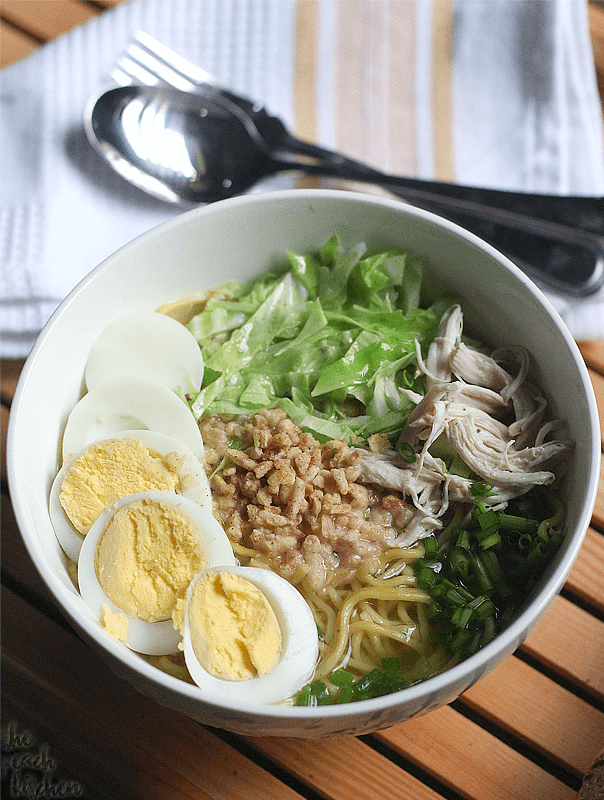 We were, yet again, blessed with a rainy weather yesterday and this morning. It was wet, cold, and the demands for cuddles here at home were high. Classes were cancelled at around 8am, so Ykaie was at home too. There were three people waiting for warm hugs and cuddles. But I needed to warm their tummies first — So I thought it would be nice to have Chicken Mami for lunch.
Chicken Mami is the Filipino version of Chicken Noodle Soup. It's a light noodle soup packed with flavor and all you needed on a cold, rainy day.
What's special about THIS Chicken Mami is that aside from using chicken bones to make the soup, I added some pork calf bone (pork biyas) which has marrow, making this both tasty and nutritious.
I'm gonna miss the cuddles and hugs tomorrow. Good thing I still have one bowl of this left for me to consume tomorrow when peanutbutter♥ goes to his first day of work, Ykaie to school, and Twinkle to sleep.
What's your favorite thing to eat when it's raining outside?
♥ If you make this recipe, be sure to snap a photo and tag @thepeachkitchen on Instagram (OR hashtag it #thepeachkitchen). I'd love to see what you cook!
Print
Chicken Mami
Soup
2

pieces pork biyas or calf bone, chopped into three (you can get this from the wet market for ₱

20

each)
bones from the chicken breast

8 cups

water
fish sauce
Other Ingredients:
500g

thin egg noodles, blanched twice

4

pieces hardboiled egg

1/2

a chicken breast, boiled and shredded, bones added to the bone broth above
chopped scallions/ green onions
fried garlic
shredded cabbage
Instructions
Make the Soup: by putting the pork bone, chicken bone, and water in a pot. Bring it to a boil and lower heat. Let it simmer for 1 1/2 hours or more, the longer the better to make tastier broth. Add fish sauce to taste.
Assemble the Chicken Mami in a Bowl: Put around 1 cup of egg noodles on the bottom of the bowl, top it of with shredded chicken, cabbage, green onions, sliced hardboiled egg, and fried garlic.
Scoop out the hot soup onto the bowl and serve hot.
Enjoy on a rainy day.