This  Pork Adobo with Pineapple is the easiest thing to cook, thanks to Datu Puti Adobo Series Sauce…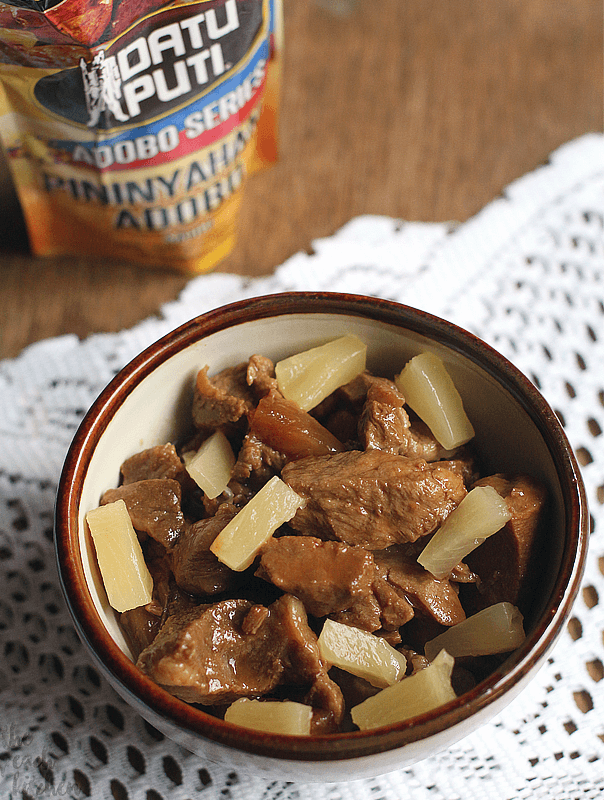 I use to dread Mondays because I feel like it's the busiest day of the week… but I've changed that POV. I now think Mondays, like the New Year, gives us a clean slate.. a fresh start. Today, I woke up at 3am with a smile. Like I told you, peanutbutter♥ is back in the corporate world and today is his first day at work.
I felt like the adjustment over this new change in our family (schedule) started over the weekend because we had such a busy one.
Saturday had me inspired at Mekeni in Pampanga as I got to know the company, their products, and their goals… I'm very excited to share that with you in my following post.
Sunday was grocery day at Shopwise in Commonwealth before heading out to my inLaws in Fairview. Shopwise is celebrating their 18th Anniversary for the whole month and they have a lot — A LOT — of Buy One Get One items and items on sale plus promos. I'm also excited to share those with you within the week.. (Eeek! Before the promo ends.)
I brought sis with me to Shopwise and to my inLaws… heehee.. She was game to tag along..
We went to have coffee at Ayala Fairview Terraces.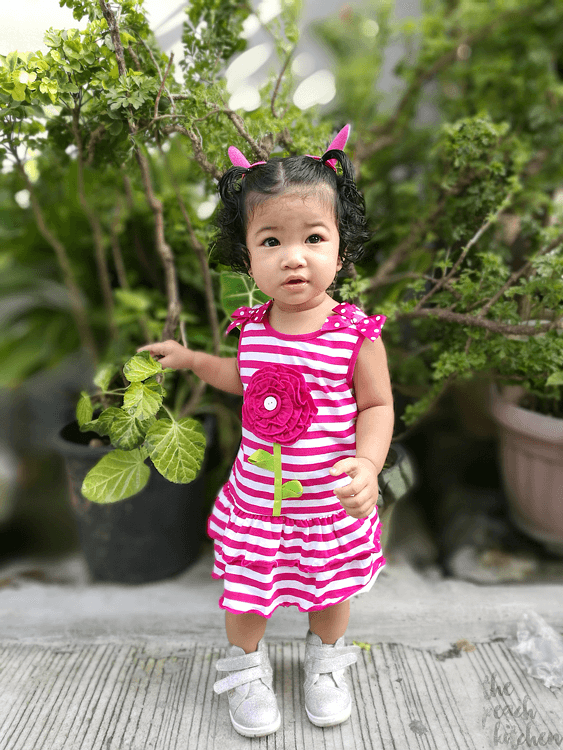 Ykaie and Twinkle enjoyed the fountain and pasyal around the mall….
So anyway… Datu Puti sent over pretty denim aprons together with their Datu Puti Adobo Series a couple of months ago but I haven't had the chance to try them out.
Today was the perfect time. I told peanutbutter♥ to bring GCs for lunch at work but he wanted to wanted to bring homecooked meals. Ykaie also brings rice baon to school once a week. So aside from preparing breakfast, I also cooked Pininyahang Adobo using the Datu Puti Pininyahang Adobo Sauce to be their lunch baon.
Datu Puti's Adobo Sauce is very convenient to use because all you need is either pork or chicken pieces and the sauce for it to be a tasty ulam. You can really taste and smell the pineapple juice in the Pininyahang Adobo Sauce. I wanted for it to have real pineapples, though, so I added some pineapple tidbits.
Both peanutbutter♥ and Ykaie loved it!
Bring it on Tuesday.
♥ If you make this recipe, be sure to snap a photo and tag @thepeachkitchen on Instagram (OR hashtag it #thepeachkitchen). I'd love to see what you cook!
Print
Pork Adobo with Pineapple
500g

pork cutlets, around 1-2 inches big

3/4

pack Datu Puti Pininyahang Adobo Sauce

3/4 cup

water

1/2 cup

pineapple tidbits (including liquid)
salt to taste
Instructions
Combine pork cutlets, pininyahang adobo sauce, liquid from pineapple tidbits, and water in a pot.
Bring to a boil and reduce heat in low. Simmer for 30 minutes until pork are tender and sauce is thick.
Season with salt to taste.
Add pineapple tidbits, simmer for 20 seconds,
Serve with steamed rice