This Chocolate Chip Banana Bread is incredibly moist, dense, and chocolatey yet has less sugar than the usual!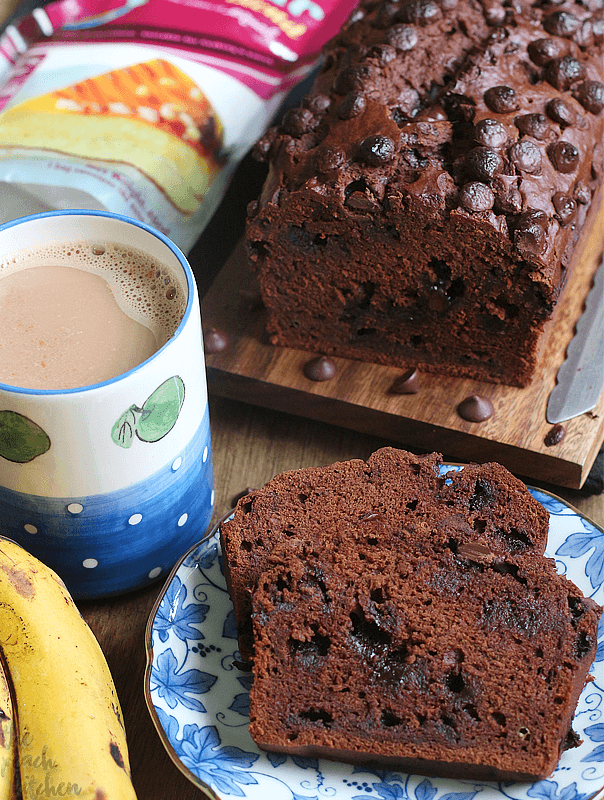 One of the many fruits that we never run out of at home is — you guessed it!– bananas! and because we love bananas, it has become Twinkle's all time favorite fruit. She even says "nana" whenever she wants one or whenever she sees a banana.
There are times that we overbuy bananas from our suking banana vendor and well, some tend to get overripe and spotty. It's during times like these that a good recipe for a banana bread is called for.
Just like this Chocolate Chip S'mores Cookies and Strawberry Lemonade Cupcakes, this Chocolate Chip Banana Bread is made with Sugar Blend.
Sugar Blend is really effective when you're trying to cut back on sugar. One teaspoon of Sugar Blend (16kcal) is already equals to 2 teaspoons of sugar (32kcal). That means you cut your sugar consumption in half.
To those of you who might not know it yet, Sugar Blend is a sweetener product made with a blend of sugar and sucralose. It works well with all types of desserts and everyday dishes that needs a little sweetness.We use it for our coffee and to marinate meat products which needs a hint of sweetness like this Grilled Tuna Panga.
See how versatile it is? It is also affordable at ₱89.00 so you can #SweetAllYouCan with Sugar Blend.
To give the usual banana bread a little ooomph, I added cocoa powder and semi-sweet chocolate chips. Guess what? The family loved it and they couldn't get enough. Even I couldn't get enough of it.
It's perfect when paired with a cup of joe and Ykaie loved it for school baon!
You should really try making this, mommies!
Get to know more about Sugar Blend, follow Equal Philippines Facebook Page.
♥ If you make this recipe, be sure to snap a photo and tag @thepeachkitchen on Instagram (OR hashtag it #thepeachkitchen). I'd love to see what you cook!
Print
Chocolate Chip Banana Bread with Sugar Blend
1

stick butter, softened into room temperature

1/2 cup

Sugar Blend

2

large eggs

1 tsp

vanilla extract

1 cup

mashed banana, about

4

ripe spotty bananas

1/4 cup

Greek yogurt

1 1/2 cup

all purpose flour

1/2 cup

unsweetened cocoa powder

1 tsp

baking soda

1/4 teaspoon

salt

1 cup

semi sweet chocolate chips
Instructions
Preheat oven to 350ºF and grease a standard size loaf pan and set aside.
In a large bowl, combine all the dry ingredients: all purpose flour, unsweetened cocoa powder, baking soda, and salt. Set aside.
In the electric mixer bowl, cream together butter and Sugar Blend. Add eggs one at a time and make sure it's mixed well. Add vanilla, mashed bananas, and greek yogurt.
Gradually add flour mixture to the wet ingredients and mix on low speed until just combined.
Mix in chocolate chips until well combined, saving a few to sprinkle on top of the loaf.
Pour batter evenly into the greased loaf pan and sprinkle chocolate chips on top.
Bake for 32-35 minutes or until a toothpick inserted into the center of the loaf comes out clean.