Sweet, rich Kaya from Singapore and havarti cheese on toast makes for a simple yet satisfying breakfast…
Hey, I'm finally able to say hi….. HI!
It's been such a busy week taking care of my kids. Both of them caught coughs and colds and they're too malambing with me that I couldn't take my attention away from them — especially the little one. I couldn't even get busy in the kitchen or she'll fetch me and cry. She wants me just near her all the time. I believe we've watched Moana 352 times, Trolls 342 times, and Strange Magic 253 times the past five days. All her favorites!
So this is what I've been having for breakfast and snack the past few days — Kaya Cheese Toast. SIL gave us that bottle of Kaya they bought from Singapore last month. Good thing too because we have a go-to breakfast spread at home even if we don't go out…heehee.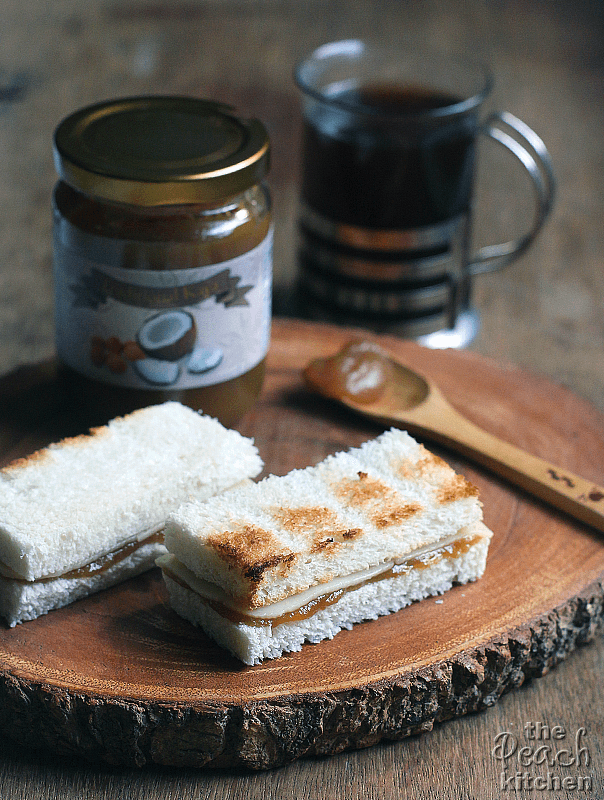 Anyway, the kids are feeling much better now and I guess it's back to regular programming… Well, that is,  if Twinkle would let me near the laptop today…
♥ If you make this recipe, be sure to snap a photo and tag @thepeachkitchen on Instagram (OR hashtag it #thepeachkitchen). I'd love to see what you cook!
Print
Kaya Cheese Toast
2

pieces crustless white bread, cut in half and toasted

2 tbsp

kaya spread

1

slice Havarti cheese, cut in the size of the toast
Instructions
Spread kaya spread on two pieces of toasted crustless bread
Top with slices of cheese
top with the remaining two pieces of toast
Serve immediately and enjoy!