Did you know that you can get discounts for your meals simply by booking it through an app?
Yup, you got that right. Last Saturday, we got a 20% discount when we had lunch at Jatujak in SM The Block. Our  20% discount is because our lunch was booked through this new mobile app called BigDish.
BigDish

BigDish Philippines is a mobile app that enables customers to reserve a table and enjoy big discounts at restaurants in a snap.
I simply downloaded the app that morning while having coffee and registered. Then I scrolled through all the available restaurants and found one near me. I was craving for Thai that day so I chose Jatujak.
Restaurants at BigDish gives different discounts rates depending on the time of the day. Of course, it would be best for you to choose the time of the day when discounts are the highest. In our case, I made the reservation at 11am since the discount is at 20%. If I book it an hour later, discount will only be 10%.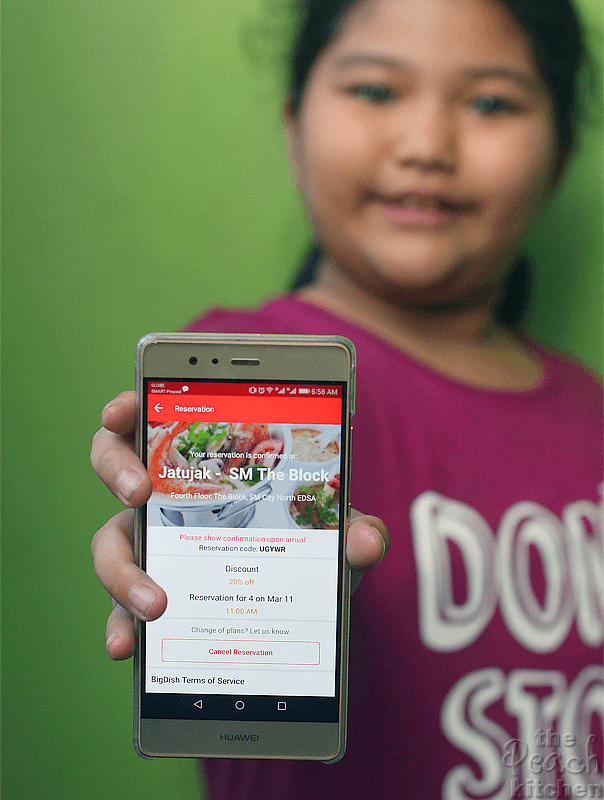 Just a few clicks and our reservation is confirmed!
Lunch At Jatujak
It is not my first time at this Jatujak branch, but this is the first in such a long time. The first time I've been here was in  2008 then the second one was in 2010. I love Thai food but I don't frequent Jatujak. It may have something to do with its location and the lighting. It's near the cinema and the lighting there is not that bright, less inviting, if I may be blunt.
But don't let that stop you from eating there because the food is really good!
We had the Sampler Appetizer (₱215)  which is just the perfect thing to start our meal because it gives you a little bit of everything: shrimp cake, vegetarian spring rolls, and pork spring rolls.
Of course our meal is paired with a tall glass of Thai Iced Milk Tea (₱108) which is the best drink ever to pair with spicy Thai dishes! It's sweet, milky, and has that strong, spiced, black tea taste.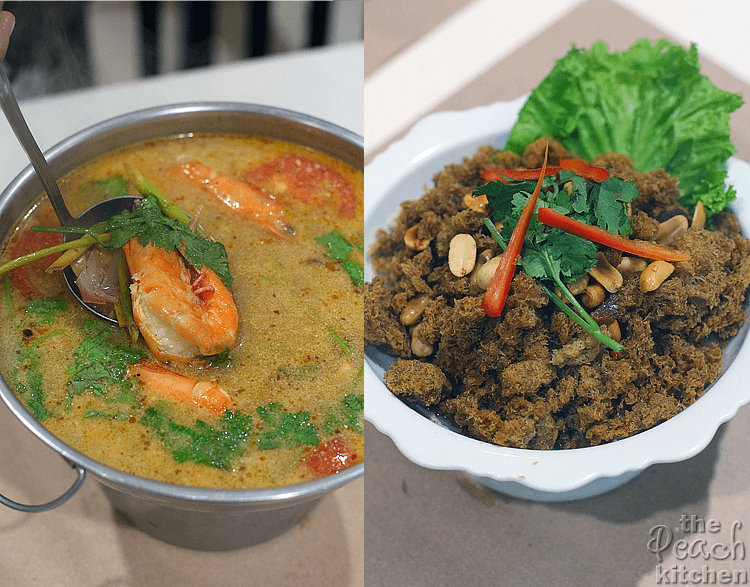 Now, you might be wondering what our main dishes were. We actually had a lot! I looove the Tom Yum Shrimp (₱258), the serving is quite big and you'll get a lot of that flavorful, spicy soup. Even Ykaie, who doesn't want spicy food gave in and slurped away!
The Crispy Catfish with Mango Salad (₱258) is something new to me. The catfish –or should I say, catfish chicharon?, hee — is über crispy and underneath are thinly sliced green mango with a sour dressing.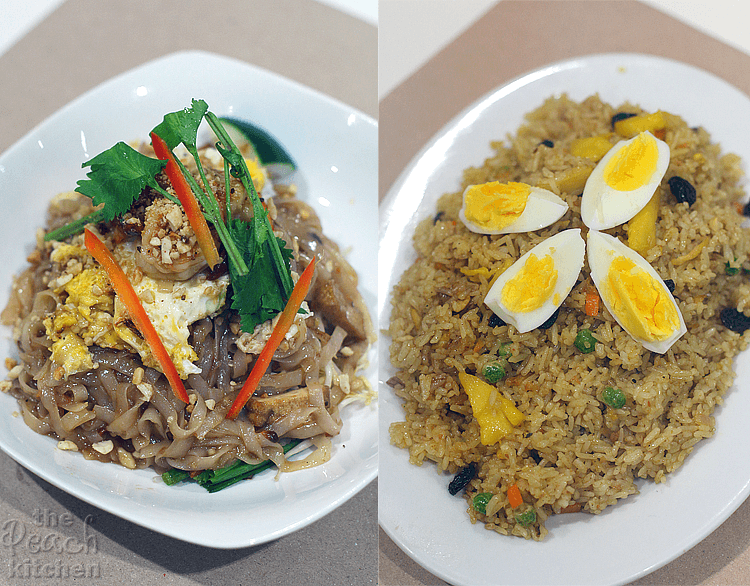 Another dish that I love is the Pad Thai Shrimp (₱230) because of the perfectly cooked rice noodles and the flavorful seasonings that makes it.
For its price, the Pineapple Fried Rice (₱195) has a big serving and could actually feed 4-5 people.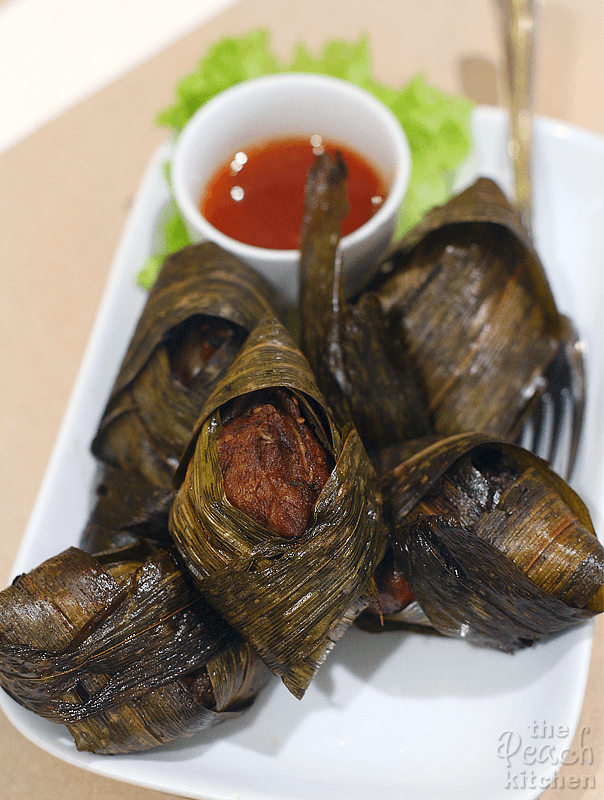 Ykaie feasted on this Chicken Wrapped in Pandan Leaves (₱275). The chicken was filled with hints of pandan as you bite and chew into it. The meat is cooked through, tender, and juicy.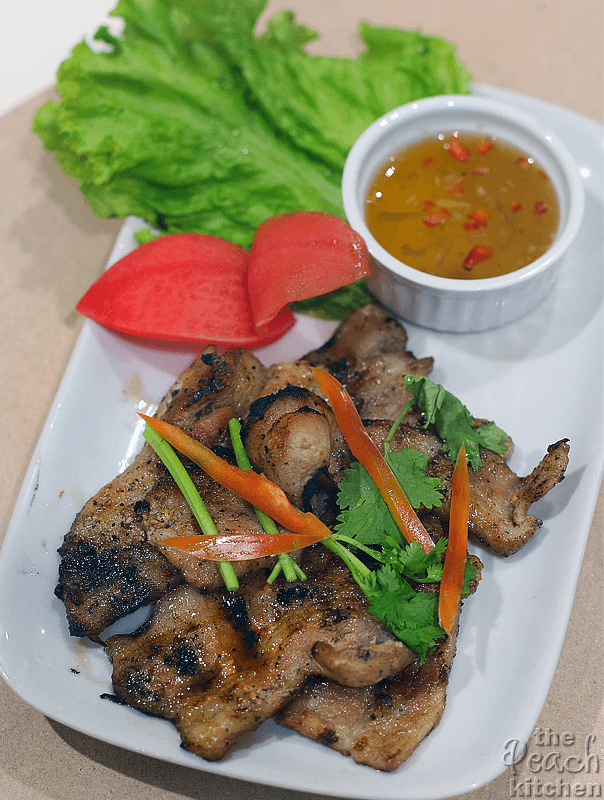 But her favorite was the Grilled Bacon Belly Thai Style (₱295) which speaks for itself — bacon and belly. She said it goes so well with the Pineapple fried rice.
My favorite among the viands was the Soft Shell Crab with Basil (₱395) because soft shell crab is really really good and there's a lot of fried basil on top of it.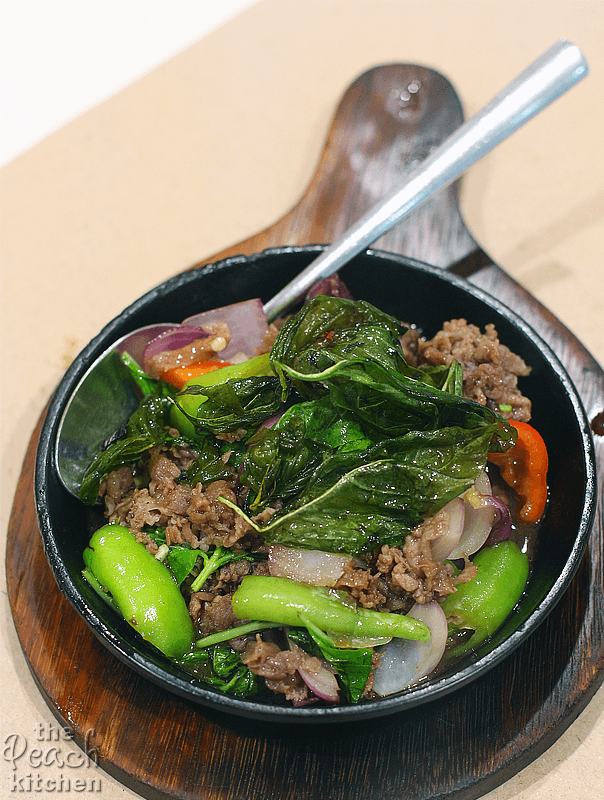 The Beef with Basil (₱265) is equally good but we may have ordered it too spicy. We can only eat a little at a time! If you're thinking of ordering it, you may want to tell the waiter to keep it mild or not spicy at all.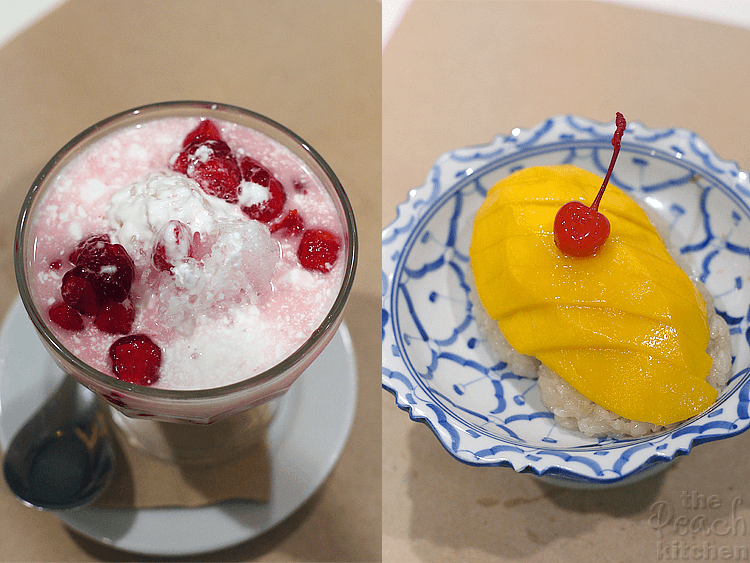 To cap off our meal, we had the Waterchestnut in Iced Coconut Milk (₱110) and the Sticky Rice with Mango (₱135).
It was Saturday lunch well-spent . We had flavorful Thai dishes at an affordable rate and at 20% discount, courtesy of BigDish!
I am so glad I downloaded it on my phone because I'd probably use it a lot especially on family days when we go out and we order a lot of food. Discount is now just a reservation away. I hope they get more restaurants!
To know more about BigDish, follow https://www.facebook.com/BigDishPH/
Or drop by https://bigdish.ph/