Sticky, tender, moist Char Siu on soft, white, fluffy steamed buns… delicious and irresistible.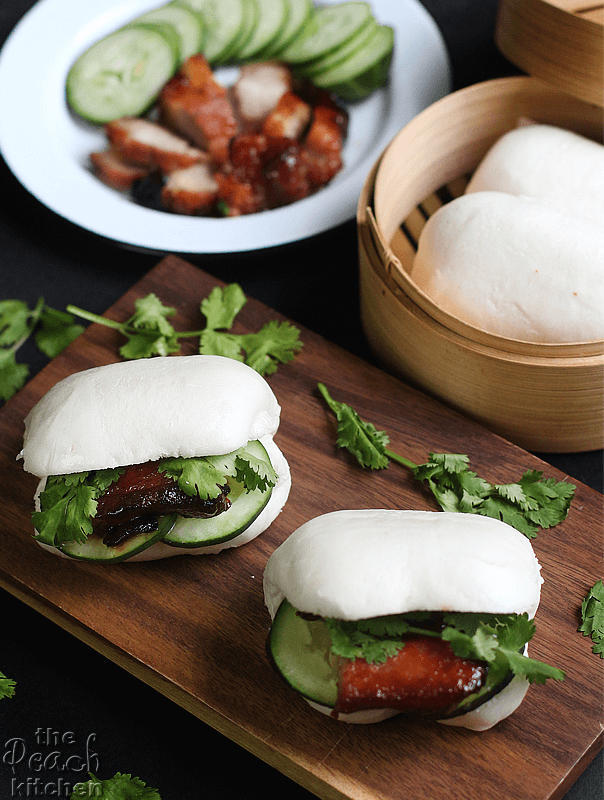 I think I really have to stop eating pork for a while if I don't have to give it up completely… I told myself the other day. So I guess we have to finish whatever pork there is marinating in the freezer, so I can start tomorrow.
What's marinated and frozen is this Char Siu which I was saving for, oh, I don't know, the weekend? Like what I said the last time, we are I am trying to go meatless as much as possible because… (a.) We're I'm trying to lose some weight (b.) I've had highblood pressure (I had one in December, one in february, and one the other day) and (c.) I am trying to eat healthy because of it. I'm suspecting the high blood pressure was due to stress, lack of sleep, and indigestion but I can't be too sure.
You guys know how much I love pork. But for now, I'm eating less of it. So making this Char Siu on Steamed Buns with sliced cucumbers and sprigs of cilantro is me testing myself. Can I truly resist the call of this of this juicy tasty pork?
Apparently, I can and I just ate one with the leanest pork belly part I can find. As for the rest of the gang? Well…
Steamed buns or man tou is my eldest daughter's favorite and pork belly, her favorite pork part so this is a winner. I got her to eat sliced cucumbers because of this. Yay!  peanutbutter♥ had four steamed buns and extra char siu slices.
Yummmmmm… extra Char siu!!!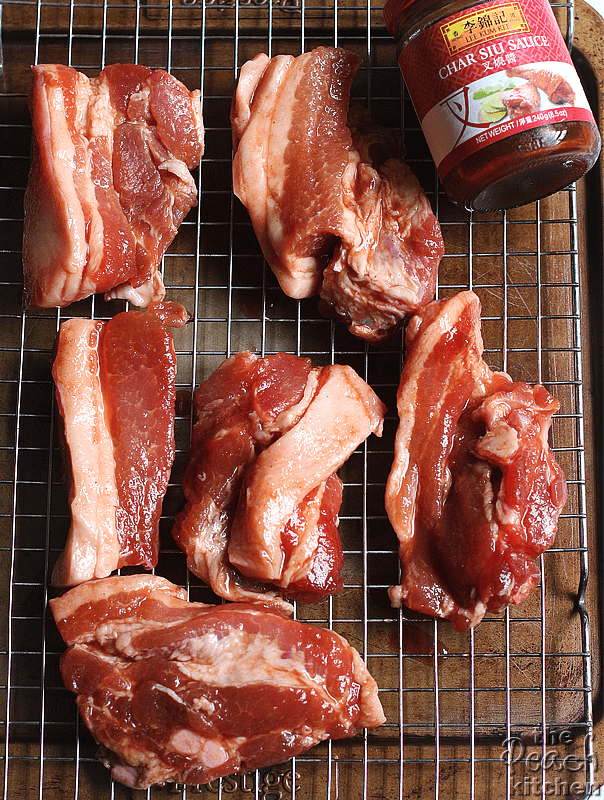 To make this Char Siu, I used Lee Kum Kee Char Siu Sauce. For 600g of pork belly, I used half a cup of the sauce as marinade. I let it sit in the fridge overnight before freezing it for later consumption. The steamed buns were bought from Salazar Bakery in Ongpin earlier during the month and were frozen. It was later steamed so they get back to their soft, fluffy selves.
Lunch was served. We didn't have rice but no one was complaining…
♥ If you make this recipe, be sure to snap a photo and tag @thepeachkitchen on Instagram (OR hashtag it #thepeachkitchen). I'd love to see what you cook!
Print
Char Siu On Steamed Buns
600g

pork belly slices

1/2 cup

lee kum kee char siu sauce (for marinating)

2 tbsp

for basting

10

pcs steamed pork buns
cucumber slices
cilantro sprigs
Instructions
Marinate the pork belly in 1/2 cup char siu sauce. It would be best if you marinate it overnight so the pork belly absorbs all the flavor from the sauce.
Grill the pork belly in live charcoal or roast it in the oven at 350º for 40 minutes. Tasking it out after 15 minutes to baste it with sauce and turn them.
Let the pork belly rest for 10 minutes before slicing.
Layer pork belly in a steamed bun along with sliced cucumber and cilantro sprigs.
Serve immediately and enjoy.