Linguine with Clams and Mussels ~ simple, budget-friendly, and has all the flavors of the sea…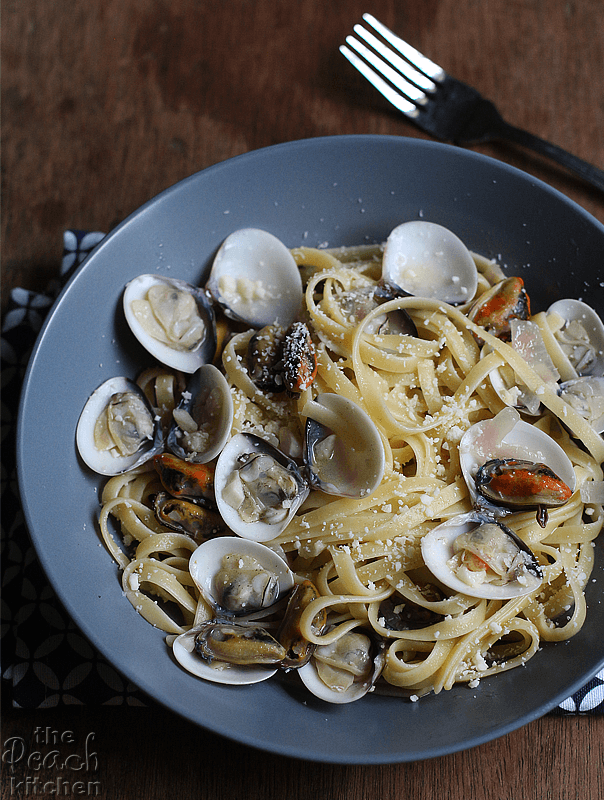 I am pumped and getting ready for today. Oh it's gonna be quite a looong and busy day, I'm sure.
It's actually been a month since I attended any food event because I've been a bit strict with myself with my new diet. But today I said yes to three. Yes, three! Can you even believe it? I'm going to three food events today. I don't know if it's gonna be a challenge or not because I've already adjusted to how I eat these days. I believe it has already become a habit.
So today is going to be a new experience for me. I used to put to put too much food on my plate. Then I finish up and gobble everything because I have this psychological thing going on about food wastage. I end up eating more than I should.  Now, I've learned a lot about portion control and how to prioritize my health above all else.
Hmmm, we'll see.
How's your weekend? We just stayed at home and I did a lot of cooking. Aside from the Tofu Binagoongan, this Linguine with Clams and Mussels was also a part of it.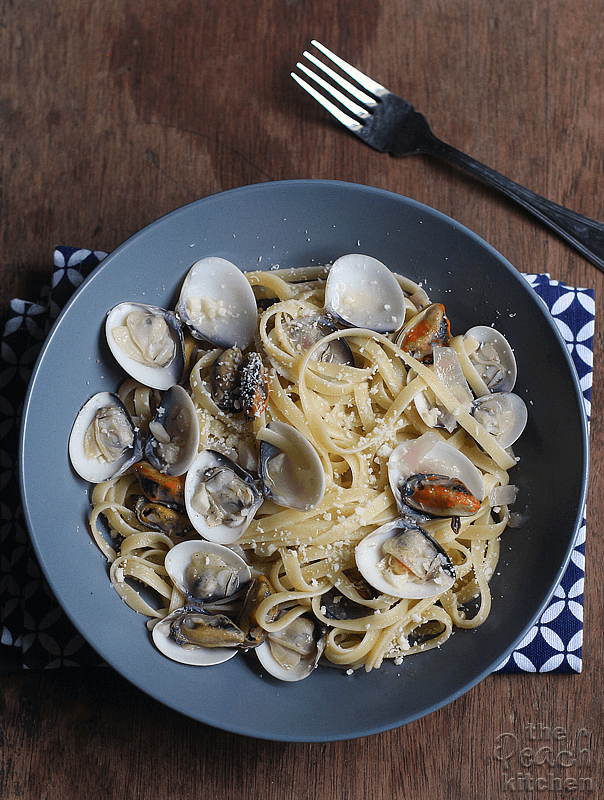 It's like Spaghetti ala Vongole only I used linguine and I added some mussels for our enjoyment. What I love about this recipe is that it's budget-friendly and so easy to make. I got half a kilo of clams for ₱50 and half a kilo of mussels for ₱40 at the wet market. They're not that big but they're fresh so I'm all okay with that.
If you don't have white wine, then you don't really have to buy a bottle just to get that ½ cup in the ingredients list. You may substitute ½ cup of chicken stock or ½ a chicken cube dissolved in ½ cup of water. It will do just fine and this pasta dish will taste just as delicious.
Oh, you'll l♥ve this, I guarantee!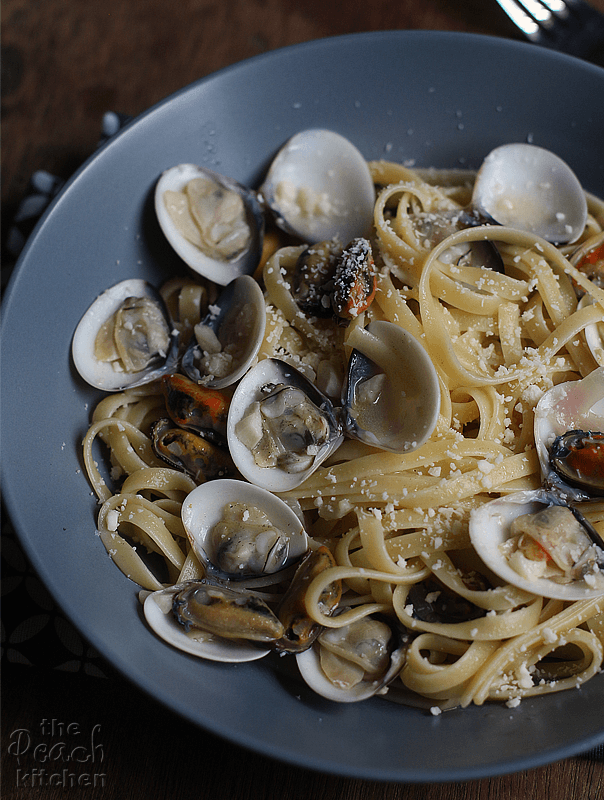 Bye for now. I gotta work-out a little before I start this busy day.
If you wanna see how I'm conquering  my food tasting events, just drop by @thepeachkitchen Instagram or check my Instagram Stories for updates.
See ya.
♥ If you make this recipe, be sure to snap a photo and tag @thepeachkitchen on Instagram (OR hashtag it #thepeachkitchen). I'd love to see what you cook!
Print
Linguine with Clams and Mussels
400g

linguine, cooked according to package directions

500g

clams, purged overnight

500g

mussels, cleaned

6

cloves garlic, chopped

1

white onion, chopped

3 tbsp

olive oil

3 tbsp

butter

½ cup

crisp white wine (if you don't have white wine, you may use chicken stock or 1/2 chicken cubes dissolved in

1/2 cup

water)
parmesan cheese
salt and pepper to taste
Instructions
Cook the mussels in a pot of water with 3 slices of ginger. Let it cool and remove it from its shell.
Heat olive oil and butter in a sauce pan, sauté garlic and onion until onion becomes translucent.
Pour in the wine and add the clams and mussels, cover with the lid until clams opens (around 3-4 minutes).
The olive oil, butter, and wine will form a syrupy sauce. You can season with salt and pepper as needed.
Toss the linguine in the sauce and sprinkle with parmesan cheese
Serve with or without garlic bread.