Last week, Twinkle and I went out for errands. Then we picked up daddy from work for lunch out. Since we were having a late lunch that day, we decided to book our lunch through BigDish PH to make sure we have seats. I like booking restaurants through BigDish PH not only because we can get as much as 50%  discounts but we also discover nice restaurants we wouldn't have gone to otherwise.
This time it was Brown's Gourmet in Katipunan.
We usually just stick with water for drinks because we are trying to avoid too much sweets. But because we were already starving, we decided to order Brown's Freshly Brewed Iced Tea (₱90) and Mixed Berry Shake (₱110). The drinks were first to arrive, of course.  The iced tea had this hint of citrus and was very refreshing while the berry shake has the right balance of sweet and tart plus all the berry flavor you can possibly want.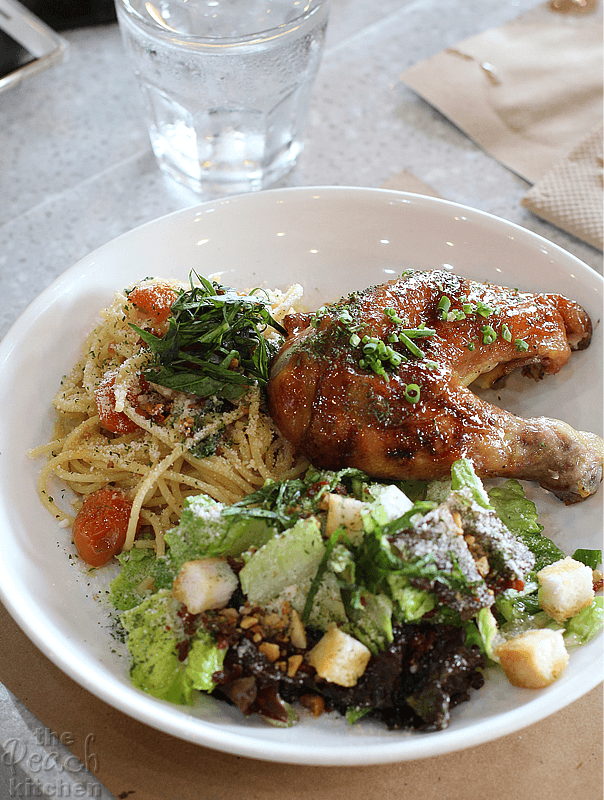 I had the Perfect Plate (₱250)  which is composed of a quarter of their famous roasted to goodness chicken, choice of pasta and choice of salad. I chose the Caramelized Pear + Lemon Basil Dressing Salad and Roasted Tomato + Basil Pasta. The chicken is served with a vinegar dipping sauce on the side but honestly, it doesn't need any dipping sauce. It's already bursting with flavor as it is and it's also fall of the bone tender — I love it!
Please don't judge but peanutbutter♥ had the ½ chicken + rice + 2 sides (₱320). Yes, this is good for two but he is THAT hungry. It's composed of ½ famous roasted to goodness chicken, garlic rice and your choice of 2 side dishes. He opted for garlic smashed potatoes and corn +carrots. I tried the garlic smashed potatoes and it was really good — buttery and garlicky!
Dessert was Churros + Blonde Mocha (₱120). There were five round shaped churros that were dusted off with powdered sugar. It was warm and rich and perfect to dip in the sauce it came with. I can say it was the perfect ending to our meal.
Twinkle tried to finish the Mixed Berry Shake, though.. LOL!
I'm happy we discovered Brown's Gourmet. They have one of the best roasted chickens I've tried. The serving of food is quite big and the prices are affordable. I can't wait to try the OMM Rice and their other salads.
Brown's Gourmet is located at 2/F Regis Center Building, Katipunan Avenue, Loyola Heights, Quezon City