Choosing the best menu for a charity event is not just about food; the meal that you serve leaves a lasting impression on the guests and can determine the success of your next fundraising event. What you serve will convey a message to potential donors and guests.
The menu for your charity event will also tell people what to expect on that day: is the event casual or formal? Is it unique enough to look forward to?
Here are some tips that will come in handy when planning a charity event:
Determine The Style
Your menu will vary depending on the type of charity event you are planning. For instance, if you are organizing a formal black tie event, you need a sophisticated menu to match the sophisticated palates of the attendees. Before you come up with a budget or start hunting down caterers, you need to discuss with your committee the type of event that you want to plan.
Also consider how important the event is in comparison to other yearly events. If you host it quarterly, you can handle it less formally than an annual gala.
Determine The Focus
Aside from raising money, what else will be the focus of the event? If the food is the focal point, you need to prepare a dinner that reflects your goals. However, if your focus is live entertainment, you will not have any pressure to prepare the perfect menu. Knowing the role that the food will play is important when coming up with a menu.
What Is Your Budget?
When it comes to food planning, budgets do not have to be your enemy. You can come up with some quality beverages and foods without spending an arm and a leg. If you do not have enough money for food, use online platforms such as Plumfund.com to raise it.
If your event is going to be held in the early evening or afternoon, add finger foods to your menu. Ask your volunteers to carry trays filled with tasty treats around the venue. You can also provide cheese or fruit and give your guests a free tasting. Doing so will help you to achieve an upscale look without high costs. If many kids will be attending your event, get in touch with bulk candy retailers for discounted prices.
Here are some few places you should visit when piecing your menu together:
–   Visit the local grocers in your area to see if they can donate a few steaks or sell them at discounted prices
–   The farmers' market is a wonderful resource for produce since you will be talking to the growers directly.
–   Local wineries can help you in exchange for some exposure
–   Local coffeehouses might be willing to donate some coffee for your event
Find Caterers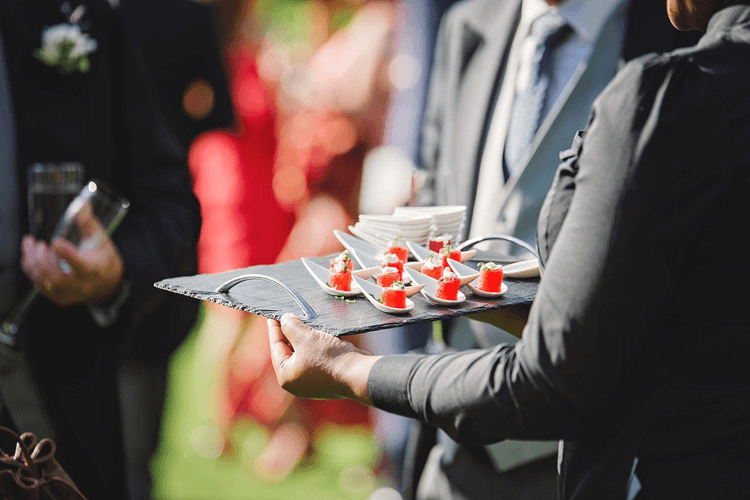 Many restaurants do not advertise their catering services. However, your event venue might limit your options when it comes to caterers. When choosing caterers, the best advice is to approach multiple vendors and ask them what their specialties are.
Ask for references and do your due diligence before hiring anyone. Presentation is also important, so you need to see what the food will look like before serving it to your guests.
Have A Menu Theme
If your budget is limited, upscale it by using a classy theme menu. For instance, if you are hosting a barbecue, you can make it more stylish by preparing fall-of-the-bone ribs, lager buns, and premium salads. Giving your menu a theme will set the proper expectations for the food.