Sushi and maki rolls are my comfort food. I say goodbye to my no rice diet whenever I see good ones. That's what happened when we dined for the first time at Go Bento . I discovered affordable maki rolls that's soooo good (not exage ha, they really are)… and more.
Go Bento is a Japanese restaurant that used to specialize in tasty grab and go meals. Now they offer dine-in dishes that's freshly prepared and cooked as you order in their spacious branch in BGC. I love the interiors of the restaurant — it's clean, simple, homey, the color combination is relaxing to the eyes,  and most of all the a/c is cool. You won't hesitate to eat your heart out during lunch time… just like us… heehee. Well, we couldn't help it, the food was good and the price was really affordable.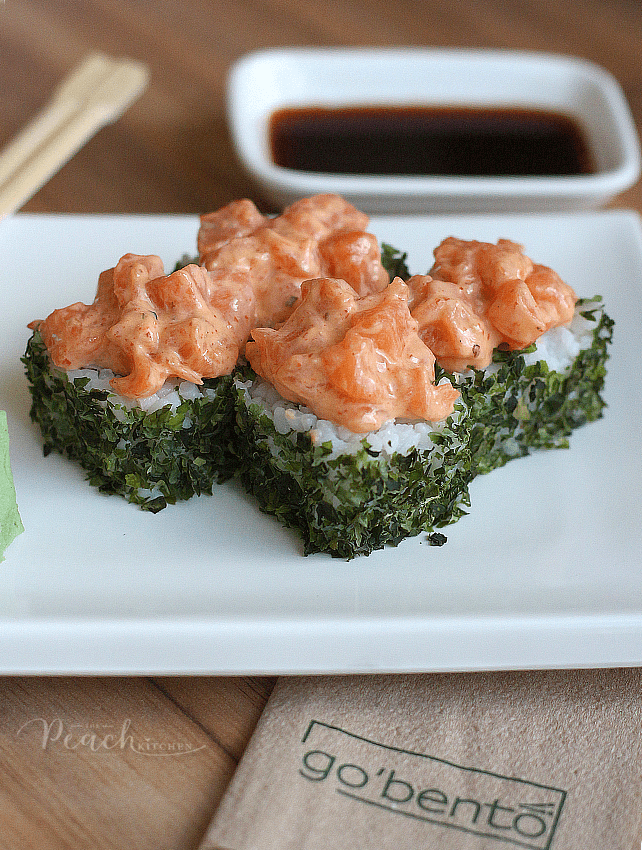 Our meal started with the Spicy Salmon Maki Roll (₱105) and the Crunchy Tuna Maki Roll (₱105). Each came in 4-pieces serving with a dollop of wasabi and pickled ginger on the side. You can tell the salmon and tuna they used was fresh because of how pleasant it was to eat!
We also had the Gyoza (₱70/3 pcs) –or rather Ykaie and peanutbutter♥ did. I'm sure masarap to kasi hindi ko na naabutan at inubos nilang dalawa.
Now, if bitin ka with the maki rolls or if you want to take your sushi experience to a different level, then try the Tuna Miso Poke Bowl (₱175). It's a sushi rice bowl that will satisfy your sushi craving and fill you up at the same time.
Since the name of the restaurant is Go Bento, of course we tried their Bento Meals.
We had the Pork Katsu (₱185) and the Salmon Teriyaki (₱285). Each bento meal comes with a bowl of Miso soup, sauteéd veggies, and Japanese rice with a sprinkle of furikake. What do I love about these bento meals? Well, the pork katsu is thick and meaty while the salmon is perfectly cooked and has this thick teriyaki sauce that really goes well with the Japanese rice. The Miso soup that comes with their bento meal has lots of tofu and seaweed too.
We also had the Tendon (₱145), a mixture of ebi tempura and vegetable tempura on top of Japanese rice and  drizzled with a special sauce. Twinkle loved this because it's crispy and tasty.
The Yakitori Donburi (₱99) clearly has Ykaie's name on it because it has… (drumroll please…) chicken skin skewer. Yes, it has  two sticks of grilled chicken thigh fillet and a chicken skin skewer on top of Japanese rice. Then it's drizzled with this sweet, savory sauce that will make you eat a lot..hahaha.
At hindi pa sya nabusog, nag-snack pa ng Katsudog (₱39). She just had to try this premium hotdog cooked Japanese katsu-style and topped with Tonkatsu sauce. She gives this two thumbs up!
Dessert is Matcha Soft Serve. I can't believe Twinkle loved it as well… I'm thinking kids don't like matcha (Ykaie doesn't) but apparently Twinkle does!
Syempre she shared it with daddy and I had the other one all to myself..LOLz
Let me give you other merienda suggestions, aside from the Katsudog…. Go Bento's ramen.
We tried the Pork Tonkotsu and Grilled Chicken Shoyu — both has hefty servings for (₱185). The noodles are al dente and the soup was thick, creamy, and has that umami flavor that we all love. Just slurp away and you'll feel your day's exhaustion just melting away…
Look, Twinkle was very happy with our meal. She even has that 'happy smile pose' that we always try so hard to make her do. That's because we really are happy with our meals.
Should you happen to be in BGC — watching a movie, having a family day, going to a meeting — and you crave for Japanese food or you're just simply hungry. Go to Go Bento! They have hefty servings, food is delicious, and price is easy on the pocket.
Surely you'll see us here another time. There's more items on the menu we'd love to try.
Go Bento is located at 9th St., BGC, beside The Spa.