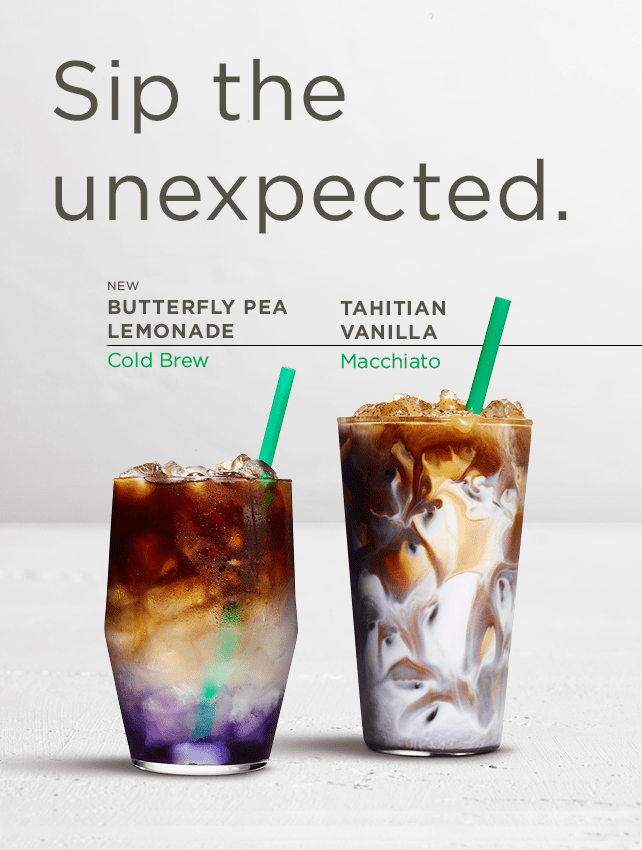 The heat is on, have you noticed? Good thing these cold drinks from Starbucks are here…
BUTTERFLY PEA COLD BREW LEMONADE (Tall – ₱ 165 | Grande ₱ 180 | Venti– ₱ 195)
A mesmerizing hue of blue Butterfly Pea flower tea layered with refreshing lemonade and topped with deliciously smooth Starbucks Cold Brew coffee. Starbucks Butterfly Pea Lemonade Cold Brew features butterfly pea flower tea – a trending ingredient in Southeast Asia, which is distinct for its natural blue shade and color-changing properties. It reacts with the lemonade to create captivating swirls. (Available in iced only)
TAHITIAN VANILLA MACCHIATO (Tall – ₱ 165 | Grande ₱ 180 | Venti– ₱ 195)
A customer favorite returns this season! Starbucks Tahitian Vanilla Macchiato infuses velvety steamed milk with aromatic, caramelly Tahitian vanilla syrup, topped with Starbucks Signature Espresso and finished with vanilla bean specks and vanilla drizzle in a classic double crosshatch pattern. (Available in hot, iced and blended beverage format)
Tried the Butterfly Pea Lemonade Cold Brew the other day and was really surprised at how refreshing it was! I also think the layering of color is really cool.
NEW FOOD ITEMS
CHOCOLATE DOUGHNUT ÉCLAIR (₱ 85), a doughnut filled with luscious cream and milk chocolate.
MANGO PURPLE YAM BAR (₱ 85), dense and chewy butterscotch bar with mango bits and purple yam.
MIDNIGHT DREAM CAKE (₱165/slice |₱1,480/whole) Layers of moist and chewy fudge brownie, light vanilla sponge cake, crunchy hazelnut paste and velvety milk chocolate mousse finished with dark chocolate glaze.
NEW STARBUCKS CARD
SPRING SIREN CARD
Perfect for the Starbucks lover in you. Available for an initial activation amount of ₱300 per card with a purchase limit of up to two (2) Spring Siren Cards per customer, per day.
EASTER EGG CARD
Celebrate Easter with these limited-edition Starbucks Cards.Available for an initial activation amount of ₱1,000 per card with a purchase limit of up to two (2) Easter Egg Cards per customer, per day. Available in all stores starting March 15, 2018.
FEATURED COFFEES
STARBUCKS SPRING SEASON BLEND (₱445)
Starbucks Spring Season Blend features the same coffee with the same roast profile as Starbucks Tribute Blend, in a beautiful spring-inspired package. This blend is composed of four of our all-time favorite coffees: Ethiopian sun-dried beans with an exotic flourish of dark cherry; Aged Sumatra, loved for its syrupy body and cedary spice notes; juicy, herbal and complex coffees from Papua New Guinea; and our Colombia coffee, bright, balanced and nutty.
Flavor: Dark cherry and spice
Complementary Flavors: Chocolate and berries
(Available in all stores)
STARBUCKS RESERVE GUATEMALA FLOR DEL ROSARIO (₱595)
After travelling to Latin America from Germany, Horst Spitzke discovered a passion that would redefine his life. As he settled into the lush rainforests of Coban in Guatemala, he began experimenting with planting different crops, eventually finding his calling through coffee. At his Flor del Rosario farm today, his love of coffee is matched only by his love for his workers, whom he views as family – in turn, they affectionately call him as "Papi". Horst is proud of everything they've achieved together and feels he wouldn't be able to run the farm without them. The enthusiasm and compassion that go into every bean reflect the personal journey that makes this cup special.
Flavor: Toffee and chocolate
Complementary Flavors: Toffee and milk chocolate
STARBUCKS RESERVE NICARAGUA MARACATURRA (₱595)
The maracaturra varietal is known as a hybrid varietal. It is thought to have appeared in the 1800's from a naturally occurring cross pollination between maragogype, giant coffee beans and caturra, one of the original arabicas planted throughout Central America. The family-run Buenos Aires Estate has been producing this coffee variety for over 30 years and been quite successful. The maracaturra variety is quite delicate and susceptible to any variant weather changes. The family-run estate owned by Luis Emilio Valladarez has over 215 hectares of land devoted to maracaturra and several other varieties of coffee. The family of coffee farmers is known for experimentation using different processing methods and different bean varieties to increase and enhance the cup attributes of their coffees.
Flavor: Red apple sweetness and all-spice notes with a hint of vanilla
Complementary Flavors: Red apples and apple pie