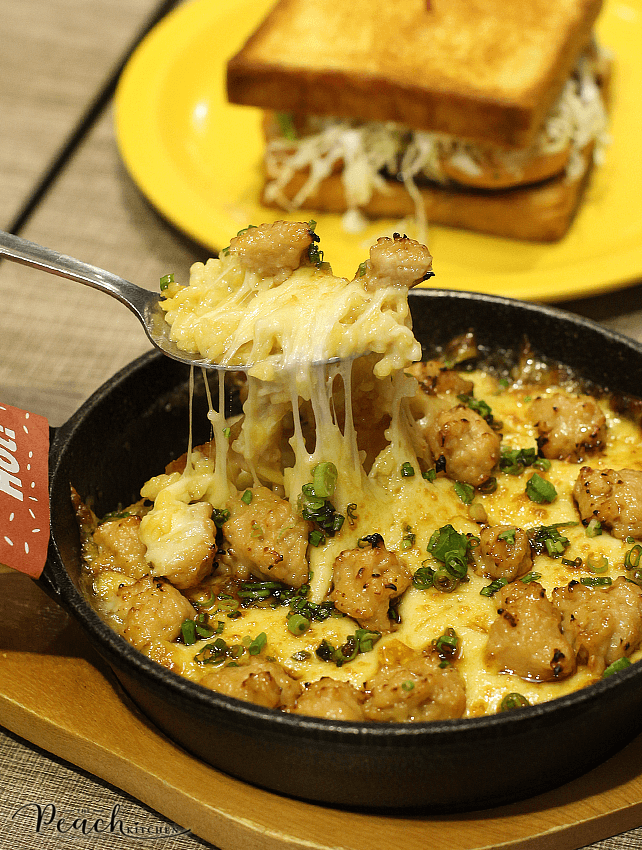 Mesmerizing Mozzarella Cheese!
Say Cheeeese!! Hey there fellow cheeselover! I am so happy to tell you that I discovered a "cheese gem" of a restaurant in the heart of SM Megamall last weekend.
After fetching Ykaie from school who just had 3 exam days, I felt that she needed something to lift her up.You know how much a fan of cheese we are — anything smothered in cheese will definitely make us happy. If you're like us (which I know you are, because, well, birds of the same feather…*wink) ) you'll be happy to know about Tori Chizu .
Tori Chizu is a Japanese restaurant that is known for their Doria or Cheesy Baked Japanese Rice (Rice Gratin). Layer after layer of goodness: rice, bechamel sauce, mozzarella cheese, and meat!
Of course, the first thing we tried is the TC Original Chicken Teriyaki (₱145).  Judging from the look and taste, this is their bestseller. It's rice with a layer of bechamel sauce and covered with a blanket of mozzarella cheese, then it is topped with their signature chicken teriyaki pieces and sprinkled with green onions — all baked and served on a hot plate.
Doria Meals maybe customized, add ₱20 for a drink, add ₱30 for more cheese, and add ₱55 for a piece of Umami-Style Fried Chicken.
We also tried the Sesame Fish Doria (₱155). This is perfect for meatless fridays as this is composed of tender slices of fish fillet smothered in sesame dressing and sprinkled with sesame seeds then served over cheesy baked rice!
I am mesmerized …. as the spoon stretches and pulls away those mozzarella cheese strings. Ooh, then as you take a bite, the combination of flavors explodes inside your mouth. Oh, that rich, savory cheesy goodness! Cheese heaven!
Ykaie and Twinkle both loved the Umami-Style Fried Chicken (₱375|6-pc rack) because of the crispy skin that's coated with authentic Japanese flavors. It really has that umami taste! And even though the skin was crisp, the meat remained juicy.
Doria are best paired with their Umami-Style Fried Chicken! Imagine rich, creamy, cheesy rice paired with crispy, juicy chicken?
It's just the best pairing ever.
Meanwhile, there's east meets west happening on their Japanese Hambagu Sandwich (₱125). A juicy hambagu patty and crunchy sliced cabbage and tomato is sandwiched in between two premium toasted and buttered shokupan (Japanese bread), then it's drizzled with a secret sauce and finished with cheese! This is cheeseburger elevated the Tori Chizu way.
For the kids and kids-at-heart, you'll surely love the Thin Cut Fries (Regular ₱37| Large ₱59 ) that's served hot and crispy.
I know because Twinkle loved it and she and shared it with the rest of the family, making sure we each get a bite.
For a small family of four, we sure have bottomless tummies! Well, we wanted to try all that Tori Chizu has to offer. This Japanese Mazemen (₱115) is a no-broth ramen that seemed to me is like an all-day breakfast dish because it has bacon and egg! Those al dente noodles is made flavorful 'cause it's tossed in garlic oil and topped with corn, teriyaki sauce, furikake, and of course, soft-boiled egg and bacon bits.
To finish off our sumptuous meal, we had MilkChiz Soft Serve in cone (₱45), a rich and creamy ice cream that's sweet and salty at the same time. Warning guys, this is highly addictive!
#SayChizu!
We had such a great Saturday lunch at Tori Chizu. It was a busy weekend for the store. Customers come in sudden bursts but the staff were all smiles and attentive to everyone's needs. The store, especially the restroom was very clean!
Oh and the food, so cheeeeesy!! (heehee) .. and so delicious. The servings are big and the price won't burn a hole in your pocket. Spend around ₱145 – ₱200 per person and you'll be cheesily satisfied. You'll even satisfy that cheese craving you never knew you had! I know because we were. I think Tori Chizu will be seeing more of us when we're at Megamall.
Are you ready to be cheesified? Which Tori Chizu dish are you trying out first?
Tori Chizu is located  at the Ground level, SM Megamall A, Mandaluyong . You may visit their other branches located at AIC Gold Tower Ortigas and Eastwood Citywalk 2.