Sunday is really the family's lakwatsa/pig-out day. It's that time of the week we either spend in my kitchen cooking and eating our hearts out or having a lunch out. Last Sunday, we started off early and went to Pan De Amerikana in Marikina for breakfast. We took
nanay
with us for
pasyal
, kinda like having an early celebration of her birthday.
Pan De Amerikana has been known for their delicious pandesal since 1950. It has been around that long and yet, it's only last weekend that we got to try it.
I love the rustic, quirky, and homey ambience of the place. I imagine the owner must love playing Chess as you can find lots of Chess boards big and small around the restaurant.
Just look at this life-size chess board! Some of the pieces are even bigger than Twinkle.
Ykaie and Twinkle (My little Elsa and Anna)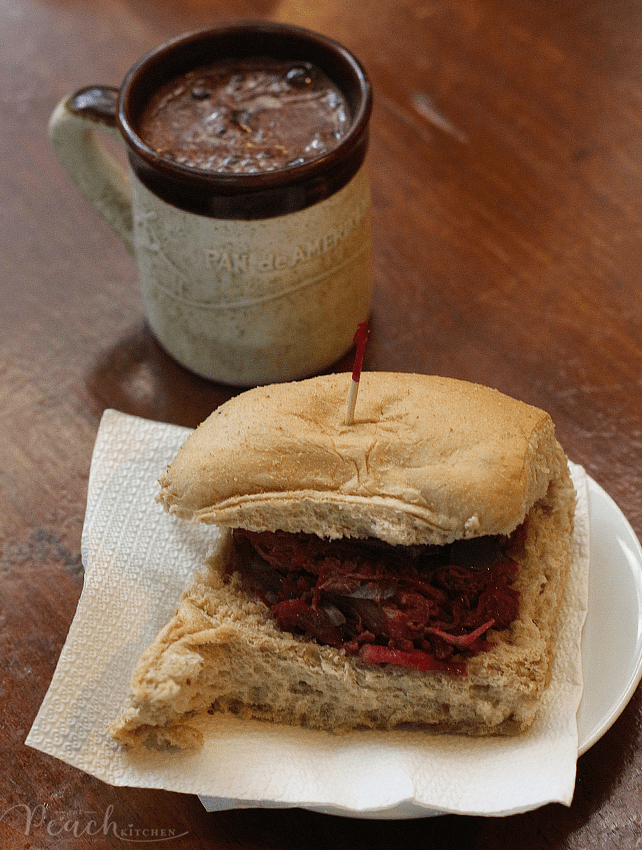 Since the restaurant is known for its pandesal, I decided to order their Corned Beef Pandesal (₱50). The corned beef filling was the usual corned beef but the pandesal is different! It's chewy and soft.. better than the regular bakery pandesal we have every morning.The Hot Chocolate (₱40) in the photo was nanay's. She and sis ordered a cup each.
Nanay ordered the Tapa Meal (₱90) which is the usual tapsilog composed of garlic rice, beef tapa, and sunny side up egg.
And here we are, waiting for breakfast…..
Ykaie had her favorite Tocino Meal (₱90).
peanutbutter♥ had the Batchoy (₱90) which is misua soup and he paired it with an order of 3 pieces of pandesal (₱20). I paired my Corned Beef Pandesal with the Pumpkin Soup (₱60) which is kinda bitin for me because the serving was quite small. (I ended up making a pot of it the next day)
And because we have to have something sweet, peanutbutter♥ and I ended our breakfast with their Turon Lanka (₱25). It was freshly cooked so the turon skin was crispy and the banana inside is perfectly ripe and sweet.
Each table has a painted chess board, so after breakfast while we are all busy taking photos, Ykaie borrowed chess pieces so she and her daddy can play. You just need to leave an ID to borrow and it will be returned when you return the chess pieces.
Twinkle loved her Anna outfit so much, she is very cooperative in her photo shoots… hee
While I'm loving my new Oppo F5 Youth that lets me take beautiful selfies and famfies because of its AI Beauty Technology. Here's a selfie with the fam bam.
Another one with sis and Twinkle at the rope bridge…
and with my happy nanay at the table…
Before leaving, we bought 9 pandesal and 3 ensaymada from the bakery outside. Sis also bought some for them. My only regret was not buying more ensaymada. It was the traditional ensaymada with margarine that has that chewy/soft texture you won't find anywhere else. Sarap with coffee! Now I'm thinking of dropping by their katipunan branch not just to buy pandesal and ensaymada but to try the other items on their menu as well.
Pan De Amerikana Bakery and Restaurant is located at 92 General Ordonez Street, Concepcion Dos, Marikina City, Metro Manila