This Grilled Adobong Liempo is adobo made more exciting by grilling the pork liempo and adding pineapple tidbits for a sweet twist…
When you're a work at home mom and you're struggling to balance your monday in between an energetic toddler, 2,365 e-mails, a mountain of laundry from a weekend of lakwatsa….and keeping yourself healthy — it is but right to reward ourselves with something delicious. So I'm beating up our monday blues with something familiar made more exciting with a smoky and sweet twist — Grilled Adobong Liempo.
Adobong Liempo is a no-fail pick me -upper for everyone — the husband who comes home from the night shift, Ykaie who comes home from school tired and hungry, Twinkle who watches Coco six times a day and couldn't get enough of going out to play, and sis who's always tired and hungry at kailangang mangapitbahay just so she could eat a homecooked meal. So it is just right that I serve them this on the most stressful day of the week.
This however is not your usual Adobong Liempo. First off, it has a smoky flavor because it's grilled. Second it is made more delicious with Del Monte Pineapple Tidbits giving it a sweet, fruity taste. Fruity taste on adobo? Yes please.
The recipe starts by marinating our favorite pork liempo in Del Monte Pineapple Tidbits, Del Monte Red Cane Vinegar, soy sauce, bay leaf, garlic, and peppercorns. Then you either charcoal grill or pan grill them after 4 hours. When it's done, you bring the marinade into a boil and simmer it for 8 minutes. It will thicken into a delicious pineapple adobo sauce which you can either pour over the grilled liempo or served on the side.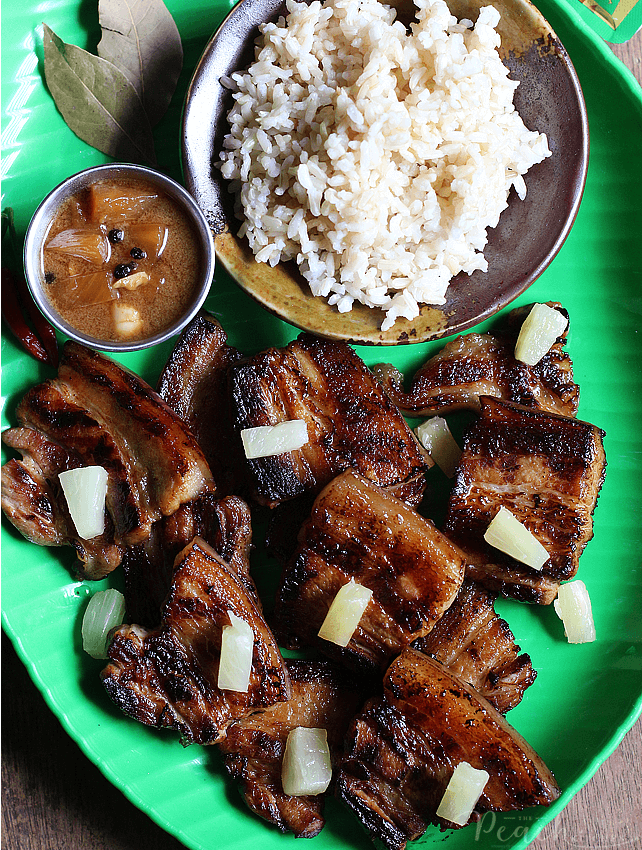 Our family loves grilled liempo so I served the sauce on the side. This dish works two ways because those who love saucy adobo can scoop out a generous serving of the sauce and drizzle it over their rice. Those who don't — like Twinkle, can just eat the grilled liempo which is just as flavorful.
As predicted everyone loved it. It was a hit! Goodbye Monday Blues!
Below is the adapted version.Click here for the original recipe.
To know more Del Monte recipes, drop by www.lifegetsbetter.ph
Print
Grilled Adobong Liempo
550 g

pork, liempo, cut into serving portions or

2

x 2-inch chunks

1/3 cup

DEL MONTE Red Cane Vinegar (47cl)

1/4 cup

soy sauce

6

cloves garlic, minced

1/4 tsp

peppercorn, crushed

2

pc bay leaf/laurel leaf

1

pouch DEL MONTE Pineapple Tidbits (

115g

)
Instructions
Place all ingredients in a bowl and marinate meat for at least 4 hours in the refrigerator. Drain then reserve marinade. Pan-grill or charcoal-grill meat until done.
To make the adobo sauce, pour reserved marinade in a pan and simmer for 8 minutes. Pour over liempo or serve on the side.
♥ If you make this recipe, be sure to snap a photo and tag @thepeachkitchen on Instagram (OR hashtag it #thepeachkitchen). I'd love to see what you cook!